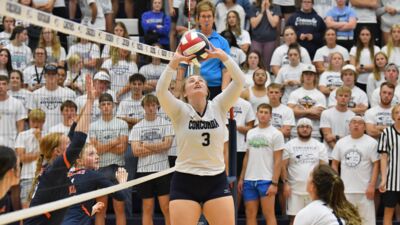 SEWARD, Neb. – For her efforts in a win over a top-10 ranked opponent, Bree Burtwistle has earned her second straight GPAC/Hauff Mid-America Sports Setter of the Week award. Burtwistle was honored alongside Ady Dwight (Dakota Wesleyan) and Ellie Holen (Jamestown) on Tuesday (Sept. 12) as GPAC weekly award winners. Burtwistle was named the GPAC and NAIA National Setter of the Week on Sept. 5. She's collected five GPAC weekly accolades in her career.
In last week's lone outing, Burtwistle directed an attack that hit .342 as the second-ranked Bulldogs defeated Midland, 25-16, 25-22, 25-21. Burtwistle tallied 40 assists, six digs and two kills on the night that saw Concordia remain unbeaten at 9-0 (2-0 GPAC). On the season, Burtwistle has On the season, Burtwistle is averaging 11.17 assists per set, a figure that ranks No. 5 on the national leaderboard. The Stanton, Neb., native garnered Second Team All-GPAC and NAIA Honorable Mention All-America laurels in 2022.
Over five years of college volleyball, Burtwistle has totaled 2,402 assists, 665 digs, 92 aces and 90 kills in 93 matches. She facilitates an offensive attack that ranks No. 3 in the NAIA in terms of hitting percentage (.303).
Concordia will return to action on Wednesday when it will host Doane (2-8, 0-3 GPAC) at 7:30 p.m. CT. The Bulldogs are 4-0 at home this season.