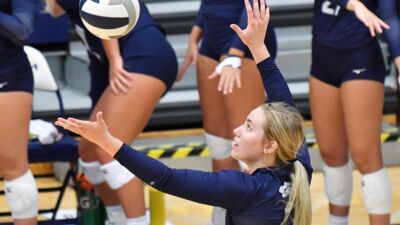 SEWARD, Neb. – For her work in five victories last week, Concordia University Volleyball senior Bree Burtwistle has been named the GPAC/Hauff Mid-America Sports Setter of the Week and the NAIA National Setter of the Week, as announced on Tuesday (Sept. 5). The Bulldogs have had a GPAC award winner in back-to-back weeks with Gabi Nordaker having been honored as the conference's attacker of the week on Aug. 29. Burtwistle pulled in three GPAC and two NAIA national setter of the week accolades in 2022.
Burtwistle quarterbacks an offensive attack that is hitting .299, which ranks No. 6 nationally. In last week's action, the Stanton, Neb., native led No. 2 Concordia to wins over No. 24 Hastings, Rocky Mountain College (Mont.), Mayville State University (N.D.), Kansas Wesleyan University and No. 6 Park University (Mo.). In those victories, Burtwistle compiled 205 assists (12.06 per set), 38 digs, 13 kills, 10 service aces and four blocks. Burtwistle totaled 46 assists in the four-set win over Park, an opponent that defeated the Bulldogs at the 2022 national tournament. On the season, Burtwistle ranks sixth among NAIA setters with an average of 10.93 assists per set.
In 92 career matches, Burtwistle has notched 2,362 assists, 659 digs, 92 aces, 88 kills and 49 blocks. Those totals include the one season Burtwistle spent at Midland.
The Bulldogs (8-0, 1-0 GPAC) are gearing up to host No. 9 Midland at 7:30 p.m. CT on Wednesday. All of Concordia's remaining 15 regular season matches will be against GPAC opponents.