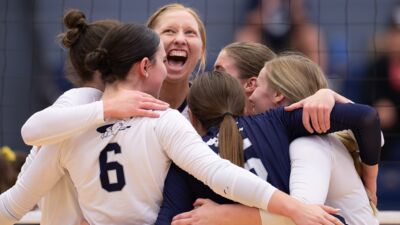 SEWARD, Neb. – Here they are, back again. In order to accomplish the goals the Concordia University Volleyball program has aspired for all year, it had to take care of business in one final home match for the 2023 season. Veterans like Bree Burtwistle and Camryn Opfer were not about to let things end at this juncture. The fourth-ranked Bulldogs powered through a competitive first set and ran away from visiting Judson University (Ill.), 25-19, 25-14, 25-17, in one of 24 NAIA Volleyball National Championship Opening Round matches on Saturday (Nov. 18).
Head Coach Ben Boldt's squad (24-3) ran its final 2023 home record to 13-1 while advancing to the national championship final site for the fifth-straight season. This marked the third-consecutive year that the program hosted an opening round contest.
"Coming into this, I didn't know exactly what to expect," Boldt said. "I didn't know how it was going to play out – everyone that qualifies for the national tournament is a good team. Judson is a veteran team. They have a lot of seniors on their squad, so they're not going to get rattled mentally. You know they're going to be ready on the next point, and we have to do the same."
It appeared as though Concordia was on its way to throttling the Eagles in that opening set. The Bulldogs owned an 8-3 advantage following an Opfer kill before Judson roared back to tie at 9-9. It was nip-and-tuck with a 17-17 deadlock when Concordia kicked it in gear. Opfer emerged with a kill and an ace serve and the home team essentially controlled the rest of the match.
After hitting .132 in the opening set, the Bulldogs hit .317 in the second and .379 in the third. Concordia got out to leads of 15-4 in the second and 13-5 in the third while stamping out Judson's hopes of an upset bid. In her final home match as a Bulldog, Opfer filled the stat sheet with 11 kills, 12 digs, three aces and three blocks. Four of her teammates posted at least five kills: Gabi Nordaker (nine), Ashley Keck (eight), Sara Huss (five) and Carly Rodaway (five).
With freshman Maddie Paulsen unavailable (due to the injury that occurred in the GPAC championship match), Huss stepped right in and added four blocks to her stat line. The native of Fairbury, Neb., always seems to meet the challenge when called upon. Like the other seniors (and fifth-year Bulldogs), Huss tried to soak in the final career outing inside Friedrich Arena.
Said Huss of opportunity to head to the final site once again, "It's unreal. It's unreal to do it with this team specifically. I feel like we're so connected and trust each other so much. We love each other so much, and our coaches too. It's a program built on such an awesome culture. It means the world to us. We're definitely not taking it for granted and we're super excited to go to the final site another year."
Burtwistle posted 32 assists, nine digs and an ace while spurring the team's attack. Opfer and Burtwistle were two of five Bulldogs with at least nine digs, including Keck (12), Cassidy Knust (11) and Becca Gebhardt (nine). Concordia held large statistical advantages in kills, 43-25, hitting percentage, .269 to .067, digs, 55-45, and blocks, 8-5. The team's NAIA Champions of Character representative was Addison Smith.
Said Boldt, "I thought it was gritty. We backed off a little bit in the first set. I thought we could have kept our flow a little bit better, but we stayed gritty through that. In sets two and three, we found our flow a little bit more. Shout out to Sara Huss. She came in and provided a spark for us. She gave us something that wasn't there before she got out on the floor. Sara provides a really big block out there. I was proud of how the whole team fought throughout the match."
Regular season champions of the Chicagoland Collegiate Athletic Conference, the Eagles (23-5) made their first ever national tournament appearance. Their head coach, Alyssa Serewicz-Wido, happens to be a Concordia Chicago alum. On Saturday, Judson got a team high nine kills from its NAIA Champions of Character representative, Alyssa Gerzel. Yomailis Fernandez led all players with 14 digs.
Next up for the Bulldogs will be NAIA National Championship pool play, which will get started on Nov. 29. Pool play assignments will be announced by 5 p.m. CT on Sunday by the NAIA National Office. All national tournament action moving forward will be played at the Tyson Events Center in Sioux City, Iowa. More information on the national championship can be found HERE.