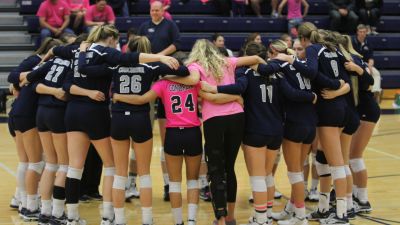 SEWARD, Neb. – Unlike the first meeting that went to five sets in Crete, the Concordia University volleyball team provided little resistance on Wednesday's tilt inside Walz Arena. Visiting and 16th-ranked Doane spoiled the Bulldogs' pink out match by winning impressively, 25-12, 25-14, 25-16. The Tigers hit a scalding hot .437 for the match.
Fifth-year head coach Scott Mattera's squad lost for the sixth-straight outing and slipped to 11-16 overall and 3-8 in conference play. Concordia is currently tied for seventh place in the GPAC standings.
"We needed a better performance than that. We just didn't give it," Mattera said. "That's one of those where you go back to the drawing board. We didn't put enough pressure on them. I mean, .437. Doane played fantastically well, but we didn't put any pressure on them at all. I'm really disappointed. There's no other way to put it."
The red hot Tigers (20-5, 9-3 GPAC) have now won nine of their last 10 matches. They ran over the Bulldogs by hitting .457 in the first set, .483 in the second and .348 in the third. It was a field day for Doane attackers such as Shelbi Mlynczak (13 kills on 24 swings) and Maci Coffey (eight kills on 15 attempts). Setter Alex Neff piled up 35 assists.
On the other side of the net, Concordia managed to hit only .133. Senior Paige Getz was held to three kills (four errors). Freshman Alex La Plant paced the Bulldogs with seven kills. Sophomore Jenna Habegger did nice work late, flooring three kills on seven swings. Freshman middle Emmie Noyd registered four kills on eight attacks.
Concordia has struggled to put wins on the board while playing a schedule that Massey Ratings ranks as one of the 10 toughest in the nation. The Bulldogs have now dropped 12 matches against nationally-ranked opponents.
The Bulldogs now enjoy a rare weekend off before returning to action next Wednesday (Oct. 26) for a GPAC road contest at College of Saint Mary (6-13, 2-9 GPAC). Just six matches remain on the 2016 regular-season schedule, which culminates at Morningside on Nov. 5.