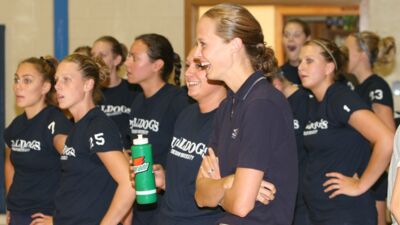 It was meant to be, but Rachel (Kirchner) Miller still had to find that out. In her hometown Clarinda, Iowa, of just over 5,000 people, Miller grew up with the idea that Concordia University Nebraska was simply that Lutheran institution she visited for athletic camps or special gatherings. Little did she know that a visit from Diane Mendenhall would lay the groundwork for life – life as a forever Bulldog.
As Miller recalls, "I actually had written off Concordia. I had thought, 'I'm not going to Concordia.' Then I had a classmate, Audra Nothwehr, who went to the same Lutheran school and high school with me that came out here for tennis and volleyball. She told Coach Mendenhall about me. Coach came down, watched me play and invited me out on a visit. I got a whole new idea about Concordia. I fell in love with Diane as a coach and some of the players that I met. I haven't left."
Twenty years after her graduation, Miller remains one of the most significant and influential people in the history of Concordia Volleyball. Consider that Miller's collegiate athletic career spanned the transition from the Nebraska-Iowa Athletic Conference (NIAC) to the Great Plains Athletic Conference (GPAC) and that she starred for the program's lone GPAC championship team (2000) and served as Concordia's head coach for seven seasons (2005-11), during which collegiate volleyball shifted to rally scoring. The three-time NAIA volleyball All-American also played two years of basketball at Concordia and was impacted by four different head coaches as a dual sport athlete: Mendenhall and Becky Ernstmeyer in volleyball and Micah Parker and Todd Voss in basketball.
As a member of a GPAC championship volleyball squad and one of the greatest women's basketball teams (2002-03) in Bulldog history, Miller played in her share of significant games. On Oct. 25, 2000, Miller posted 10 kills, seven blocks and two aces as Concordia defeated Hastings in five sets, clinching a share of the conference title in the first year of the GPAC's existence. On the basketball court, Miller played in similarly epic games versus Hastings and helped the Bulldogs reach the national semifinals. By the time her volleyball career concluded, Miller totaled 1,315 kills and 760 blocks. None of those details immediately spring to Miller's mind when she reflects on those days.
"It was exciting being that it was the inaugural year for it (the GPAC)," Miller said. "Dordt and Hastings were both great programs. The fact that we were pushing the top of the league was exciting. I honestly can't remember the games.
"Everybody says it, and it seems so cliché, but it's the people and the trips that you remember. We were pre-cell phone. There were a few people who had cell phones, but we had walkie talkies amongst the vans and we would play games on them. Those memories were pretty awesome. There were a lot of great relationships. Mindy Miller was a senior my freshman year and now we're sisters-in-law. We were the middles that played for that one year. Two years later, my sister (Sandy) came to Concordia and we were the two middles that played."
Initially, Miller played only volleyball. Mendenhall had told the 6-foot-1 Miller that she had a chance to be a great player if she put her athletic focus on volleyball alone. As a double major in Biology and Chemistry, Miller embarked upon a five-year student-athlete journey that provided an opportunity to eventually play basketball. Once she finished her senior volleyball season in 2001, Miller played two seasons of basketball for a program that was about to take off into a new stratosphere. A Concordia Athletic Hall of Fame inductee individually, Miller averaged 5.0 points and 4.2 rebounds per game for the 2002-03 team that finished at 36-2 overall.
Those experiences helped prepare Miller for an unexpected coaching career that followed. The coaching bug bit her while she was still a college student. When Mendenhall left after the 1999 season to become the Director of Operations at the University of Nebraska, Miller began to work Husker volleyball camps and realized she enjoyed teaching the sport. While simultaneously putting her science degrees to use as an employee at LI-COR Biosciences in Lincoln, Miller worked as an assistant coach under Randy Krieger for the 2004 Concordia volleyball team. After Krieger resigned following that season, Miller was offered the head coaching position just two short years after she had completed her time as a student-athlete. It felt like a dream. Miller's first team went 24-11 in 2005 and she eclipsed 100 career victories over her seven seasons.
"I always enjoyed the teaching and instruction part of it," Miller said. "I didn't really think I was going into full-time coaching, hence the Biology and Chemistry degrees. I didn't really know what I wanted to do. I did use the degree. I worked at LI-COR for three years. It was a great opportunity (to be a head coach) at the place I love. I figured, let's give it a shot."
Just like her playing days, the relationships were the biggest rewards Miller felt while coaching. She continued to help in an assistant capacity when Scott Mattera became head coach in 2012 and still works volleyball camps for current coaches Ben and Angie Boldt. While coaching remains a passion for Miller, she made the difficult decision of stepping out of a full-time role after the 2011 season.
Miller has focused on her family life, something that also grew out of her time at Concordia. It's where she met her husband Karl, a former Bulldog football and baseball player. Together, they continue to raise their four daughters, each of whom have grown up with the Concordia campus literally in their backyard. The Miller lifestyle has been all about family, faith and the Bulldogs of course.
"When I started here, I knew I wanted to have a family," Miller explained. "The decision to step away came after we had Mallory. At that point, it was getting a little crazy. The twins were four. It felt like it was going quick, and I didn't want to miss this. I stepped away and Scott was such an easy transition coming in. He welcomed me and allowed me to stay connected. Ben and Angie have asked me to work camps and that kind of thing. We just love Concordia. We love the Seward community. We love that we can walk to St. John for the kids to go to school and go to church. We walk here for games. It's a great community that we love to be part of. We love to stay connected. We have classmates and teammates who are coaches and teachers here now."
The two eldest Miller daughters are now in high school and aren't far away from making their own college decisions. Rachel will surely allow them to set their own course, but it's clear she would be elated to have them land with the hometown Bulldogs. That's the route their cousins, Nathan and Tanya Miller, have chosen for themselves.
"All of them are a little different," Rachel said. "When I was still coaching, the twins were super shy. They loved the Bulldogs, but they didn't really want to interact with them. As they got a little bit older, they developed connections with different players. When I was helping Scott, Mikayla Higgins would watch Mallory. Mikayla still asks how her child is doing. When they see each other, they're still so excited. Some of the connections they've built with some of the players have been really fun. I told both of my older ones, I'm not telling them they have to go anywhere, but they need to have an open mind. Come visit Concordia and see it a different way other than as one of the Miller kids coming to a game."
Rachel Miller might as well be a spokesperson for Concordia Volleyball and for the Seward community. Once Miller experienced it, she held on and never let go. She still hasn't left.
The stats and details that led to championship and All-America glory mean very little to Miller. The achievements are part of her story, but it's more about this place and the people associated with it. Said Miller, "It's not the games, it's the little stuff. It's the people that make the memories and make it worth it."