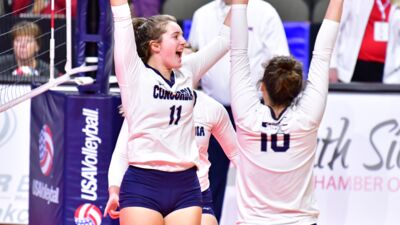 Gabi Nordaker wasn't going to be the one that got away. The Millard West High School prep and Premier Volleyball club player respectfully declined the initial offer that came from Head Coach Ben Boldt and the Concordia Volleyball program. Dreams of playing at the NCAA Division I level continued to guide Nordaker through the recruiting process that carried into the summer prior to her senior year of high school.
Persistence on the part of Ben and Angie Boldt paid off. Ultimately, Nordaker shared the good news with the Boldts at a summer 2019 camp hosted by the Bulldogs. Fresh off the program's first-ever national tournament victories, things were about to get even better.
"I remember a tournament later in the recruiting season," Ben Boldt recalled. "I was walking around some courts and I saw her hit a ball. Then I stopped and watched and saw her block a ball. I told her, 'I just love the way you play the game.' I remember texting her that night, 'Gabi, I know you haven't committed anywhere yet. Is Concordia something you'd still be interested in?' She kind of opened the window a little bit. She texted back, 'Possibly.' We continued to recruit her from there."
In the four years since she finalized her decision, Nordaker has risen to All-America status while helping Concordia become one of the nation's most powerful offensive attacks. She's compiled 893 kills and 342 blocks in 85 career matches as a force in the middle of court. All the while, Nordaker has fit into a culture that has played just as significant a role in the team's success as the talent on the floor. In back-to-back seasons (2020 and 2021), the Bulldogs reached the NAIA national quarterfinals. They then climbed as high as No. 4 in the national poll in 2022.
Nordaker has literally been right there in the middle of it all. In the very first match of her career, up against rival Midland in the awkward 2020-21 COVID-19 season, Nordaker totaled 12 kills and six blocks while hitting .545 in a straight-sets win. She's never looked back while putting together more sparkling performances, like her 13-block effort in the five-set win over No. 2 Viterbo at the 2021 national tournament, an outing that came shortly after she produced 17 kills and 12 blocks in the GPAC semifinal win at No. 5 College of Saint Mary.
Those moments have come within the context of day-to-day focus and the development of close relationships. It simply took time for Nordaker's college destination to come into focus. Said Nordaker, "I ended up falling in love with the girls at the camp. I was like, 'You know what, I think this is where I need to be.' The D-I and D-II's couldn't offer me this. It was close to home – which isn't what I originally wanted – but I realized it was a great thing. I truly have a family at Concordia. That's what stuck with me and still has me."
Now roughly 5-foot-10, Nordaker took advantage of her height at a youthful age in gravitating towards volleyball and basketball. She also earned three letters in swimming as a high school athlete. More than any other activity, volleyball won her heart and the sport became a year-round venture. Nordaker says that her club coaches and teammates were major influences in elevating her game in preparation for college stardom.
"I just always stuck with volleyball," Nordaker said. "I think it's just the way the game is played. I love the strategy of it. My parents ended up moving to Omaha and that's how I got into a bigger atmosphere for it. I have to shout out Premier Volleyball because they helped me grow as an athlete so much. I wouldn't be where I am without them. They trained us in everything. I think that's what prepared me for college. I just love the game so much."
From an attacking perspective, Nordaker worked with former setter Tara Callahan during the 2020 and 2021 seasons. Then came the emergence of Bree Burtwistle in 2022. The transition appeared mostly seamless as Concordia spent a large portion of the '22 campaign leading the nation in hitting percentage. Individually, Nordaker hit .353 and led the team in kills (328) and blocks (114) in year three in the program. Few players nationally can combine the same mix of talent, athleticism, experience and on-court savvy.
"When we need her, she can be that one who can get us a kill," Ben Boldt said. "I remember she had a really good match her freshman year against Midland. Afterwards, she came up to me and said, 'Coach, I want to keep getting better.' She's had that mentality and focused on the process."
As part of that process, Nordaker has had her eyes opened wide to just how big time the volleyball is that is played inside the rugged GPAC and across the NAIA landscape. Amidst the many COVID restrictions that came during the 2020-21 academic year, Nordaker embarked on her collegiate career while beginning study as an Exercise Science major. There may have been some challenging moments, but Nordaker surfaced as an immediate impact player for a program with an arrow pointing straight to the sky.
"I definitely was a little bit skeptical coming into my freshman year," Nordaker said. "I didn't know what it was going to be like. I had watched a few matches. I felt like I could do this. Freshman year, I was shellshocked a little bit because it is a very high level. We're in a conference that is huge for volleyball. It was very different from what I thought it would be. I definitely have adjusted now. You can play big-time volleyball at this level."
Going back to those summer recruiting trips, Ben Boldt pictured Nordaker doing exactly the type of things she's achieved wearing Bulldog Blue thus far. Out of love and out of competitive fire, Boldt hasn't stopped pushing her forward. Says Nordaker, "He knows what I'm capable of. Sometimes I do get a little mad because I'm thinking, 'Why is he picking on me?' At the end of the day, I know he's pushing me to be my best. Whatever I did at that practice or game that day might not have been my best. I know he's right and the level of my game is so much higher."
Nordaker now looks forward to her senior year academically (junior in terms of athletic eligibility). She'll be counted upon for leadership, but she won't have to do it alone. The program got big news soon after the 2022 campaign when Burtwistle and Opfer opted to return in 2023. Every Bulldog who earned All-GPAC honors last season will be back for the fall.
"I love that they're coming back," Nordaker said of Burtwistle and Opfer. "We're going to be able to get into the flow faster. I love playing with them on the court. They pick me up when I'm down. They make gametime decisions that are so good. To have them back on the court is going to help us a lot this year."
Those relationships will continue into the fall as Boldt's Bulldogs embrace immense preseason expectations. It will be a big-time year for a big-time player. Nordaker found that major college feel she wanted all along, right here at Concordia.
As Nordaker says, "For me, volleyball is every day, all year."