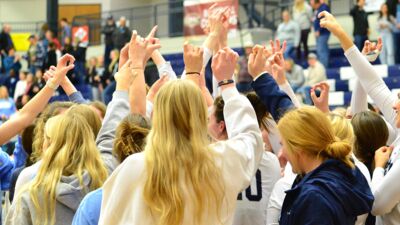 SEWARD, Neb. – The Concordia University Volleyball program has advanced to at least the GPAC semifinal round for the fourth straight season. The fifth-ranked Bulldogs (seeded third in the GPAC) took care of No. 12 College of Saint Mary, 25-18, 25-16, 25-18, in the GPAC quarterfinals on Saturday. That victory sets up a matchup with No. 4 Midland, which got past Hastings in three sets in the quarterfinals. Head Coach Ben Boldt's squad has moved to 22-4 overall with two of the defeats coming at the hands of the Warriors. On the other side of the bracket, top-seeded Jamestown will host fifth-seeded Dakota Wesleyan.
GPAC Semifinals
Wednesday, Nov. 9 at No. 4 Midland (25-3, 14-2 GPAC), 7 p.m.
--Live Webcast | Live Stats | 104.9 Max Country | Location: Wikert Events Center (Fremont, Neb.)
By the numbers
· Reaching the semifinals of the league tournament means something in the NAIA's best conference. Seven of the eight teams that qualified for GPAC postseason play are ranked in the NAIA top 25 (and Hastings is receiving votes). Under the direction of the Boldts, Concordia moved to the league semifinals in 2019 and 2020 and then placed as the GPAC tournament runner up in 2021. During that stretch, conference tourney wins have come over Doane (2019), Dakota Wesleyan (2020), Midland (2021) and College of Saint Mary (2021). The Bulldogs lost last season's GPAC championship match at Jamestown (ranked No. 1 in the NAIA at the time).
· The 22-4 record equates to an .846 winning percentage, which represents the best during Boldt's five seasons leading the program. During a 2020 season shortened in length by COVID-19, the Bulldogs went 18-5 for a .782 winning percentage. Last week's victory also has Ben Boldt knocking on the door of 100 career victories as Concordia's head coach. His record stands at 99-41 (.707) since the start of the 2018 season. According to available records, there are two coaches in program history with more than 100 wins: Vicki Boye (167-136) and Rachel Miller (107-125). Boldt's winning percentage is the best of any volleyball coach in school history.
· Under the Boldts, the Bulldogs have had a way of quickly bouncing back after losses. Concordia has had CSM's number this season having now gone 3-0 against the Flames with all three victories coming in straight sets. In the latest matchup, the Bulldogs outhit CSM, .279 to .068, while getting a team high 12 kills from Ashley Keck. In the middle, Gabi Nordaker collected nine kills and three blocks while outside Camryn Opfer posted six kills and 17 digs. The work of Opfer and Rebecca Gebhardt (14 digs) made life difficult on CSM. So too did Concordia's 10 blocks, including four from Morgan Nibbe (who also notched eight kills and hit .700). The offensive maestro Bree Burtwistle piled up 36 assists and dropped in two aces.
· The Bulldogs were held to an .048 hitting percentage last week by Midland, but they continue to pace the NAIA in overall season hitting percentage at .271. The next closest teams nationally are Marian (.268), Jamestown (.267), Missouri Baptist (.261) and Park-Gilbert (.256). It's been a total team effort for Concordia in accomplishing that feat. Four Bulldog hitters have accumulated at least 225 kills on the season: Nordaker (274), Opfer (251), Keck (229) and Carly Rodaway (225). At setter, Burtwistle is averaging 11.22 assists per set, ranking her No. 4 nationally in that category. Nordaker ranks 12th nationally in individual hitting percentage (.347).
· The Seward High School product Opfer is moving up the ladder on the program's all-time lists. She currently sports school career rankings of sixth in digs (1,248) and seventh in kills (1,199). Opfer is creeping up on Darcy Lindner (1,204 kills) and Renae Beikmann (1,223) on the kills list. Opfer is enjoying another fine season with totals of 251 kills, 311 digs and 37 blocks to go along with a .217 hitting percentage from the outside. The next highest career kill totals on the current team are owned by Nordaker (839) and Wiltfong (736). In recent action, Nordaker surpassed 300 career blocks (now at 314).
The opponent
Midland came up one game shy of Jamestown for first place in the final regular season standings. The Warriors were the only team to knock off the Jimmies during GPAC regular season play and have their own aspirations to win a postseason championship. Head Coach Paul Giesselmann's squad twice defeated the Bulldogs during the regular season – in five sets in Fremont on Sept. 7 and in three sets in Seward on Nov. 1. To say the least, the two sides are familiar with each other. Midland is led by two All-Americans in setter Hope Leimbach and outside hitter Taliyah Flores. On the season, the Warriors are outhitting their opponents, .203 to .128, and averaged 13.76 kills per set compared to 10.35 kills per set by their foes. Local bragging rights and a spot in the GPAC championship match will be on the line on Wednesday.
GPAC tournament
Quarterfinals – Saturday, Nov. 5
(1) Jamestown def. (8) Dordt, 3-0
(5) Dakota Wesleyan def. (4) Northwestern, 3-2
(3) Concordia def. (6) College of Saint Mary, 3-0
(2) Midland def. (7) Hastings, 3-0
Semifinals – Wednesday, Nov. 9
(5) Dakota Wesleyan at (1) Jamestown, 7 p.m.
(3) Concordia at (2) Midland, 7 p.m.
Championship – Saturday, Nov. 12
Highest remaining seed hosts, time TBA