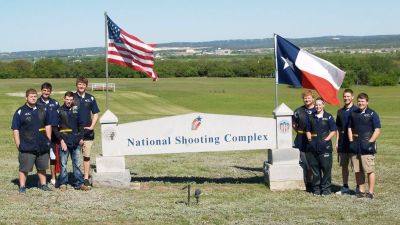 The first season of Concordia University trap and skeet concluded at the 2016 ACUI Collegiate Clay Target Championships (March 29 – April 3) with a 22nd place finish out of 28 teams in the Division 3 grouping. A total of 76 trap and skeet programs from around the country participated in the event, which took place in San Antonio, Texas.
Head coach Joel Helmer traveled a group of eight Bulldogs (seven men and one woman) to the event. Sophomore Seth Willard took the distinction of high over all (HOA) for Concordia male participants by shooting a 463/550 for a placement of 119th out of 395 men's competitors. Meanwhile, freshman Erin Lokke placed 38th out of 81 female shooters with her score of 406/550.
"This was our first trip to the ACUI Collegiate Clay Targets Championship and was therefore a major milestone for our young and growing program," Helmer said. "The team competed well in our division despite not having two full squads and having to compete in International Skeet, a discipline we rarely see at tournaments. The team improved dramatically from last fall and we are all looking forward to next season. I am proud of how the team competed and especially how well it represented Concordia University on the national stage."
In Class B of American trap, Concordia junior Mark Bender finished second with a cumulative score of 96 (24+22+25+25). Bender also turned in an 11th-place finish in five stand. In addition (also in Class B), junior Kendall Schick placed 11th in American skeet and 17th in international trap.
Helmer's initial trap and skeet roster included 12 team members. The Bulldogs will grow the roster considerably in the coming years. Of the eight shooters who made the journey to San Antonio, three apiece are freshmen and sophomores and two are juniors. The season began with four events in the fall before resuming this spring.
2016 ACUI Collegiate Clay Targets Championships
Concordia individual scores: AS – AT – IS – IT – FS – SC – TOTAL
38 – Erin Lokke: 89 – 94 – 49 – 78 – 37 – 59 – 406
119 – Seth Willard: 91 – 91 – 79 – 88 – 33 – 81 – 463
296 – Ethan Cradick: 87 – 92 – 55 – 76 – 28 – 71 – 409
303 – Kendall Schick: 89 – 82 – 58 – 76 – 32 – 69 – 406
317 – Mitchell Charron: 86 – 92 – 46 – 79 – 33 – 63 – 399
318 – Justin Zuhlke: 86 – 96 – 43 – 76 – 30 – 68 – 399
354 – Mark Bender: 84 – 96 – 39 – 66 – 36 – 62 – 383
389 – Philip Oehlrich: 67 – 77 – 40 – 58 – 27 – 61 – 330
AS = American Skeet
AT = American Trap
IS = International Skeet
IT = International Trap
FS = Five Stand
SC = Sporting Clays