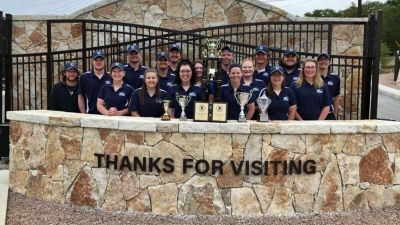 Members of the Concordia University shooting sports squad believe they are on the cusp of something special as the program begins year two as an official varsity sport. A youthful 2018-19 roster that featured 16 freshmen has begun blossoming under head coach Scott Moniot, who is also entering his second season as a Bulldog. During Moniot's first season, Concordia consistently outperformed expectations and finished fourth in the "Division 2" grouping of the 2019 ACUI Collegiate Clay Target Championships.
Moniot can't hide his wide grin when he discusses the prospects for what the 2019-20 team is capable of accomplishing. A roster of 34 began official practices at Oak Creek Sporting Club in Brainard, Neb., when the new school year got started.
"It's an exciting time to be part of this team. It's really fun," Moniot said. "The anticipation is high. They all got a taste of what could happen when we closed out last season so strong. They took the plans that we put together for us this summer and we've seen some unbelievable results. This weekend is going to set the stage and tell us where we're at."
Though the highly accomplished Erin Lokke graduated this past May, the Bulldogs did not have to say goodbye to the Saint Francis, Minn., native. She has stayed on as a graduate assistant and is eligible to shoot this fall. Lokke continues to have aspirations to compete with the best shooters both nationally and internationally. Some recent highlights for Lokke include the collegiate national championship in the category of combined international open events (international skeet and international trap) she won in March and her trip to the shotgun World Cup in Al Ain, United Arab Emirates in April.
In addition, this week freshman Blake Greckel, senior Monica Dale and junior Emma Van Donselaar will join Lokke in Kerrville, Texas, for the 2020 U.S. Olympic Team Shotgun Trials, which got started on Tuesday (Sept. 10). During the summer, Van Donselaar earned a spot on the Team USA Junior Olympic squad and a USA Shooting vest. Meanwhile, Greckel comes in highly acclaimed from Scottsbluff, Neb., and figures to make an immediate impact.
Because last season's team was so youthful, the roster is full of shooters who were part of the Bulldogs' podium finish at the national championships. Based on the results from the national competition in San Antonio, Texas, some of the other top returning shooters are the likes of sophomore Nicole Breese, junior Wyatt Ericksen, sophomore Wyatt Hambly, junior Mackenze Origer and sophomore Colten Uitermarkt. Last season Concordia had three freshmen (now sophomores) land on the "freshmen all-conference" teams: Hambly, Emily Rasmussen and Sarah Schwacher.
"Right now there are so many surprises," Moniot said. "If I named one I'd have to name 15 or 20 – almost the whole team. A lot of them have really improved. Sydni Kroll went home this summer, changed her form and worked at it all summer long. She came out and it was like, 'Wow.' She's not the only one. Everybody that I have seen shooting has taken a step forward. I think they all worked really hard this summer."
Naturally, the expectations will be higher for a more seasoned squad that has a better understanding now of the work ethic Moniot is preaching. Never before has the program spent as much time honing the craft. Even practices that are termed voluntary have been flooded with virtually the entire roster, according to Moniot. Oak Creek also constructed a brand new bunker to aid with the team's training.
"Training has been intense," Moniot said. "The whole competition level is healthy within the team. All of them have the potential to be in that top five in different disciplines and count towards the team score. Last year only a few of them were giving quality scores time in and time out. This year I think they could come from anyone on this team. There are that many that have stepped up and are shooting phenomenal."
As stated, four Bulldogs are either already in Texas or will be yet this week for Olympic trials. The rest of the squad will kick off a new season this Saturday and Sunday (Sept. 14-15) at the Fort Hays Intercollegiate Shoot in Hays, Kan. The six freshmen experienced this same course on Aug. 31 at an event that was designed for freshmen only. That precursor to the official beginning of the season yielded some promising returns for the team's rookie shooters.
It all adds up to a program on the upswing. Moniot has a vision for making Concordia a destination landing for some of the nation's top shooters.
"Every recruit I've had in here walks away thinking, 'Wow,'" Moniot said. "There is something different and unique and special about this place. We can really attract kids who are solid academically and skillset-wise. We have something that I think a lot of the top shooting schools don't have."