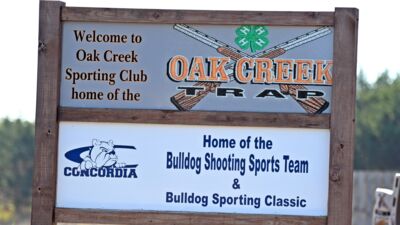 SEWARD, Neb. – The Concordia University Shooting Sports program is preparing to host the seventh annual Concordia Bulldog Sporting Invitational. The 2022 edition of the event is set to run this Saturday and Sunday (Oct. 1-2) at Oak Creek Sporting Club in Brainard, Neb., where action will begin at 9 a.m. CT both days. Oak Creek Sporting Club serves as the home range for the Bulldogs, who first put on this event in 2016. Since then, the Bulldog Sporting Invitational has routinely hosted more than 100 collegiate and high school shooters each year.
Head Coach Dylan Owens expects more than 150 athletes and roughly a half a dozen collegiate shooting teams to be present this weekend at Oak Creek. Prior to action on Sunday morning, Concordia campus pastor Ryan Matthias will deliver a devotional message.
The Bulldogs are the defending champions of their own invitational. Last year they edged out Midland University and Fort Hays State University for the title as Concordia's Sarah Schwacher won the high overall female championship. So far this season, Owens' Bulldogs have placed second at the Fort Hays State Intercollegiate Shoot, second at the Midland Warrior Open and third at the Prairie Circuit Conference Championships. Among the highlights from those events, Concordia broke the school record in trap with a 497/500 at the Warrior Open. Both Tanner Muff and Katie Welker shot perfect 100s in contributing to that new standard.
In terms of high overall performance at the 2021 Concordia Invitational, the top Bulldogs were Colten Uitermarkt (272), Schwacher (270), Russell Malterud (269), Wyatt Hambly (266), Joe Blevins (259) and Damien Stewart (259). The top three shooters at the event were Midland's Dalton Wilcox (279), Hastings' Tanner Dager (276) and Fort Hays State's Hank McVeigh (275).
Said Owens, "We're excited for our home event. I think we're going to have right around 150 athletes and we'll have recruits coming in. We're looking forward to being at Oak Creek. (Owner) Terry Kriz always throws great targets and he's a huge supporter of the team. He's very involved and wants the team to be successful."
Following last year's Concordia Sporting Invitational, the late Scott Moniot had this to say, "We got a lot of compliments. A lot of teams say this is one of their favorite events. Wartburg was new this year and they said it was the first time they've had a chance to shoot at anything quite like this. They had a fantastic time and really want to come back."
2021 Concordia Sporting Invitational Team Results
1. Concordia University – 1,338
2. Midland University – 1,319
3. Fort Hays State University – 1,317
4. Hastings College – 1,292
5. Wartburg College – 1,253
6. Iowa Western CC – 1,210
7. Doane University – 1,180
8. University of Wyoming – 1,087
9. University of Nebraska – 1,071
10. Northwest Kansas Technical College – 1,071
11. Nebraska College of Technical Agriculture – 1,048
Following the Concordia Bulldog Sporting Invitational, the fall season will continue with the NCSSAA Central Regional Qualifier in Waukee, Iowa, Oct. 21-23.