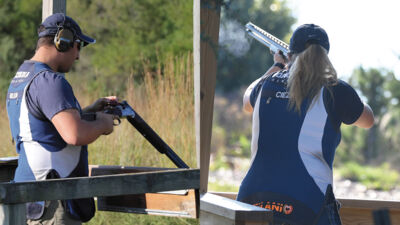 Head Coach: Dylan Owens (1st year)
2022 National Finish: 5th (out of 17 teams in "Division 2")
2021-22 Team Highlights: Placed second at the Prairie Circuit Conference Championships; placed either first or second in four additional competitions; Wyatt Hambly claimed the individual conference title; broke program records for most broken targets in a season (66,667), most awards won at nationals (28), highest trap score (491/500) and highest skeet score (492/500).
Outlook
The ninth season of existence for the Concordia University Shooting Sports program will have a new feel to it as Dylan Owens takes over as head coach. An alum of NAIA institution Bethel University (Tenn.), Owens replaces the late Scott Moniot, who tragically passed away in November 2021. Since his hiring in April, Owens has worked to establish relationships while building upon the foundation Moniot helped put into place over his four seasons wearing Bulldog blue.
The standard keeps getting higher in each successive season. Members of the program will tell you that last season's fifth-place team finish at the ACUI National Championship fell below expectations. To be fair, the Bulldogs were competing with heavy hearts. Moving forward, the plan is use Moniot's legacy as an avenue for positive momentum.
Says Owens, "As far as the standard on the team, Scott held them to a really high standard in terms of attitude and the way they carry themselves. I just have to continue that. I don't have to create new habits. I'm very happy to be part of a team that really holds themselves to that standard. As far as achievements, sporting clays and HOA (overall scoring) are the areas we need to grow the most in."
The competition across the shooting landscape has become increasingly fierce. A program that regularly tests itself on the national – and even international – stage, Concordia entered more competitors (nine) into the 2022 USA Shooting Shotgun Selection than any other collegiate team. From that group, three are current Bulldogs: Sam Blevins, Jessie Ciezki and Jack Nelson. Throw returning Prairie Circuit Conference champion Wyatt Hambly (who will compete while also serving as a graduate assistant coach) into the mix and you get the makings of a strong nucleus.
The roster also features nine freshmen, many of whom were recruited by Associate Athletic Director Angela Muller, who helped bridge the gap from Moniot to Owens. Now comes the challenge of attempting to raise the bar once again. The standing goal for the program is not only to win the conference (which it did in the fall of 2020), but to also some day raise the national championship trophy. The 2021-22 team attempted to move a step closer while breaking school records for most broken targets in a season (66,667), most awards won at nationals (28), highest trap score (491/500) and highest skeet score (492/500).
"He started something so great here," said Ciezki of Moniot. "It was tough to get a new coach and have changes happen, but I really think Coach Owens is going to keep us going in the direction Scott was going with improving our international games. I hope Coach Moniot is looking down and smiling at us with what we're doing, which I think he is."
Owens understands why Moniot earned such respect and admiration from his student-athletes. Owens himself considers Moniot to be somewhat of a mentor in the profession. Their paths had crossed several times through their shared connections in the world of shooting sports. They have philosophies that overlap, but Owens will certainly put his own stamp on the program. There have already been noticeable differences in the way practices have operated.
"Last summer, Scott and I had a long conversation about the future of clay target shooting in general and at the collegiate level," Owens said. "We agreed that coaching has to start evolving a little more towards how other sports are coached. It's much more goal-oriented than score-oriented. We had all the athletes set goals. Now my job is to help them achieve their goals."
One lofty goal is for every Bulldog athlete to qualify for the national championships in Las Vegas in the spring of 2023. A year ago, Concordia took 25 competitors to the national stage in San Antonio and cracked 2,774 targets. Hambly emerged as the team's top HOA (high overall) shooter with a total of 565. The next best among returners is junior Breyer Meeks, who knocked out 537 targets. Junior Claire Kee (515) represents the top returning female in terms of HOA at the 2022 national championships.
Based on last year's national competition, the Bulldogs will be working on chasing down the likes of the University of Tennessee Southern, Emmanuel College (Mass.), Fort Hays State University (Kan.) and Angelo State University (Texas). Regionally, Fort Hays State and Midland have been two of Concordia's main rivals. Fort Hays State managed to beat out the Bulldogs for the conference title last season.
Concordia will know very soon how it stacks up against Fort Hays State. The Bulldogs won't back down from anybody, no matter the coaching change.
Says Nelson of Coach Owens, "He's got a lot of energy, he has high expectations and there's accountability. I really like that, so I'm very optimistic about the upcoming season. I really want that top three spot at nationals. That was a big goal for me and the team last year. We're going to be chasing that this year."
A native of Kimberly, Idaho, Owens isn't afraid to shoot for the stars. He's already achieved significant heights as someone who earned a spot on the Shotgun National Junior and National Development Team. Nelson and his teammates appear to be on the same page in terms of what they believe to be attainable. Owens is tasked with rounding into form some key areas that have kept Concordia from contending for team national titles. That type of lofty goal could become reality if everything comes together the way the Bulldogs hope.
"Winning a (national championship) ring would be huge," Ciezki said. "For me personally, I really want to qualify for nationals. There have been some guideline changes. Instead of it being up to the coach's discretion on who to bring to nationals, now we have a qualifying score we have to hit. It's really important for me to get there – that's my No. 1 goal. As a team, we're trying to get everybody there and hit that mark. If we can take all of our team to nationals, that would be awesome."
The enthusiastic Owens is aiming for the same thing. The native Tennessean beams when discussing all that the program has to offer prospective recruits. The team has such amenities as its own on-campus training room, safes for keeping its guns and a top-notch home range of Oak Creek Sporting Club. Owens has already noted the unique aspects of Concordia that make it special, like recruit visits that are personable and specifically tailored to each individual.
"When I left my previous job, the goal was collegiate head coaching. Scott was the one who told me I should really consider it," Owens said. "As soon as I got in touch with Angela and (Director of Athletics) Devin (Smith) and felt their passion for athletics on this campus, I wanted to be here. I'm excited to be here. The team is growing and the school really supports shooting sports. That makes it a lot easier to come out and be part of it."
Practice sessions at Oak Creek will give way to the first official competition: the Fort Hays State Fall Intercollegiate Shoot on Sept. 10-11. The conference championships will take place Sept. 23-25 with the seventh annual Concordia Bulldog Sporting Invitational on Oct. 1-2. The season is made up of both fall and spring semester slates. The national championships will be held in mid-March of 2023.