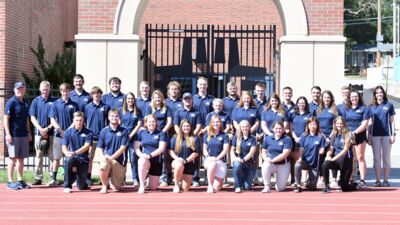 Head Coach: Scott Moniot (4th year)
2021 National Finish: 7th (out of 12 teams in "Division 2")
*Prairie Circuit Classic Champions*
2020-21 Team Highlights: Broke school records in skeet, trap and super sporting; won conference title at the Prairie Circuit Classic; claimed first place at the Midland Ice Out and Hastings Invite; took second place at the fifth annual Concordia Bulldog Sporting Invitational.
Outlook
The level of competitiveness and excellence continues to grow within the Concordia Shooting Sports program, which is at the outset of year four as a varsity athletic program. That time period coincides with the tenure of Head Coach Scott Moniot, who presided over a Prairie Circuit Classic conference championship squad in 2020-21. Along the journey, the Bulldogs broke school records in the disciplines of skeet, trap and super sporting.
Moniot was pleased with the progress the Bulldogs made during an unusual campaign that came with challenges precipitated by COVID-19. Concordia placed seventh out of 12 teams in "Division 2" at the 2021 ACUI National Championship while being hampered a bit by a reduced event that cut out two disciplines the program has excelled in.
"You felt like you were on unsteady ground," Moniot said of last season. "You really weren't sure how to plan your season. We planned it according to what we wanted to do and what we wanted to accomplish. Taking that next step and raising the bar was what we wanted to do. There was a lot of anxiety … Overall we did a really good job with what we were able to handle and maintain. All in all, it was a good season for not being what a 'normal' season would be."
The Prairie Circuit Classic championship was celebrated on Sept. 27 of last season when Erin Lokke also claimed the individual conference title. Neither achievement had been done in the history of the program. A major figure in bringing visibility upon the program, Lokke put the finishing touches on an impeccable collegiate shooting career by seizing the women's skeet national title this past March. Lokke leaves a lasting legacy that sets a high standard for Bulldogs of the present and future.
In addition to the team records that were broken last season, Concordia won the Midland Ice Out and Hastings Invite and placed second at its own fifth annual Concordia Bulldog Sporting Invitational. When the Bulldogs were on their game, they believed they could compete with any program in the country. Veteran Russell Malterud (who competes and serves as a graduate assistant coach) has seen the transformation of Concordia Shooting Sports.
"It's completely different," Malterud said. "My first year here when everything changed (with the move to a varsity sport), there were a lot of growing pains. With that kind of transition, there were ups and downs with figuring out how things are going to work. We ended up finding our way. This year everyone hit the ground running and everyone's been working together. We're all hungry and know what it takes … We know when we shoot our game where we're going to end up. We know what we're capable of."
Malterud referred to some of the recent individual and team achievements as "groundbreaking stuff." The roster of 35 competitors now looks to build upon what was achieved last season. There are many names to mention in terms of Bulldogs who have rose to great heights already in their careers. Returners who placed in the team's top five in either trap, skeet and/or double skeet at the conference championships include Wyatt Ericksen, Wyatt Hambly, Claire Kee, Wayne Moore, Jack Nelson, Mack Origer and Tommy Sosso. The likes of Nicole Breese, Malterud and Breyer Meeks were also key contributors, among others, at the regional and national levels.
It's not uncommon for Concordia athletes to rub elbows – or rank among – the best shooters in the entire country. Lokke has taken advantage of numerous opportunities to compete at prestigious events (placed eighth at the Olympic Trials) and has even represented the country for Team USA in international competitions. Nelson has also earned a spot with Team USA and Sophia Bultema will soon be traveling to Italy to represent the USA in the World Paralympic Championships. In addition, Breese (skeet) and Uitermarkt (sporting clays) won Iowa state titles and have earned bids to the national championships. (Notably, Moniot coached 2020 Olympic bronze medalist Maddie Brenau in his previous coaching stop at Simpson College).
A native of Natural Bridge, N.Y., Monica Reed is another upperclassman with the ability to make an impact. She can talk first-hand about the program's rising expectations and team atmosphere. Said Reed, "We've got a really great group of seniors right now and our incoming group of freshmen look really promising right now. Everybody's working hard on the range and making really good connections. I think our first competition looks promising with what I see in practice. I think it will be interesting to see how it's going to come together."
The 2021-22 schedule sets up similarly to last season. Although the national championships take place in the spring, the fall is the much busier period of competition. As an unofficial start to the season, Fort Hays State University (Kan.) held a shoot for freshmen on the weekend of Aug. 28-29. Moniot saw confirmation in a strong recruiting class, but also the ramp up in competition on the outside.
The collegiate shooting scene just keeps getting better as more schools pour resources into their respective programs. Said Moniot, "It's the fastest growing sport, especially at the high school level. More programs are popping up in our state here in Nebraska. They're starting to pop up everywhere. What that has done has put a lot more talent into the national championships and all the regional events. We went to the national championships with pretty high expectations. Two of our best events were dropped out of the national championships to condense it (due to COVID-19). In the four events we shot, we broke three of our team records and we placed seventh in the nation. That's how competitive it has gotten."
The competition that is so fierce that sometimes even a perfect score at the national championships in San Antonio, Texas, won't be enough to claim a title. Take for example, Wayne Moore shooting 100/100 in trap at the 2021 event. He wound up losing the tiebreaker. In that same event at nationals, teammates in Uitermarkt (99), Rebecca Tierney (98), Breese (98) and Hambly (97) were close behind. It's also worth nothing that Concordia finished four measly targets behind Midland for fifth place at nationals.
If each individual "does their job," as Moniot likes to say, the results will be there. Moniot takes joy in just the achievements on the range, but also the attainments in the classroom and the bonds that are formed throughout the course of the season. As Moniot noted, the team GPA has risen dramatically over the past few years.
"Seeing the whole team gel and help each other work as a unit, to me, that is success," Moniot said. "If we do our jobs right, we'll have success on the fields too. I know that's what most everybody sees at the end. There's so much more that happens than the wins and the losses that defines the success of the program."
If things come together, the Bulldogs certainly have the potential to win more invitationals and perhaps even place inside the top three nationally this coming spring. Right now, they will keep the focus on the process of what it takes to get there.
"I'm not going to put any numbers out there. I don't like doing that," Malterud said. "There's so much that can take place throughout the year. There's no reason we can't duplicate our success from last year and have even more success this year. Our freshmen we have in this year have been phenomenal. We lost some major pieces from last year, but we still have a great core group coming back. I think it's going to be a really fun year."
The season will officially begin this Saturday and Sunday (Sept. 11-12) at the Fort Hays State Fall Intercollegiate Shoot. The conference championships are set for Sept. 24-26 with the sixth annual Concordia Bulldog Sporting Invitational booked for Oct. 2-3. Concordia also has a trip to Nashville, Tenn., to look forward to in mid-November.