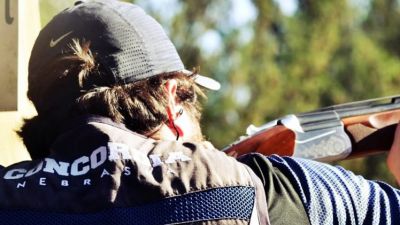 Head Coach: Scott Moniot (3rd year)
2020 National Finish: N/A (canceled due to pandemic)
2019 National Finish: 4th (out of 13 teams in "Division 2")
2019-20 Highlights: Broke school records in wobble trap, skeet doubles and sporting clays; placed second at own Bulldog Sporting Classic; raised $87,000 for Ronald McDonald House Charities; competed in nine official events (six in the fall semester and three in the spring semester).
Roster Breakdown: 31 total team members, including 24 returners and seven freshmen; roster features representation from the states of Alaska, Arkansas, California, Colorado, Idaho, Illinois, Iowa, Minnesota, Nebraska, New York, South Dakota and Wisconsin.
2020-21 Roster | 2020-21 Schedule
Outlook
The 2019-20 season did not conclude with the dramatic finality that the typical ACUI National Championship would provide. However, spirits are high within the Concordia University Shooting Sports program as it enters the 2020-21 campaign. This will mark year three of Head Coach Scott Moniot's tenure leading the Bulldogs. In the spring of 2019, Concordia claimed fourth place (in the "Division 2" grouping) at the national championship in San Antonio, Texas.
Moniot's roster is 31 deep and has representation from 12 different states. Many of those names have the ability to emerge as standout performers in varying disciplines over the course of the season. That's part of what makes Concordia such a threat.
"Anybody on this team on any given day could have a top performance," Moniot said. "The nice thing about our sport is that everybody gets to play the game. It's fun to see that talent develop and it could come from anywhere on the team. Everyone on our roster has the potential to take this to a high level."
The Shooting Sports program at Concordia first got started in 2014-15, meaning it's one of the youngest programs in the athletic department. The bar seems to be raised each year. Graduate assistant coach and alum Erin Lokke has garnered plenty of attention in her drive to become one of the world's top shooters. As a team last season, the Bulldogs broke school records in wobble trap and skeet doubles at the Bronco Invitational and set a new program standard in sporting clays at an ACUI event in February.
On an individual level, Nicole Breese won the female high overall title at the Doane Invite, Colten Uitermarkt shot a perfect score in skeet at the Doane Invite and Wyatt Eriksen was perfect in trap at the Tundra Shootout. In her fifth season of collegiate competition, Lokke earned female all-conference honors at the Prairie Circuit Classic while Emma Singer and Breanna Tarras landed on the freshman all-conference squad. Moniot also sees the likes of juniors Wyatt Hambly and Sydni Kroll as two rising stars.
It's near the end of week four of face-to-face classes and practice at Oak Creek Sporting Club is in full swing. It's a much better feeling than what athletes all over the world felt back in March. Said Moniot, "It was pretty devastating. We worked all season to get ready for it and felt we were in a good spot. The excitement was there. We gave them some projects to work on over the summer, but a lot of them couldn't go to the range and practice because everything was shut down. We're here now to do our jobs. Let's get to practice and make this happen. Wow, these kids were ready. They came with a hunger and a fire."
Oak Creek Sporting Club has been home to the Concordia Bulldog Sporting Invitational for each of the two previous seasons. It's a top-of-the-line facility in Brainard, Neb., roughly a 35-minute drive from campus. At least season's home event (144 total shooters), the Bulldogs placed second out of 11 teams while being paced high overall by Hambly, Mackenze Origer, Bryon Baca, Cole Hammond and Blake Greckel.
Depth appears to be a strong suit again as Concordia readies for the fall portion of the schedule to get underway.
"I think everybody on the team has been working super hard," said Kroll, a native of Gibbon, Neb. "We had a team camp the other week and everybody worked well together. I had a group of five and we all learned how to coach each other if Coach (Moniot) is helping someone else. I think the team is looking really good this year. All the freshmen are really outdoing themselves."
At 6-foot-5, Hambly is a "large dude" by his own admission. Naturally, he thought football would be a good fit as a freshman in high school. After an accident resulted in a fractured skull and severe concussion, Hambly looked for non-contact sport opportunities. He picked up shotgun sports quite fast, first in his hometown of Paso Robles, Calif., before making a splash statewide and nationally.
"Not having nationals definitely pushed us to strive a little harder through the summer," Hambly said. "We trained a lot harder working to get better at our job so that come this season we're ready to go. We hope to complete our job to the best of our ability. We were on our own for shooting, but we definitely made the summer worth it. Looking at how our season has started off with practice we're all very motivated to get back into competition."
Moniot sees this program continuing to grow along with the sport as a whole. Participation is rising across the country at the high school level. Concordia has a lot to offer those potential recruits. Not only is Oak Creek one of the "premier sporting clay clubs in North America," as Moniot puts it, the program is about to have the use of an indoor training room (inside the newly completed Dunklau Center). Moniot says it will have the look of a big video game with considerable value to the athletes. Says Moniot, "We can micromanage and detail out how we want to approach a target, how we want to shoot a target and get the visual feedback on a screen. It's going to be pretty techy."
It's another tool for a well-armed program. Moniot believes strongly in the firepower his squad possesses. By staying true to the process and doing "the job," the Bulldogs hope to catch up to rivals and highly accomplished shooting programs like Fort Hays State University. In 2019, Fort Hays State, Martin Methodist College and University of the Ozarks were the three teams to place above the Bulldogs at the ACUI National Championships.
"They have the potential, when we put this thing all together – all the disciplines – they're good enough to play with anybody," Moniot said. "In fact, they're good enough to beat anybody. We broke school records throughout the course of the whole season last year so that was pretty exciting. We had some really high moments. That's why (not having nationals) was a real letdown. We had all the pieces. We were hoping to put them all together that one week in San Antonio."
After some scheduling adjustments, Concordia is slated to begin action this fall with a weekend dual versus Midland, Sept. 12-13. Day one will take place in Omaha, Neb., before shifting to Oak Creek on day two.