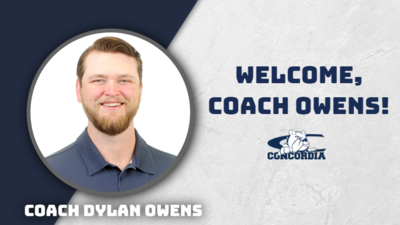 SEWARD, Neb. – The Concordia University Athletic Department has identified a rising star on the competitive shooting sports scene in the form of Dylan Owens. Owens has been hired to take the reins of the Concordia Shooting Sports program, making him the third head coach in program history. The native of Moscow, Tenn., will be tasked with building upon the work of former Head Coach Scott Moniot, who passed away in November 2021 after helping transition Bulldog Shooting Sports into an official varsity collegiate sport at Concordia.
The announcement of Owens' hiring was made official on Monday (April 18). Owens has already started his duties as head coach. This is the type of opportunity he had been searching for.
Wrote Owens in a statement, "As a former collegiate athlete in the shooting sports, having the opportunity to raise up more athletes in this sport and represent a fantastic university really excites me. I endeavor to help the shooting sports athletes achieve their personal goals while giving all glory to our amazing Creator and Savior."
Director of Athletics Devin Smith sees Owens as a strong Christian leader equipped to move the program forward. Said Smith, "Coach Owens stood out in the process during our national search to find Coach Moniot's successor. We are confident that Dylan will continue to expand upon the foundation that has been built for Concordia Shooting Sports and take the program to new heights. We believe Dylan is a young star in the shooting sports landscape and admire his commitment to representing Concordia Athletics with class and Christian character. I want to thank Associate Director of Athletics Angela Muller for taking on many of the program's day-to-day responsibilities as we dealt with the tragic passing of Coach Moniot. We look forward to working with Coach Owens, who has already begun to form connections with our current student-athletes."
Since graduating from NAIA member institution Bethel University (Tenn.) in 2019, Owens has immersed himself within the world of shooting sports. Owens has devoted his time to shotgun shooting clinics for athletes of a variety of ages, has coached multiple winning athletes at the state and national level and has traveled to events across the country while networking and bolstering his craft. Owens has worked closely with athletes through personal training sessions in three main disciplines: trap, skeet and sporting clays. At Holly Fork Shooting Complex in Tennessee, Owens served as the manager and club professional.
Owens' coaching career followed his distinguished career as a member of Bethel Shooting Sports. As a collegiate competitor, Owens rose to great heights in earning recognition as the 2019 ACUI Nationals Super Sporting Class A National Champion and the 2018 ACUI Nationals Class A International Skeet Champion. Post-graduation, Owens claimed the 2020 NSCA Class A FITASC National Championship. He was named Bethel's 2017-18 Club Male Athlete of the Year.
Professionally, Owens is certified as an SSSF Certified Coach Trainer, an NRA Level 1 Shotgun Instructor, a 4-H Level 1 Shotgun Coach and FITASC Certified Referee National Level. He has also previously worked for the Tennessee Wildlife Federation and duPont/Kreighoff Rifles and Shotguns.
Owens earned his Bachelor of Business Administration and Management from Bethel University.