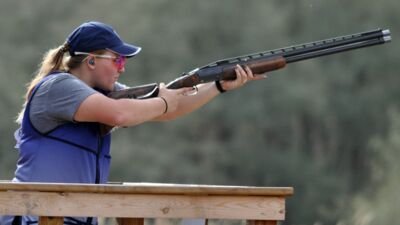 GRAND ISLAND, Neb. – In the only competition of the week for Concordia University Shooting Sports, nine Bulldogs represented the program at the 2022 Collegiate Greater Midwest Super Shoot hosted by the ACUI/SCTP on Thursday (Oct. 27). Concordia competed in international events only and was led by Breyer Meeks in international skeet and by Jack Nelson in international trap during action at Heartland Public Shooting Park in Grand Island, Neb. The event featured 125 targets for those who competed in international trap and international skeet.
This competition marked the sixth outing this season for Head Coach Dylan Owens' squad, which had been coming off a third-place team finish at the NCSSAA Central Region Qualifier. The Greater Midwest Super Shoot offered a chance to shoot Olympic events that are unique from the typical American events of trap, skeet and sporting clays.
"We had some people dig in and do really well," Owens said. "We had a few really, really good rounds. You had to shoot straight through in this competition. Some of our athletes do have Olympic aspirations. They have spent a lot of time in the sport towards these events. I wanted our international shooters to have an event to go to that was close. I think they had fun."
One key difference in international trap and skeet, as Owens explained, is the increased speed of the targets. A native of Filer, Idaho, Meeks adjusted and cracked 98 of 125 targets in international skeet. The Kimberly, Idaho, native Nelson busted 95 targets in international trap. Five of the six Bulldogs who competed in international trap shot 82 or better while Wyatt Hambly (91) joined Meeks with a score in the 90s in international skeet. Complete results for Concordia are listed below.
Concordia scores at Greater Midwest Super Shoot
International Trap (125 targets)
1. Jack Nelson – 95
2. Sam Blevins – 89
3. Claire Kee – 85
4. Jessie Ciezki – 82
4. Haley Schmutzer – 82
6. Mason Ward – 68
International Skeet (125 targets)
1. Breyer Meeks – 98
2. Wyatt Hambly – 91
3. Cael Washburn – 72
Just one event remains on the fall schedule, but it's a significant one. Said Owens, "We're getting some final training in going into Wichita. It's our last regional of the year to qualify for nationals. We're very excited that we have 14 qualified right now. We're hoping to get about seven more qualified. It'll be a grind to get through the last event, but we're excited for it."
The NCSAA North Central Qualifier will take place next Saturday and Sunday (Nov. 5-6) in Wichita, Kan. Results for the event will be available at this link: https://ncssaa.com/wichita. Once the qualifier wraps up, the Bulldogs will be off from competition until March of 2023.