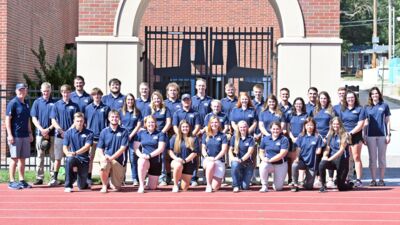 Before scattering for the semester's end, members of the Concordia University Shooting Sports program will gather for a shooting event in honor of the late Scott Moniot. It will be one last chance this spring to celebrate the life of Coach Moniot and a successful 2021-22 season for the Bulldogs. Through reflections from members of the team provided below, it's clear that the program has created a special family-type atmosphere that will carry on under the leadership of new Head Coach Dylan Owens.
Shooting for Scott Event
Dates: Saturday, April 30, 10 a.m. – 4 p.m. | Sunday, May 1, 10 a.m. – 4 p.m.
Location: Oak Creek Sporting Club (Brainard, Neb.)
Purpose: Memorial shoot with proceeds being donated to the Concordia Shooting Sports Team
--Facebook invite to event
2021-22 Season-In-Review
The 2021-22 Concordia Shooting Sports season had many highlights as the Bulldogs competed in nine official events that were spread out over the fall and spring. The campaign culminated in late March when Concordia placed fifth in the Division 2 breakdown at the 2022 ACUI National Championships held in San Antonio, Texas. Impressively, the Bulldogs placed either first or second at five events:
· 1st – Concordia Bulldog Sporting Invitational
· 1st – Hastings Bronco Invitational
· 2nd – Prairie Circuit Conference Championships
· 2nd – Midland Warrior Open
· 2nd – Simpson College Invitational
At the national championships, Sarah Schwacher placed third high overall on the women's side and Wyatt Hambly placed fifth high overall on the men's side. It was a fine senior season for Hambly, who was the HOA conference champion. Four other Bulldogs were honored as all-conference performers: Sam Blevins, Nicole Breese, Russell Malterud and Emily Rasmussen. The program has boasted the conference individual champion in back-to-back years.
At the national championships, Concordia came away with the special awards listed below. The Bulldogs cracked 2,774 targets at nationals and outgunned rival Midland. A series of individuals nearly shot perfect scores in specific disciplines. Hambly, Mackenze Origer and Colten Uitermarkt each shot 99 in American Skeet and Damien Stewart and Brennen Stones both shot 99 in American Trap.
Concordia special awards at nationals:
International Skeet 3-Man Team - 1st Place
International Skeet 1 Man/1 Woman Team - 1st Place
Open Individual Doubles Skeet - Claire Kee (2nd Place); Emily Uitermarkt (3rd Place)
Individual Women's Super - Sarah Schwacher (1st Place)
ISO Women's Skeet - Emily Rasmussen (2nd Place); Sarah Schwacher (3rd Place)
Back in mid-March at the Simpson Invite, Origer did crack 100 straight in skeet. As part of the team win at the Hastings Invite, Schwacher and Uitermarkt took individual titles. Outside of official collegiate competition, nine Bulldogs past and present competed at the 2022 Shotgun Selections event hosted by USA Shooting in Tucson, Ariz., in January. Blevins took home the men's trap junior bronze medal, Sophia Bultema earned the women's para silver medal in trap and Jack Nelson emerged with the men's collegiate trap silver medal. No other college in the nation had greater representation at the Shotgun Selections than Concordia.
Clearly, there was a lot more to this past season than trophies and medals. Wrote Sarah Schwacher, "Though the shooting team suffered the big loss of Coach Scott Moniot, I was most proud of how we all carried ourselves throughout the remainder of the season. Losing someone so critical to our team was devastating, but our team was able to bond through the sadness. It has been the closest our team has felt since joining the team. The spring season really showcased the bonding of the team. Throughout the spring season, this team was able to compete at a high level. Though our Nationals finish was not what we all wanted, we were able to have amazing achievements. Wyatt Hambly was able to tie for fifth men's high overall, I was able to get third place overall women's, as well as having so many individual awards. The competition keeps increasing in difficulty, but our team stayed competitive despite the hardships we all faced. It hasn't been an easy year, but we did make the most out of it. We all wanted to make Coach Moniot proud, in all we did, whether it was in our grades, our accomplishments or our shooting. I know Coach would be proud of the team and how we all have handled ourselves during this time."
Added Cally Rogers, "I was the proudest of how our team handled adversity, and I know Coach would have been proud of that too. We stuck together when Mack's dad died, and we stuck together when Coach was sick and passed away. We stepped up for each other and for Donna (Moniot) and the kids. We took care of each other and showed each other love. Coach would have been proud of that, and I am so proud of my team for that. I am grateful to have gone through such a tough time with my team. We could lean on each other and heal together."
Wrote Colten Uitermarkt, "Coach Moniot was the entire reason I found myself at Concordia University. Looking back now I feel as though God had put Scott in my life to open Concordia University to me as I now feel God wanted me here. This past season was filled with many highs and lows both in regard to scores and emotions. Concordia University Shooting Sports is special. A memory that will remain with me was the final moments of nationals after we finished our last event doubles trap. A combination of finishing off the season knowing that we had just shot our last competition target as a Concordia Bulldog and being without Scott flooded my mind. The seniors had been through a lot of adversity with Scott at our side. Scott's lessons, coaching and talks will remain with me as I grow and carry on with my life. My experiences at Concordia with Scott were special especially this past fall semester as we had many talks after shoots in his office."
Associate Athletic Director, Angela Muller responded by saying "Coach Moniot has impacted the Bulldog student-athletes, the athletic department, the university and the shooting sports world. His passion for the sport, his care for each student-athlete and his love for Jesus made an impression for all who were lucky enough to cross his path. Regarding the 2021-22 shooting sports team, I do not believe they could have made Coach Moniot more proud in character, execution and achievements. The team, along with the coaches who assisted in completing the year (Russel Malterud, Erin Lokke, and Dave Miller), truly lived out the goals set prior to Coach's passing. I'm so very proud of everyone who played a role in the past and future success of these individuals. I can see Coach Moniot's smile beaming now."
Concordia Shooting Sports will return in 2022-23 in a new era with Owens leading the way. Owens was announced as the program's head coach on April 18. Wrote Owens, "As a former collegiate athlete in the shooting sports, having the opportunity to raise up more athletes in this sport and represent a fantastic university really excites me. I endeavor to help the shooting sports athletes achieve their personal goals while giving all glory to our amazing Creator and Savior."
'Do your job': Remembering Coach Moniot
A few members of the senior class, as well as former star Bulldog Erin Lokke, reflected on what Coach Moniot meant to them. He will always be remembered as a man of Christ and for perhaps his most common refrain, "Do your job."
--------------------------------
Coach Moniot was a lover. He treated each of us like we were his own children. He celebrated our accomplishments and was there to pick us up in the hard times. He had a smile like no other and was almost always wearing that smile. What I will remember most about Coach though is his genuine want for each of us to succeed and his genuine kindness. Coach believed in me and had goals for me that I was not sure was possible. When I would accomplish these goals, it showed that he never had any doubt. He really wanted each of us to reach our full potential. When I had to disclose to coach the health issues that I was facing, he just hugged me and let me know that we would get through it however we needed to. He was there for me every step of the way, and I will forever be thankful for that. Coach was a man of God and that was very evident through his actions.
--Cally Rogers (Bellevue, Neb.)
Coach Moniot was one of the most amazing people I have had the honor to know. He always wanted to push me to be the best that I could be, in all aspects of my life. He would do everything in his power to help me achieve all my goals. He encouraged me academically, as well as with my shooting. Coach Moniot encouraged me to step out of my comfort zone to be able to do great things. Never once did he have a negative attitude, even when my training wasn't going well or I would have a bad score. He was the most uplifting person, and always knew exactly what to say to keep a smile on my face.
--Sarah Schwacher (Waterford, Wis.)
Coach was always welcoming to everyone. He would always make you feel as though you could do anything that you set your mind to. Personally, I think the biggest way he impacted me is to show me different ways to help others in coaching. He had described different ways to reach young kids and to think outside of the box and to do your job.
--Colten Uitermarkt (Otley, Iowa)
Coach Moniot displayed positivity in everything that he did. He was a dedicated coach, mentor, husband, father and grandfather. Many of his current and former students would agree when I say that Coach Moniot always saw potential in someone, even when they couldn't see it within themselves. Coach Moniot was passionate about the mission at Concordia. He taught the shooting sports team many lessons that each person will cherish forever. As Coach Moniot would say, 'everyone has a job to do.' The team has a lot to focus on with nationals coming up in March and I believe the shooting team will grow together and work hard for everything he did for each and every one of them. I will always be thankful for the late night and tireless training sessions that coach Moniot pushed me through.
--Erin Lokke, former star Bulldog competitor and graduate assistant coach