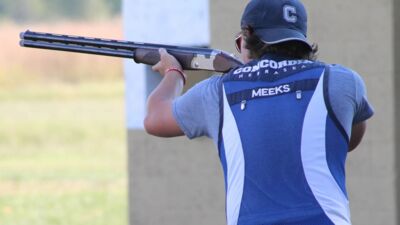 HAYS, Kan. – The debut as head coach for Dylan Owens arrived this past weekend (Sept. 10-11) as Concordia Shooting Sports entered 24 individuals into competition at the Fort Hays State University Fall Intercollegiate Shoot. With a combined 1,591 total targets cracked by the top five Bulldogs, Concordia placed second high overall out of 10 teams present at Hays City Sportsmen's Club in Hays, Kan. Fifth-year student-athlete Wyatt Hambly finished one target off an individual title.
Named head coach back in April, Owens took over a program that has steadily improved since its inception in 2014-15. This was the start of a 2022-23 campaign that comes with high hopes.
"We were using this first shoot as a benchmark," Owens said. "It's not a qualifier for nationals, but we wanted to go out and be competitive and see where we're at. The team did really well even with Saturday's weather conditions. It was an uncomfortable day of shooting, so for them to shoot as well as they did was very impressive. Our freshmen really stepped up and did fantastic for their first collegiate event. I was really happy with our sporting clays scores over the weekend. I'm not upset with taking second place. This week's practice will be focused on some of the weaknesses we saw over the weekend."
Overall, the Bulldogs placed as the runner up to host Fort Hays State (1,622). In a close battle for second, Concordia outgunned rival Midland (1,588) by three targets. Owens' squad was able to hold off Midland after entering day two leading the Warriors by just one target. While Hambly led the way for the Bulldogs with an HOA total of 331, the rest of the team's top five included Jack Nelson (318), Tanner Muff (316), Breyer Meeks (315) and Wayne Moore (311).
Broken down by discipline, Concordia placed either second or third in each category: second in singles trap (486), second in sporting clays (411), third in skeet doubles (236 + 46) and third in doubles trap (446 + 84). Hambly paced the Bulldogs in skeet doubles (49), doubles trap (93) and sporting clays (92) while Moore led the way in singles trap (99).
The top female shooters for Concordia, in terms of high overall, were: Claire Kee (309), Katie Welker (301), Abby Kepplin (288), Angie Wolfert (284) and Monica Reed (284). A native of Gibbon, Neb., Kee finished only three targets behind the top HOA female at the Fort Hays Shoot. Nine Bulldogs eclipsed 300 overall targets hit.
As a team, the Bulldogs also defeated the likes of Iowa Western Community College (1,571), Schreiner University (1,543), Hastings (1,540), Northwest Kansas Technical College (1,425), Connors State College (1,392), Nebraska College of Technical Agriculture (1,286) and Oklahoma Panhandle State University (1,275). The Concordia total of 1,591 was an increase from 1,568 at the 2021 Fort Hays State Shoot.
The Bulldogs will return to action this Saturday and Sunday for the Midland University Warrior Open. The event will be staged at Lincoln Trap & Skeet with bullets flying at 9 a.m. CT both days. The competition will provide athletes the opportunity to qualify for the NCSSAA National Championships held in the spring of 2023.