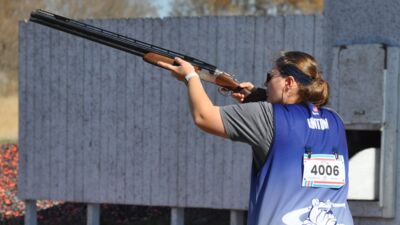 Full North Central Region Qualifier Results
WICHITA, Kan. – As a wrap up to the fall portion of the 2022-23 schedule, the Concordia University Shooting Sports program traveled its entire roster of 25 to the 2022 North Central Region Qualifier held in the Wichita, Kan., area, Nov. 4-6. Most significantly, the Bulldogs added four national qualifiers to their season tally that now numbers 18 strong. They also placed fifth high overall out of a large field of 18 teams, each tasked with testing their skills in trap, skeet and sporting clays. The three days of competition were held at Ark Valley Gun Club and Shady Creek Sporting Clays.
Head Coach Dylan Owens entered his athletes into seven events throughout the fall 2022 season. Concordia will go into winter training mode before gearing up for the spring semester when the national championships are contested.
"We had a lot of improvement this weekend, even though Friday's conditions were rough," Owens said. "I believe we had five people shoot PR's in different events. Katie (Welker) and Kaylee (Hinton) had to shoot good scores to qualify for nationals and they ended up hitting the targets they needed. They were all excited about it.
"My goal was to get us to 21 qualifiers. We've had people who didn't qualify but have shot significantly better over the course of two months this fall. I think the new system with the qualification score does weigh on people more than they think it does. It hangs over you a little bit, but we saw some great shooting. I think the team works together well as a whole. It's been a good semester."
The brand-new national qualifiers are Kaylee Hinton, Monica Reed, Steven Schmidt and Katie Welker, courtesy of their efforts over the weekend. Concordia's top five overall shooters cracked a combined 1,375 targets towards the team scoring. That total put the Bulldogs behind Fort Hays State University (1,425), Lindenwood University (1,408), Midland University (1,400) and Schreiner University (1,384). Of those opponents, only Midland will compete within the same division for the 2023 national championships. By discipline, Concordia placed tied for fourth in skeet (488), fourth in sporting clays (435) and sixth in trap (487).
The HOA leaders for the Bulldogs at the event were Wyatt Hambly (287), Tanner Muff (279), Buchannan Tietjen (272), Sam Blevins (269) and Breyer Meeks (268). Below is a rundown of the top five Concordia shooters by discipline. Hambly was the team's top performer in each of the events with Tanner Muff equaling him in trap. Emily Uitermarkt was the female runner up in skeet.
Trap (487) – Wyatt Hambly (99), Tanner Muff (99), Wayne Moore (98), Katelyn Welker (96) and Monica Reed (95).
Skeet (488) – Wyatt Hambly (98), Breyer Meeks (98), Emily Uitermarkt (98), Buchannan Tietjen (97) and Cael Washburn (97).
Sporting Clays (435) – Wyatt Hambly (90), Tanner Muff (88), Buchannan Tietjen (87), Jack Nelson (86) and Sam Blevins (84).
Said Owens, "Overall, I'm just ecstatic with how well we've done this fall. We're right there. The top three going into nationals (of our division) look to be us, Midland and William Penn. It's going to be a close one at nationals, which excites me as a competitor … I think our athletes are ready for a little break.
Based on performances at this fall's three qualifying events, 18 Bulldogs are qualified for the NCSSAA National Championships in the spring:
· Ames Andelt
· Sam Blevins
· Jessie Ciezki
· Wyatt Hambly
· Kaylee Hinton
· Claire Kee
· Breyer Meeks
· Wayne Moore
· Tanner Muff
· Jack Nelson
· Monica Reed
· Steven Schmidt
· Brennen Stones
· Buck Tietjen
· Emily Uitermarkt
· Mason Ward
· Katie Welker
· Angie Wolfert
The next competition on the schedule is the Doane Tiger Invitational slated for March 4-5, 2023, in Lincoln, Neb. The 2023 NCSSAA National Championships will take place March 13-19 at Clark County Shooting Complex in Las Vegas.