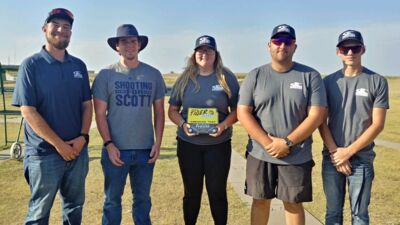 Concordia Results | Full Fort Hays Shoot Results
HAYS, Kan. – The highlight of the season's first shoot occurred in trap as the Concordia University Shooting Sports team approached a school record and won the event as part of the 2023 Fort Hays State University Fall Intercollegiate Shoot. The two-day shoot unfolded at Hays City Sportsmen's Club in Hays, Kan., Sept. 9-10 and featured competitors from 12 institutions. The Bulldogs ultimately placed third high overall while duking it out with familiar rivals Fort Hays State and Midland.
Head Coach Dylan Owens' program is coming off a 2022-23 season that saw it place third at the NCSSAA National Championships in the Division IV breakdown. The Bulldogs who factored into the HOA team scoring knocked out a total of 1,572 targets, placing Concordia behind only Fort Hays State (1,654) and Midland (1,629).
"It's nice to see our trap scores stay up there," Owens said. "We practiced a little bit of trap this past week and we had a lot of good scores. Even outside of the top five, we had a lot of good scores. Our overall sporting scores increased. We've brought everyone up a little bit. Overall, the team put in a lot of good work. A couple of our HOA athletes scored high in everything. It's good to know that we're pretty close to our HOA goal. We just need to refine a few things. The weather this year at Fort Hays was so much better than it was last year."
The Bulldogs posted a score of 494/500 in trap led by perfect 100s from both Sam Blevins and Katie Welker. They both took home championships in trap with Blevins the top male and Welker the top female in that discipline. The team's top five in trap also included Jack Nelson (99), Hayes Andelt (98) and Brennen Stones (97). The 494 was three targets shy of the school record. The program turned in a 497 in trap at the 2022 Midland Warrior Open.
In the other disciplines, Concordia placed third in trap doubles (453) and third in skeet doubles (227). The top five Bulldogs in trap doubles were Ames Andelt (94), Breyer Meeks (92), Devin Harris (91), Blevins (89) and Wayne Moore (87). In skeet doubles, five Concordia competitors shot scores of at least 45: Moore (47), Rayne Larrison (45), Buchanan Tietjen (45), Harris (45) and Ames Andelt (45).
A native of Filer, Idaho, Meeks paced the Bulldogs from an HOA perspective. He shot 320 overall with scores of 94 in trap, 92 in trap doubles, 43 in skeet doubles and 91 in sporting clays. The rest of the team's top five HOA were Blevins (317), Moore (313), Harris (311) and Tietjen (311). Meeks tied for 19th on the HOA individual leaderboard. Concordia's top placing female was Claire Kee, who totaled 302.
All in all, it was a nice start to the 2023-24 campaign. Said Owens, "It was great to be able to beat Fort Hays at their home in trap. They're a great all-around team. To be only three targets under the school record at the first event is pretty good. Sam and Katie came in and put in a lot of work. Katie actually had a couple rough rounds of trap in practice, but she came out and just hammered everything … We're really going to focus in on sporting clays and some more skeet. We're going to shoot regular American skeet, so hopefully that will help a few athletes."
Next up for the Bulldogs will be the Mid-Plains Community College Fall Flurry this Friday through Sunday (Sept. 15-17) in North Platte, Neb. There are six remaining events on the fall slate for Concordia.