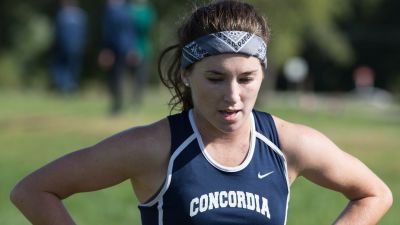 SEWARD, Neb. – For the second time this season, senior Kim Wood has garnered GPAC/Hauff Mid-America Sports Female Track Athlete of the Week accolades. This marks the ninth time that a Concordia track and field athlete has received a GPAC weekly honor in 2016. Head coach Kregg Einspahr's programs entered this week having produced a national weekly award winner in three-straight weeks.
Wood takes this week's honors thanks to another sub-five minutes mile turned in at the Frank Sevigne Husker Invite on Feb. 6. She slashed more than six seconds off her previous school record time in the event by clocking in at 4:51.61. The native of Greeley, Neb., ranks No. 1 in the NAIA in the one mile and also owns an additional three times that rank inside the top 10 nationally. In addition to her program record in the one mile, Wood owns school indoor standards in the 800 and 1,000 meter runs and as part of the 4x800 meter relay.
Wood and company return to action Friday for the final home meet of the 2016 indoor season. The annual Concordia Invite is scheduled to begin at 2 p.m. CT. View the event schedule HERE.
Wood's 2016 NAIA national ranks
600 meters: 7th (1:35.80)
800 meters: 2nd (2:11.03)
1,000 meters: 3rd (2:55.95)
1 mile: 1st (4:52.21)
2016 Concordia GPAC athletes of the week
Feb. 10 – Kim Wood
Feb. 3 – *Cody Boellstorff, Stephanie Coley, CJ Muller
Jan. 27 – *Zach Lurz
Jan. 20 – CJ Muller, Kali Robb, Jose Rojas, *Kim Wood