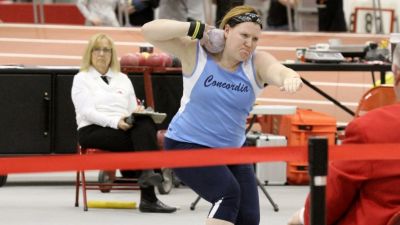 SEWARD, Neb. – Senior Kim Wood reeled in another significant honor and a combined 39 Concordia men's and women's track and field athletes were officially acknowledged on Wednesday as GPAC all-conference honorees based on top-eight placements at the 2016 GPAC Indoor Track and Field Championships (Feb. 19-20). The complete list of all-conference Bulldogs can be viewed at bottom.
The GPAC runner-up Concordia women were led by the five all-conference claims produced by Wood, who on Wednesday garnered the women's Most Outstanding Performance of the Meet award (voted on by league coaches) for her unprecedented work over the weekend. Wood won four GPAC titles and broke three meet records. She totaled 41 points on the way to winning Hauff Mid-America Sports/GPAC Indoor Track and Field Outstanding Athlete of the Year recognition.
In sum, 18 Bulldog all-conference female athletes totaled 23 all-GPAC performances. Wood was one of eight to earn all-conference recognition in more than one event. In addition, Kali Robb broke the conference meet record in the weight throw.
For the third-place Concordia men, 21 athletes received recognition. Cody Boellstorff, Zach Lurz and CJ Muller claimed one event title apiece to headline their efforts. Boellstorff increased his NAIA-leading and school record mark in the weight throw while Lurz set a new GPAC indoor standard in the shot put. The Bulldog men thoroughly dominated the weight throw, holding down six of the eight all-conference placements. They also earned five all-conference honors in the shot put.
Other event titles were recorded by Stephanie Coley (shot put) and McKenzie Gravo (pole vault). Runner-up finishes were turned in by Allison Brooks (pole vault), Lurz (weight throw), Jose Rojas (shot put), Emily Sievert (5,000 meter run) and Lucas Wiechman (heptathlon).
The 2016 NAIA Indoor Track and Field National Championships will take place at David E. Walker Track at Gentry Field in Johnson City, Tenn., March 3-5. The NAIA will officially announce the field of national qualifiers on Friday.
MEN (21)
Trey Barnes (seventh in shot put)
Cody Boellstorff (first in weight throw; fifth in shot put)
Trevor Bresson (third in 4x400 meter relay)
Samuel Ferguson (fourth in 4x800 meter relay)
Ryan Gross (sixth in pole vault)
Jacob Kettner (fifth in triple jump; fifth in weight throw)
Philip Kreutzer (eighth in shot put)
Zach Lurz (first in shot put; second in weight throw)
Nathan Matters (third in 4x400 meter relay)
Josiah McAllister (fourth in 4x800 meter relay)
CJ Muller (first in 600 meter run; third in 4x400 meter relay; eighth in 200 meter dash)
Jordan Potrzeba (sixth in 5,000 meter run)
Tyrell Reichert (eighth in pole vault)
Jose Rojas (second in shot put; fourth in weight throw)
Austin Schafer (seventh in pole vault)
Ben Schulteis (eighth in weight throw)
Josh Slechta (sixth in weight throw)
Thomas Taylor (fourth in 4x800 meter relay)
Jaap van Gaalen (third in 4x400 meter relay; sixth in 600 meter run)
Lucas Wiechman (second in heptathlon; third in pole vault; fourth in 60 meter hurdles)
Patrick Wortmann (fourth in 4x800 meter relay)
WOMEN (18)
Christine Beune (fifth in 4x400 meter relay; seventh in 60 meter dash)
Allison Brooks (second in pole vault)
Kattie Cleveland (fifth in weight throw)
Stephanie Coley (first in shot put; third in weight throw)
Kelsey Crymble (third in 4x800 meter relay)
Alayna Daberkow (third in 4x800 meter relay; fifth in 4x400 meter relay; seventh in pentathlon; eighth in 800 meter run)
Talitha Elbert (third in 4x800 meter relay; seventh in 600 meter run)
McKenzie Gravo (first in pole vault)
Bri Hallmark (eighth in 600 meter run)
Liz King (sixth in weight throw)
Samantha Liermann (fourth in shot put)
Cynthia Mick (fifth in pole vault)
Kali Robb (first in weight throw; third in shot put)
Jill Schroeder (seventh in triple jump)
Katelyn Shoup (sixth in triple jump)
Emily Sievert (second in 5,000 meter run; third in 3,000 meter run)
Marti Vlasin (third in 4x800 meter relay; fifth in 4x400 meter relay)
Kim Wood (first in 600 meter run; first in 800 meter run; first in 1,000 meter run; first in one mile run; fifth in 4x400 meter relay)