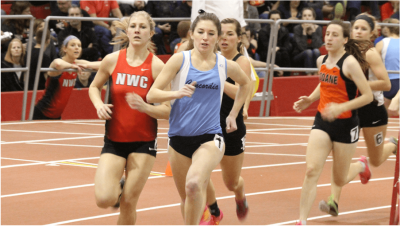 LINCOLN, Neb. – The Concordia track and field teams competed at the GPAC indoor meet on Saturday at the Devaney Center. The women's team finished second with 140.83 points while the men finished third with 112.5 points. Kim Wood was named the most outstanding female athlete after breaking three meet records and scoring 41 points.
Head coach Kregg Einspahr said, "We had a very good day today. We scored out just ahead of where we supposed to for both the men and women. We had some really outstanding performaces. I was very happy and pleased with the team, they came out put toghether a good meet. They did really well all across the board. You name it, we had a good day. As far as I can recolect, I've never seen someone win four events in a row like Kim did at the conference meet. She set three conference records-what an unbielevable performance. The throwers had a good day with Boellstorff and his new school record. CJ had a really good 600 and Emilly Siever had a good day in her races. I'm pretty thrilled with how the day went."
Wood won all four of her individual events and was on the 4x400 meter relay team that placed fifth. The senior broke meet records in the 600 meters (1:32.92), the 1,000 meters (2:57.00) and the mile run (4:51.41). She also won the 800 meters with a time of 2:18.26. The 600 meter and mile times were also new school records.
Wood said, "It was a really crazy day. A lot of it was being mentally strong. Before every race I just told myself I'm strong and I can do it. I had to convice myself I wouldn't be tired...It's a really great feeling. After all these years and all the mileage and all the hard work, being able to contribute to the team that much and helping out is a good feeling being able to represent Concordia like that. I'm very blessed and very lucky."
Also setting new meet records were Kali Robb in the weight throw and Zach Lurz in the shot put. Robb registerd a toss of 62-01.75 for first place. In the men's shot put, Lurz hit 59-03.50 to take the conference title.
Robb said, "It all depended on practice this week, it went pretty well this week so that turns over to a better meet week. I have to stay focused and do what I'm supposed to. I have to be nit picky about the little things and do what the coaches tell me to do."
Emily Sievert placed second in the 5,000 meters with a time of 18:11.37 and finished the 3,000 meters in 10:29.66, good for third place. CJ Muller took the GPAC title in the 600 meters with a time of 1:20.83.
The Bulldogs took first, second and fifth in the women's pole vault. Freshman McKenzie Gravo won the women's pole vault clearing 12-02.75. Allison Brooks tied for second after vaulting 11-05 while Cynthia Mick cleared 11-10 to tie for fifth.
The women's shot put and weight throw was dominated by Concordia. Stephanie Coley set a new school record in the shot put and took first place with a hurl of 48-01.75. Robb placed third (46-02.75) while Samantha Liermann finished in fourth (45-07.25). In the weight throw, Robb placed first with a new meet and school record with a mark of 62-01.75.
In addition to Lurz's meet record in the shot put, four other Bulldogs placed high enough to contribute team points. Jose Rojas registered a throw of 55-01.50 for second, Cody Boellstorff checked in fifth with a mark of 51-06.75, Trey Barnes turned in a mark of 50-09.50 for seventh and checking in at eighth was Philip Kreutzer with a throw of 50-07.50.
In the men's weight throw, Boellstorff took the title, throwing the weight 68-10.50 which is another school record. Lurz took second with a mark of 63-04.75. Concordia took fourth through sixth places in the event.
Lucas Wiechmann finished second in the two day heptathlon. Wiechmann finished with 4,922 points. Day two of the event consisted of the 60 meter hurdles, the pole vault and the 1,000 meters.
The Concordia track and field teams will be competing in the NAIA Indoor meet March 3-5 in Johnson City, Tenn.