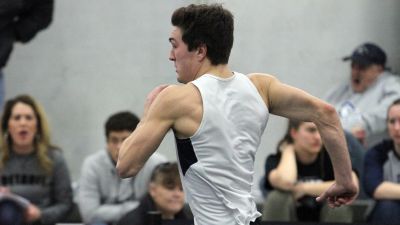 SIOUX CENTER, Iowa – Senior Lucas Wiechman has put himself in position for a conference title following the opening day of the 2017 GPAC Track & Field National Championships hosted by Dordt College in the Recreation Center in Sioux Center, Iowa. Friday's action showcased all five events in the women's pentathlon and four of seven events in the men's heptathlon.
The conference meet will conclude on Saturday. Live results can be followed HERE. To view heat sheets, click HERE.
In the four events he competed in on Friday, Wiechman placed first in the long jump (21' 11"), second in the 55 meter dash (6.78), fourth in the shot put (37' 6") and sixth in the high jump (6'). Wiechman has 2,746 total points heading into Saturday. His career best is 5,176 points. Wiechman is seeking his first career indoor GPAC title. He has twice captured conference championships in the decathlon and was also the 2016 GPAC outdoor titlist in the 110 hurdles.
Also in the heptathlon, senior Thomas Matik sits in eighth place with 2,340 points, giving him a shot at all-conference recognition should he hold or improve his positioning. On the women's side, Bulldogs Jessica Deterding (2,962) and Anna Beune (2,792) have already locked up all-conference honors thanks to fifth- and eighth-place finishes, respectively. Teammate Sophia Hoelz (2,724) finished just outside of the top eight. Deterding posted personal bests in the long jump, 800 meters and shot put.
The action will pick up significantly on Saturday. The heptathlon is set to resume at 9 a.m. CT. Field events will begin with the men's weight throw at 12 p.m. Running events will get started at 2 p.m. View the event schedule HERE.