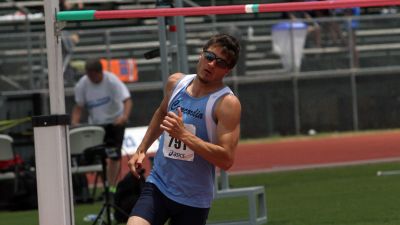 By his own admission, he was just "OK" in high school and "not that fast at all" as a college freshman when he could hurl the shot put a whopping 12 feet. A national champion in the making? Ehhhh.
"Oh boy," Lucas Wiechman recalls assistant coach Mark Samuels muttering while timing athletes in practice. That wasn't, oh boy, this guy is going to be a star! It was more like, oh boy, this kid needs some work.
"It's just kind of cool to see where I've come from," says Wiechman, who, would you believe it, is the national event leader in the heptathlon. The Pilger, Neb., native is now the one with the target on his back after capturing GPAC titles last week in the 55 meter hurdles, heptathlon, pole vault and another as a member of the 4x400 meter relay. All that point scoring added up to GPAC Outstanding Athlete of the Meet honors for Wiechman.
You can file Wiechman under the category of "Concordia Bulldog that almost never was." Though he broke through with a state title in the 300 meter hurdles as a senior, Wiechman had to be convinced that college track was the right move. Also a football team captain and four-year letterwinner in wrestling at Wisner-Pilger, Wiechman appeared set to end his athletic career and attend the University of Nebraska-Kearney, solely as a student.
After making a campus visit to UNK, Wiechman experienced a change of heart. Something told him he needed to be somewhere else – and that somewhere else was Concordia. Instead of going straight home from his visit at UNK, he made a beeline to Seward because it "was just one of those feelings that this is the place."
Says Wiechman, "Ed (McLaughlin) called my head coach and was like, 'Hey, can we talk to Lucas?' I was just like, 'Heck, no. I'm not doing college track.' I was pretty set on going to UNK and I went on a campus visit there. On the way back, we went out of our way to come back and swung by here. There was a high school track meet going on. I talked to the coaches and set up a meeting. Bada bing, bada boom, I'm here."
Since he's here, Wiechman, a member of Concordia's first-ever national championship team (outdoor 2015), figures he might as well see what he's capable of. In reality, the small town Nebraskan was better equipped than he lets on. He won his first GPAC title in the decathlon as a freshman while qualifying for nationals in both indoor and outdoor.
But there was an initial shock Wiechman had to overcome, like the first time he watched former pole vault All-American Carson Farr in practice. Farr put the bar at a height that gave Wiechman disbelief.
"I was like a 13-foot vaulter," Wiechman said. "Carson that first meet goes like 16-4. That's three feet. That's a big jump for me. During practice he would put up the bar. It was just so high for everything I was doing. It was kind of a big eye opener. I was like, 'Wow, I am not that good.' I steadily kind of worked my way up."
My how the tables have turned. Wiechman is now even steven with Farr on the program's all-time indoor pole vault list and, when it comes to the heptathlon, everyone in the nation is looking up at Wiechman. He's also No. 4 on both the national 60 meter hurdle and pole vault lists.
"Lucas happens to be one of these people who can do multiple events well," said head track and field coach Matt Beisel. "He seems to have the right combination of intelligence, endurance, explosiveness and coordination. He's able to repeat quality performances. It's really cool being around a person who is such a good guy and understands what self-sacrifice means."
Wiechman's talents as an all-around athlete make him a natural multi-event star. Now he finds himself feeling a little more pressure that comes with a No. 1 national ranking.
"I always thought it would be really confidence-building, but it's really stressful," Wiechman said. "You have to hold your place. If you're sitting eighth in an event, you can move up. You're the underdog and you have nothing to lose. If you're at the top, you have everything to lose. It's stressful."
The stress didn't seem to get to Wiechman last week. He actually seems quite cool and confident on the exterior. He's become so trusted by the coaches that Wiechman often works high school and youth camps and is like having another assistant coach. Beisel says he's even learned from Wiechman, who aspires to be a doctor in his future.
One of five Wisner-Pilger alums in the Concordia track program, Wiechman's star status wasn't attained through laziness or complacency. His steady progression is something to be admired and followed by others behind him.
"Since the day he came here he's just worked really hard," said assistant coach Mark Samuels. "He bought into what the coaches have had to say. He's just been developing for four years. He's always been behind Kale Wolken for Doane, but I think that really helped drive him to keep working hard. He's taken himself to a whole other level of determination. We asked him to do a lot this past weekend, but he wanted the challenge."
As a freshman, Wiechman thought it was "pretty cool" and "like the hardest thing ever" when he broke nine seconds in the hurdles. What he's doing as a senior is more than pretty cool.