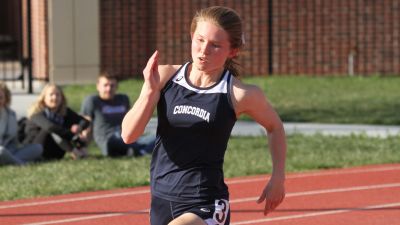 SEWARD, Neb. – The final event hosted by Concordia University athletics in the 2017-18 year is set to take place Friday, with Bulldog Stadium serving as the venue. Athletes from 20 different institutions will be on hand for the annual Concordia Twilight Meet, which is slated to begin at 2 p.m. In terms of national rankings released by the U.S. Track & Field and Cross Country Coaches Association (USTFCCCA), the Twilight field includes 13 nationally-ranked programs, including seven on the women's side and six on the men's side.
For the Twilight competitors, the meet provides one more opportunity for those still looking to achieve 'A' standard national qualifying marks. To date, head coach Matt Beisel's squads have totaled 18 'A' and 12 'B' standard national qualifying marks. Additionally, Concordia currently has four multi-event athletes who possess top 16 national point totals between the decathlon and heptathlon. A GPAC champion in the shot put for the third time in her career, Samantha Liermann continues to top the NAIA in the shot put (48' 9 ½").
Liermann and the women's team moved up to No. 5 in the latest USTFCCAA NAIA national rankings. The coaches association made special mention of Johanna Ragland, who popped off a couple of personal bests at last week's GPAC championships. Wrote the USTFCCCA, "The biggest change in the top 10 came in at No. 5, where Concordia improved its billing two spots from Week 5 to Week 6. The Bulldogs barked up the rankings thanks to a pair of huge throws by Johanna Ragland this past weekend. Ragland is now ranked in the top 10 of both the shot put and hammer, which gives Concordia (Neb.) nine top 10 throwing marks this season, including four in the top five."
According to those same ratings, the Bulldogs have the top event groups nationally in both the men's pole vault and the women's discus. GPAC decathlon champion Cody Williams and teammates Simon Brummond and Tucker Platt are all qualified for nationals in the pole vault. In the women's discus, six Concordia athletes have achieved at least a 'B' mark. Morgan De Jong, Liermann and Jan Steinbrueck are still working on hitting the 'A' standard in the discus.
The Twilight Meet will includes each of the 10 GPAC schools that sponsor track and field programs. The GPAC continues to rate as the top track and field conference in the NAIA, according to the USTFCCCA. Friday's field will also feature additional NAIA schools as well as squads from the NCAA Division II and junior college levels (full list below).
The finalized schedule for the Twilight Meet can be viewed HERE. Heat sheets can be found HERE. Black Squirrel Timing Company will be supplying live results.
Competing teams at Twilight Meet
Benedictine College
Briar Cliff University
Central Methodist University
Chadron State College
Cloud County CC (NR: M – 3 | W – 7)
Concordia University (NR: W – 5)
Culver-Stockton College
Dakota Wesleyan University
Doane University (NR: M – 3 | W – 7)
Dordt College (NR: W – 21)
Graceland University
Grand View University (NR: M – 22)
Hastings College (NR: M – 8 | W – 4)
Iowa Western CC (NR: M – 13 | W – 16)
Midland University
Morningside College (NR: W – 19)
Mount Marty College
University of Nebraska-Kearney
Northwestern College (NR: M – 7)
William Penn University