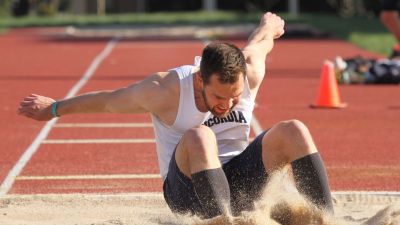 SEWARD, Neb. – In conjunction with the NAIA release of official national qualifiers, the Concordia University track and field programs have announced their list of 26 competitors who will be headed to the 2018 NAIA Outdoor Track and Field National Championships next week (May 24-26). The championship meet will take place at Mickey Miller Blackwell Stadium in Gulf Shores, Ala.
Head coach Matt Beisel's qualifying group includes 13 individuals who also made their way to Gulf Shores for the 2017 NAIA outdoor championships where the Bulldogs placed fifth on the men's side and sixth on the women's side. Junior Samantha Liermann returns to the site of her first career shot put national title. She also won the 2018 indoor shot put national title at the championships that were contested in Pittsburg, Kan. On the other hand, eight of Concordia's qualifiers will be new to the national scene.
The Bulldogs are especially loaded up on female throwers with 13 total entries among seven individuals. Concordia will have five competitors in both the women's discus and women's hammer throw. Not only is Liermann a title contender in the shot put, she also ranks fourth in the hammer. Additionally, Addie Shaw owns the nation's third best mark in the discus and Carley Skorepa checks in at No. 5 in the hammer. Out of the group, freshman Madison Holt is the only one making her first trip to the national championships.
Most of Concordia's action will occur in the field events, however, the program will be represented on the track by both a women's 4x400 meter relay and a men's 4x800 meter relay. In addition, junior Taylor Grove will pace the marathon trail in Gulf Shores for the second year in a row. In the multi-events, the field will include four Bulldogs in decathletes Blake Becher and Cody Williams and heptathletes Jessica Deterding and Kennedy Mogul. Becher, Deterding and Williams are all freshman.
The Bulldog track and field programs have put together an impressive run of success at the national championships. Prior to the 2018 indoor championships, the men owned an active streak of six-straight national meets with top-five finishes. Meanwhile, the women have placed among the top 10 in each of the past four outdoor national championships. Both programs reached the highest of highs recently with a team outdoor national title for the men in 2015 and then one for the women in 2016.
Stretch Internet, the NAIA's official video-streaming company of NAIA national championship events, will be broadcasting the events on www.NAIANetwork.com. A subscription package to view the entire three-day event is $19.95. For more information, including how to register and sign-up for an account, CLICK HERE.
2018 Concordia outdoor national qualifiers
(Current national ranking in parentheses)
*2017 NAIA outdoor national qualifier
MEN
Blake Becher, freshman
-Decathlon (14th, 6,146)
Simon Brummond, junior
-Pole vault (13th, 15' 5")
*Jacob Cornelio, sophomore
-Hammer throw (4th, 194' 8")
-Discus (23rd, 160' 5")
Scott Johnson, junior
-Triple jump (22nd, 47' 7 ¾")
-Long jump (23rd, 23' 5 ¼")
Michael Leapley, sophomore
-4x800 meter relay (19th, 7:45.84)
*Nathan Matters, senior
-4x800 meter relay (19th, 7:45.84)
*Josiah McAllister, junior
-4x800 meter relay (19th, 7:45.84)
Tucker Platt, freshman
-Pole vault (13th, 15' 5")
*Thomas Taylor, junior
-4x800 meter relay (19th, 7:45.84)
Christian Van Cleave, freshman
-4x800 meter relay (19th, 7:45.84)
Cody Williams, freshman
-Decathlon (10th, 6,317)
-Pole vault (13th, 15' 5")
WOMEN
*Tori Beran, junior
-4x400 meter relay (19th, 3:55.12)
Mika Brees, freshman
-4x400 meter relay (19th, 3:55.12)
Jessica Deterding, sophomore
-Heptathlon (10th, 4,392)
-Triple jump (28th, 37' 7 ¼")
*Taylor Grove, junior
-Half marathon (18th, 1:28:07)
Madison Holt, freshman
-Hammer throw (22nd, 165' 3")
Leah Larson, junior
-Triple jump (24th, 38' ¾")
*Samantha Liermann, junior
-Shot put (2nd, 48' 9 ½")
-Hammer throw (4th, 175' 10")
-Discus (16th, 143' 8")
Kennedy Mogul, freshman
-Heptathlon (18th, 4,314)
-4x400 meter relay (19th, 3:55.12)
Jamie Nikodym, junior
-4x400 meter relay (19th, 3:55.12)
*Johanna Ragland, junior
-Shot put (10th, 44' 9")
-Hammer throw (11th, 170' 10")
*Miranda Rathjen, sophomore
-4x400 meter relay (19th, 3:55.12)
*Addie Shaw, sophomore
-Discus (3rd, 159' 4")
-Shot put (7th, 46' 2")
-Hammer throw (13th, 169' 5")
*Bethany Shaw, sophomore
-Discus (6th, 150' 8")
*Carley Skorepa, junior
-Hammer throw (5th, 172' 9")
-Discus (10th, 146' 3")
*Jan Steinbrueck, senior
-Discus (15th, 143' 9")