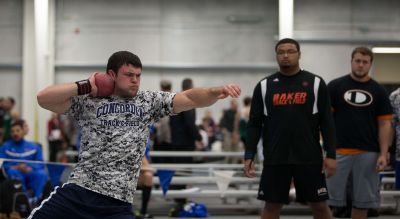 Twenty-nine Bulldogs officially named to list of indoor national qualifiers
SEWARD, Neb. – A group of 29 combined men's and women's Concordia University track and field athletes will head northeast to the 2015 NAIA Indoor Track and Field National Championships. The 50th annual men's and 35th annual women's event is set to take place March 5-7 at the Spire Institute in Geneva, Ohio.
Head coach Kregg Einspahr's fourth nationally-ranked men's squad will travel 14 athletes to the national championships. Six of the 14 Bulldogs return to the grand stage after appearing at the 2014 indoor championships. That list includes sophomore Zach Lurz, who currently leads the NAIA in the shot put. Last season Lurz placed eighth at indoor nationals to earn All-America status. In addition, sophomore CJ Muller ran the leadoff led for the All-America men's 4x400 meter relay.
Meanwhile, the seventh-ranked Concordia women will take 15 athletes to Geneva. Among the group, eight appeared at the 2014 indoor national championships. At last year's event, Kim Wood raced to All-America honors in the 1,000 meter run and ran the anchor leg for the All-America 4x800 meter relay that included 2015 qualifiers Erika Schroeder and Marti Vlasin. In addition, then sophomore Stephanie Coley placed sixth in the shot put for one of her three career All-America honors in the event.
There are over 140 men's and women's teams that will make the trip to Geneva. The championships begin on March 5 with the women's pentathlon at 1 p.m. EST and the men's heptathlon at 1:30 p.m. Last year, the Oklahoma Baptist women repeated for the second-straight season and the Indiana Tech men earned their first-ever banner in the team competition.
Stretch Internet, the NAIA's official video streaming company, will be broadcasting all sessions of the national championships. Packages can be purchased for $10. For more information, click here.
For the schedule of events, click here.
For more championship information, click here.
Men's Qualifiers - by School | click here
Men's Qualifiers - by Event | click here
Women's Qualifiers - by School | click here
Women's Qualifiers - by Event | click here
2015 Concordia indoor national qualifiers
*Current national ranking in parentheses
MEN
Trey Barnes, freshman
-Shot put (50' 1 ¾")
Trevor Bresson, junior
-4x400 meter relay (12th, 3:21.24)
Matthew Chapa, junior
-4x400 meter relay (12th, 3:21.24)
Brandon Cook, sophomore
-Heptathlon (8th, 4,696 points)
Trey Farmer, senior
-Shot put (11th, 52' 7 ¼")
-Weight throw (10th, 55' 11")
Philip Kreutzer, sophomore
-Weight throw (14th, 54' 11 ¼")
Zach Lurz, sophomore
-Shot put (1st, 58' 4")
-Weight throw (6th, 58' 3 ¼")
CJ Muller, sophomore
-600 meter run (31st, 1:22.75)
-4x400 meter relay (12th, 3:21.24)
Tai Pleasant, senior
-4x400 meter relay (12th, 3:21.24)
Brandon Ramos, junior
-Pole vault (10th, 15' 10 ½")
-Heptathlon (5th, 4,797 points)
Jose Rojas, junior
-Shot put (8th, 53' 6 ½")
-Weight throw (8th, 56' 8 ½")
Josh Slechta, junior
-Weight throw (5th, 58' 11 ½")
Jaap van Gaalen, junior
-4x400 meter relay (12th, 3:21.24)
Lucas Wiechman, sophomore
-Pole vault (5th, 16' 2 ¼")
-Heptathlon (2nd, 5,101 points)
WOMEN
Kattie Cleveland, junior
-Weight throw (13th, 54' 9 ½")
Stephanie Coley, junior
-Shot put (6th, 46' 8")
-Weight throw (7th, 57' 11")
Talitha Elbert, junior
-4x800 meter relay (6th, 9:29.84)
Brittany Erdmann, senior
-Shot put (15th, 44')
Randi Janzen, sophomore
-4x800 meter relay (6th, 9:29.84)
Liz King, junior
-Weight throw (17th, 53' 9")
Cynthia Mick, sophomore
-Pole vault (10th, 11' 10 ¾")
Nicole Perry, junior
-Weight throw (20th, 53' 3")
Kali Robb, sophomore
-Shot put (5th, 47' 5")
-Weight throw (2nd, 60' 5")
Erika Schroeder, senior
-4x800 meter relay (6th, 9:29.84)
Katelyn Shoup, junior
-Triple jump (18th, 37' 3 ¼")
Emily Sievert, freshman
-3,000 meter run (40th, 10:33.56)
-5,000 meter run (19th, 18:15.81)
Cassie Starks, senior
-Pole vault (2nd, 12' 6 ¼")
Marti Vlasin, sophomore
-4x800 meter relay (6th, 9:29.84)
Kim Wood, junior
-600 meter run (6th, 1:34.86)
-800 meter run (4th, 2:12.55)
-1,000 meter run (11th, 2:59.00)
-One mile (6th, 5:01.28)
-4x800 meter relay (6th, 9:29.84)