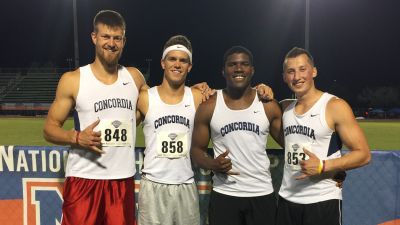 Trio of Bulldogs post national runner-up finishes; school 4x4 record falls
GULF SHORES, Ala. – Three different individuals turned in national runner-up finishes on day two of three at the 2015 NAIA Outdoor Track and Field National Championships, held all day Friday at Mickey Miller Blackwell Stadium in Gulf Shores, Ala. Then in a thrilling finish to the night, the Concordia men's 4x400 meter relay set a new school record time. In terms of team scoring, both Bulldog squads currently top the nation with 39 points (women) and 38 points (men), respectively.
On a second-straight day of big point scoring, junior Liz King (javelin), Cynthia Mick (pole vault) and Lucas Wiechman (decathlon) all finished second in their respective events. They headlined Concordia's combined eight All-America performances on Friday, bringing the total All-America count to 15 heading into Saturday.
"We had some disappointments but had some things go our way that we didn't necessarily expect. It turned out well," head coach Kregg Einspahr said. "Overall we're having a good meet. It was really nice to advance our 4x4 to the finals. It was the best 4x4 time in school history and we've had some pretty good ones. That's quite an accomplishment. We're about out of bullets, but we do have some big shooters left."
The record-setting 4x4 consisted of Tai Pleasant, Jaap van Gaalen, Matthew Chapa and CJ Muller. Seeded well outside the top eight, the Bulldogs' time of 3:13.18 was fifth best (second in heat two) among the 17 relays and eclipsed the former program standard of 3:13.26 (May 2013). The foursome has advanced to Saturday's finals and automatically locked up an All-America finish. Muller keyed the school record with a lightning fast anchor leg in which he moved Concordia from fourth to second in the heat.
The defending national champ in the javelin, King posted a season best of 157' 2," but came up 10 ¼" short of titlist Joelle Swanson of Oregon Tech. Still, King earned her third-straight javelin All-America honor. In her three appearances in the javelin national championship event, the native of Billings, Mont., has placed fourth (2013), first (2014) and second (2015), respectively. She owns the school record in the javelin with her gargantuan toss of 166' 11" at the 2014 Concordia Twilight meet.
In the same competition, sophomore Katricia Svoboda notched her first career All-America plaque with an eighth-place mark of 133' 6 ¾." Svoboda made her second-straight appearance at the outdoor national championships.
Wiechman came up with a personal best 6,561 points in the decathlon (second in school history). Well-rounded across the board, the native of Pilger, Neb., racked up 827 points via a third-place finish in the 110 meter hurdles with a time of 15.19. Teammate Brandon Cook notched an eighth-place All-America spot on the medal stand with 6,259 points, a PR that ranks fifth in program annals.
Mick surfaced with a PR of her own in the pole vault (12' 3 ½") that put her four inches short of national champion Carly Schmidt of Indiana Tech. GPAC pole vault titlist Cassie Starks cleared 11' 11 ¾" and slotted in at No. 5 for her second All-America accolade of 2015.
Of the three Bulldog women in the shot put, junior Stephanie Coley emerged with her fifth career All-America claim in the event with a sixth-place toss of 46' 10 ¾." Coley also placed fourth in the hammer throw on Thursday. Additional shot put national qualifiers Brittany Erdmann (11th, 44' 6 ¾") and Kali Robb (12th, 44' 1 ½") finished outside of All-America territory.
Lurz, the 2015 indoor shot put national champion, added his second All-America plaque of the weekend by way of a fifth-place discus mark (170' 11 ½"). Teammate Trey Barnes ended up 14th in the same event with a throw of 154' 10 ½."
On the track, school record holder Shelby Stolze clocked in at 14.96 for fifth in her heat of the 100 meter hurdle trials. The native of Norfolk, Neb., did not reach the finals in what was her first career appearance at the national championships. Another program standard bearer, junior Kim Wood raced to a time of 2:13.14 in the 800 meter race. She placed 16th overall out of 28 runners and like Stolze, did not move on to Saturday's finals.
Looking to duplicate his indoor All-America finish in the 600 meters, Muller finished 15th among a field of 21 runners with a time of 48.87 (fifth in his heat) in the 400 meter dash. He did not reach the finals.
In the women's 4x8, the Bulldog group of Erika Schroeder, Marti Vlasin, Randi Janzen and Wood checked in at 9:23.46 and placed 21st among the 28 quartets.
Junior Katelyn Shoup, now a four-time national qualifier, placed 12th with a mark of 37' 1 ¼" in the triple jump.
Concordia athletes will compete in four different events on Saturday. The complete schedule is listed below.
Concordia All-America tracker
Cody Boellstorff (hammer throw – 1st)
Stephanie Coley (hammer throw – 4th; shot put – 6th)
Brandon Cook (decathlon – 8th)
Trey Farmer (hammer throw – 8th)
Liz King (javelin – 2nd; hammer throw – 7th)
Zach Lurz (hammer throw – 2nd; discus – 5th)
Cynthia Mick (pole vault – 2nd)
Kali Robb (hammer throw – 2nd)
Josh Slechta (hammer throw – 3rd)
Cassie Starks (pole vault – 5th)
Katricia Svoboda (javelin – 7th)
Lucas Wiechman (decathlon – 2nd)
Saturday, May 23 schedule (all times CT)
1 p.m. – men's shot put (Cody Boellstorff, Trey Farmer, Zach Lurz, Jose Rojas)
1 p.m. – men's pole vault (Brandon Ramos, Lucas Wiechman)
3 p.m. – women's discus (Kattie Cleveland, Stephanie Coley, Kali Robb, Katricia Svoboda)
6:25 p.m. – men's 4x400 meter relay finals (Tai Pleasant, Jaap van Gaalen, Matthew Chapa, CJ Muller)