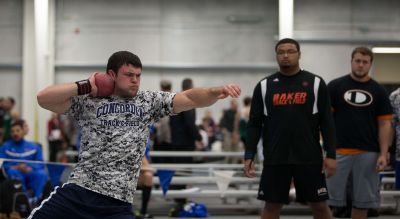 Track and field programs ranked fourth in first outdoor rankings of 2015
SEWARD, Neb. – In the first NAIA outdoor track and field computer rankings released by the U.S. Track & Field and Cross Country Coaches Association (USTFCCCA), both the Concordia University men's and women's teams held down No. 4 national ratings. Among GPAC programs, the Bulldogs checked in at the top on both sides.
The Concordia men have equaled their highest-ever outdoor national rating since the USTFCCCA began tabulating computer rankings in 2014. Meanwhile, the women have pushed themselves to No. 4 after having ranked as high as sixth during the 2014 outdoor season. Head coach Kregg Einspahr's squads are coming off of indoor national championships finishes of fifth (men) and 11th (women), respectively.
At the opening meet of the outdoor season, the Concordia men and women combined for 12 automatic national qualifying marks while competing at the Wildcat Classic hosted by Wayne State College (March 27-28). Of those 12 lofty marks, 11 were recorded by assistant coach Ed McLaughlin's throwers. Junior Cody Boellstorff broke his own program with an event-winning toss of 205' 8" in the hammer throw. In addition, sophomore Kali Robb became the school's first-ever thrower to qualify for nationals in the discus, hammer and shot put all at the same meet.
Concordia boasts 12 marks that rank in the top five nationally:
No. 1 Cody Boellstorff (hammer throw)
No. 1 Kali Robb (hammer throw)
No. 2 Stephanie Coley (shot put)
No. 2 Liz King (hammer throw)
No. 2 Cassie Starks (pole vault)
No. 3 Trey Farmer (shot put)
No. 4 Stephanie Coley (discus)
No. 4 Liz King (javelin)
No. 4 Cynthia Mick (pole vault)
No. 4 Jose Rojas (hammer throw)
No. 5 Josh Slechta (hammer throw)
No. 5 Zach Lurz (shot put)
The Bulldogs will return to action at the Loper Invite hosted by the University of Nebraska-Kearney on Saturday. View the event schedule HERE.