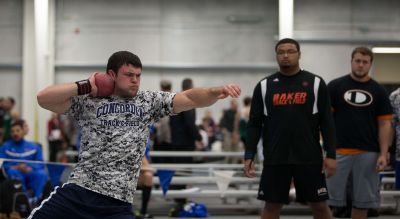 Track and field hosts Concordia Classic Friday and Saturday
SEWARD, Neb. – For the first time this season, the Concordia University track and field programs will serve as a host when action gets underway inside the Walz Fieldhouse at annual Concordia Indoor Classic on Friday and Saturday. The event will get started with multi events at 3 p.m. on Friday before the bulk of the meet takes place on Saturday when field events get going at 11 a.m. and running events at 12 p.m. A total of 12 teams will make up the Concordia Classic field.
View the Concordia Classic event schedule HERE.
The first two meets of the season (Scott Nisely Memorial Classic and Prairie Wolf Invite) have produced 10 automatic national qualifying marks and five 'B' standard qualifying marks for the Bulldogs. Sophomore thrower Kali Robb is off to a sterling start with 'A' tosses in both the shot put (46' 6 ¼") and weight throw (55' ¾"). On the men's side, Zach Lurz, named GPAC field athlete of the week on Wednesday, ranks in the top five nationally in the shot put (54' 3 ¼") and weight throw (56' 4 ¾").
Of Concordia's 15 marks reported on the national list, nine come from assistant coach Ed McLaughlin's throwers. Three 'A' marks have been turned in by assistant coach Jason Berry's pole vaulters. Meanwhile, juniors Katelyn Shoup (triple jump) and Kim Wood (800 meter run) have also booked trips to the indoor national championships.
In the first NAIA national team rankings released Wednesday by the US Track & Field and Cross Country Coaches Association, both Concordia teams earned top ten rankings with the men at No. 7 and the women checking in eighth. Other ranked teams at the Concordia Classic include the Baker University men (22nd), the Doane men (2nd) and women (2nd), the Hastings women (13th), the University of Nebraska-Kearney men (23rd in NCAA DII) and the Nebraska Wesleyan women (21st in NCAA DIII).
Former Bulldog men's athletes hold Concordia Classic meet records in the 400 meter dash (John Cartier, 49.48), 1,000 meter run (Jared Hoffman, 2:34.32) and 3,000 meter run (Dana Schmidt, 8:37.11). Similarly, former Concordia women's athletes possess meet records in the 600 meter dash (Bethany Sutton, 1:35.81), 5,000 meter run (Sarah Kortze, 17:54.86), long jump (Sloan Brandon, 18' 1") and weight throw (Jamie Crouse, 60' 7 ¼").
Teams at Concordia Classic
*National rankings in parentheses
Baker University – M (22)
Bethany College
Concordia – M (7), W (8)
Doane – M (2), W (2)
Hastings – W (13)
Kansas Wesleyan University
Midland
University of Nebraska-Kearney – M (23 in NCAA DII)
Northwest Missouri State University
Nebraska Wesleyan – W (21 in NCAA DIII, 19 in NAIA)
Ottawa University
Sterling College
Concordia national marks
Women's 4x400 meter relay – B (4:02.19)
Stephanie Coley – A; shot put (44' 3 ½"), B; weight throw (53' 7 ½")
Brittany Erdmann – A; shot put (44')
Trey Farmer – B; weight throw (55' 11")
Zach Lurz – A; shot put (54' 3 ¼"), B; weight throw (56' 4 ¾")
Brandon Ramos – A; pole vault (15' 9")
Kali Robb – A; shot put (46' 6 ¼"), A; weight throw (55' ¾")
Katelyn Shoup – A; triple jump (36' 10 ¼")
Josh Slechta – B; weight throw (56' 1 ¾")
Cassie Starks – A; pole vault (11' 9")
Lucas Wiechman – A; pole vault (15' 9")
Kim Wood – A; 800 meter run (2:15.10)