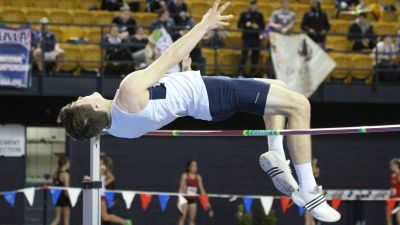 JOHNSON CITY, Tenn. – The fourth-ranked Concordia men's and women's track and field teams finished day one of the NAIA Indoor Championships Thursday afternoon. The Bulldogs competed in five different events over they day, including the men's heptathlon and the women's pentathlon.
Lucas Wiechman contended in the men's heptathlon and is sitting in third place after four events with 2,796 points. The junior finished second in the 60 meters with a time of 7.23 seconds. With a jump of 22-01.75 Wiechman placed third in the long jump. In the shot put he registered a mark of 38-03.50, good for fourth place. The remaining three events of the heptathlon (60 meter hurdles, pole vault and 1,000 meter run) will take place tomorrow.
In the women's pentathlon, Alayna Daberkow finished 14th with 2,899 points. In the 800 meters, Daberkow finished in third place with a time of 2:25.16.
The men's 4x400 and 4x800 meter relays and the women's 4x400 meter relay ran in the preliminaries. Qualifying for finals on Saturday was the men's 4x400 team made up of Jaap van Galen, Nathan Matters, Trevor Bresson and CJ Muller. The team turned in a time of 3:19.00. The men's 4x800 meter relay registered a time of 8:01.05 while the women's 4x400 meter relay finished in 3:59.41.
The squad will be back in action tomorrow starting at 9 a.m. CDT. Live results for the entire meet are available HERE.