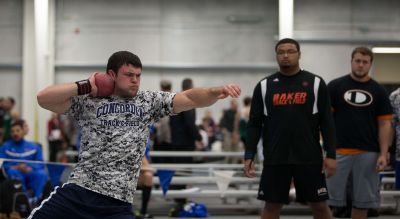 Track and field enters GPAC outdoor championships with usual lofty expectations
SEWARD, Neb. – On paper this weekend's GPAC outdoor track and field championship meet sets up as another battle at the top between rivals Concordia and Doane. Twenty-third year head coach Kregg Einspahr, who has led his squads to 25 combined top-two indoor/outdoor conference finishes during his tenure, expects another successful outing from Bulldog teams ranked No. 3 nationally.
The 2015 event will be held Friday and Saturday with Dordt College hosting the GPAC outdoor championships for the first-time ever. The entire event schedule can be viewed HERE.
"Going back for a number of years now we've frequently been in the hunt for first or second with Doane usually as our biggest competitor," Einspahr said. "That looks like it will be the case this weekend, although Briar Cliff has a very good team that scores out very well on the men's side and could be a dark horse. It's shaking out to be a battle for both the men's and women's championship. I think we can make a run for it. I think we'll be right in it."
Concordia 2015 indoor shot put national champion Zach Lurz is the reigning GPAC outdoor outstanding athlete of the year after he piled up 26 points while winning conference titles in the shot put and discus at the 2014 meet hosted by Doane. Lurz owns top-five national marks in the shot put (No. 1), hammer throw (No. 3) and discus (No. 5) and serves as the leader for a loaded group of Concordia throwers.
The impressive army of throwers has been particularly dominant in the hammer. On the men's side, school record holder Cody Boellstorff tops the NAIA with his mark of 205' 8." Bulldog men hold down seven of the nation's top 11 in the hammer throw. Similarly, the top 10 of the NAIA women's hammer throw leaderboard contains six Concordia athletes.
The following Bulldog competitors currently hold GPAC-leading marks/times: Kim Wood (1,500 meter run), Cassie Starks (pole vault), Zach Lurz (discus, shot put), Katricia Svoboda (discus), Cody Boellstorff (hammer throw), Kali Robb (hammer throw) and Liz King (javelin). View the complete GPAC performance lists HERE.
Wood is Concordia's headlining performer on the track. She won three 2015 GPAC indoor titles (600m, 1,000m and one mile) and is the defending GPAC outdoor champion in the 1,500 meters. She holds national qualifying marks in the 800 and 1,500 meter races and as part of the team's 4x800 meter relay.
While athletes ranked near the top of the NAIA leaderboard give Concordia big point-scoring potential, the under-the-radar performers may be the ones who decide whether the Bulldogs add to their combined six conference titles in program history.
"I think the athletes who score in the five, second, seven, eight place areas are going to make a big difference," Einspahr said. "Those are people like Josh Allwardt, Ashley Canfield and Megan Burma. Those kinds of athletes are going to make a huge difference. You have your aces and they usually come out and do about what you expect most of the time. People that step up and score a couple more points than you expect can give you a three or four point turnaround and make a lot of difference."
A total of four men's and three women's teams within the conference are ranked nationally by the U.S. Track & Field and Cross Country Coaches Association. Among all NAIA conferences, the GPAC ranks No. 1 on both the men's and women's sides, according to the USTFCCCA. Five different GPAC teams have two or more conference-leading marks: Doane (7), Briar Cliff (6), Concordia (3), Morningside (2) and Northwestern (2). Six women's teams own two or more No. 1-rated GPAC marks: Concordia (5), Doane (4), Morningside (4), Northwestern (3), Dordt (2) and Hastings (2).
If the rankings are any indication, Sioux Center will feature a showdown between league heavyweights Concordia and Doane.
Says Einspahr, "it will be a dog fight."
Nationally-ranked GPAC teams
*According to USTFCCCA computer rankings released on April 29
MEN
No. 3 Concordia
No. 7 Doane
No. 12 Briar Cliff
No. 17 Northwestern
WOMEN
No. 3 Concordia
No. 5 Doane
No. 16 Hastings
Concordia all-time conference titles
MEN – indoor: 2014 | outdoor: 2014
WOMEN – indoor: 2010 | outdoor: 1998, 2010, 2012
Concordia all-time conference runner-up finishes
MEN – indoor: 2003, 2009, 2010, 2011, 2012, 2015 | outdoor: 2002, 2009, 2011, 2013
WOMEN – indoor: 2003, 2005, 2009, 2014, 2015 | outdoor: 2005, 2009, 2013, 2014