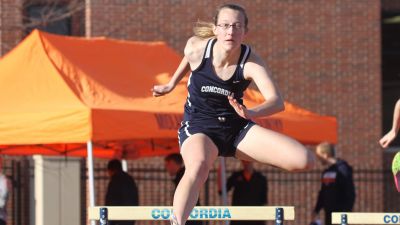 SEWARD, Neb. – Concordia University track and field athletes will represent the program at three different meets Thursday through Saturday (April 26-28) as they continue to ready themselves for the upcoming GPAC championships that will be hosted by Morningside in Sioux City, Iowa, May 4-5. This week's slate includes the Nebraska Wesleyan Invite (Thursday), the Drake Relays (Friday) and the recently added Concordia Blizzard Buster (Saturday).
Head coach Matt Beisel's squads enter the week having produced a combined 12 'A' standard and nine 'B' standard national qualifying marks. Nine different individuals have clinched spots at the outdoor national championships, including the newest members of the national qualifying field – Taylor Grove (marathon) and Tucker Platt (pole vault). Adrianna Shaw leads the team with three automatic marks (shot put, discus, hammer throw) while Samantha Liermann continues to top the nation in the shot put (48' 9 ½").
In addition, four Bulldogs possess top 16 national rankings in multi-events. Jessica Deterding moved all the way to No. 3 on the NAIA national list in the heptathlon (4,392) after winning the event at the Dutcher Memorial last week. On the men's side, Cody Williams took first in the decathlon with a point total that ranks ninth nationally (6,317). Blake Becher (6,146 points in the decathlon) and Kennedy Mogul (4,185 points in heptathlon) also met the minimum standard for national championships consideration.
Grove became the first Bulldog to compete at the Drake Relays this spring. She placed third among women in the half marathon by finishing in one hour, 28 minutes and seven seconds on April 22, locking up a berth to the national championships for the second year in a row. At the Drake Relays on Friday, Concordia will display a women's 4x400 meter relay, a men's 4x800 meter relay, Scott Johnson in the triple jump and Liermann in the shot put.
Select members of the team will head to Lincoln for the Nebraska Wesleyan Invite on Thursday. The bulk of the team is zeroing in on Saturday's Blizzard Buster, a meet that was not included on the original schedule. Athletes from Doane and Hastings will be present on Saturday.
Bulldogs at Drake Relays

Friday, April 27
9:04 a.m. – men's 4x800 meter relay (Nathan Matters, Josiah McAllister, Thomas Taylor, Christian Van Cleave)
12:28 p.m. – women's 4x400 meter relay (Tori Beran, Kennedy Mogul, Jamie Nikodym, Miranda Rathjen)
1:30 p.m. – Scott Johnson (triple jump)
5:30 p.m. – Samantha Liermann (shot put)