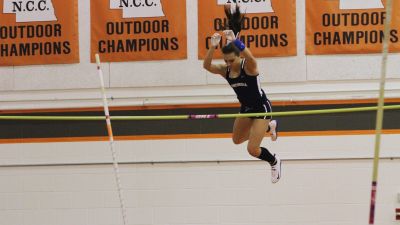 By Taylor Mueller, Athletic Communications Student Assistant
It was a big weekend for the Concordia University track and field teams (ranked No. 4 nationally on the women's side and fifth on the men's side), as a select few individuals competed in the Frank Sevigne Husker Invitational while the rest of the track and field members headed to Doane College to participate in the Fred Beile Classic.
Just a day after senior Cody Boellstorff's phenomenal record setting and NAIA leading performance in the weight throw, the Bulldogs were right back in the action coming through with several more impressive performances at the Husker Invitational and competing against top-level competition.
Senior Kim Wood topped her own record in the mile, placing fourth in a smoking time of 4:51. With her performance, Wood remained atop the NAIA and moved to eight seconds ahead of second place.
"(Kim Wood) can run better," head coach Kregg Einspahr said. "It was a confidence booster. Second and third were right in front of her. She could beat them. She can run faster. She's training at very high level right now. She's getting the confidence to use that. It's been a neat process to see."
"Cody's big improvement and Kim's big improvement are something I'm not sure we expected but certainly hoped for," Einspahr said. "We thought they were capable of it. Whether or not they can have enough confidence and faith in themselves to come through with that kind of performance is sometimes a little bit different question. They both came through. That really reflects where they're at as competitors, not only in terms of fitness levels and ability. They believe in themselves and their coaching to go out and perform in a big, big competition. There were some top-five United States performances over there this weekend. To do that in that competition speaks really well for them. Competing against individuals from places like Texas and UCLA is a real treat for them and then to be competitive and do well is really a feather in their cap. It's pretty neat."
Junior CJ Muller and Senior Jaap van Gaalen placed third and 10th respectively in the 600 meter run. Muller finished in 1:20 (season best) while van Gaalen was not far behind in 1:23.Both Muller and van Gaalen competed on the national qualifying 4x400 meter relay team as well. Joined by senior Trevor Bresson and freshman standout Nathan Matters, the squad placed 11th with a time of 3:19.
Having achieved solid marks in the weight throw on Friday night, senior Stephanie Coley and Junior Kali Robb were back at it in the shot put, throwing for 45'6 ½" and 44'3 ½" respectively.
Coley placed 17th while Robb took 19th. On the men's side, junior Zach Lurz placed 6th in the shot put competition with a toss of 58'04."
Meanwhile, at Doane College, the throwers continued to impress as numerous individuals came through with strong performances.
Having already qualified for nationals, junior Philip Kreutzer improved his weight throw by an astounding three feet, hitting a mark of 58.' Seniors Kattie Cleveland and Liz King placed second and third respectively in the women's weight throw. Cleveland's toss went for 53'01" while King came through with a throw of 52'9 ½."
Senior Jose Rojas took first in the shot put with a toss of 54'03 ¾" while freshman Johanna Ragland took third on the women's side with a throw of 41'01 ¼."
Freshmen McKenzie Gravo and Allison Brooks placed second and third in the pole vault with clearances of 11'10 ¾" and 10'11" respectively. Gravo's vault was a personal best that puts her among the top 10 nationally.
In the 5,000 meter run, senior Jordan Potrzeba gutted out an impressive second-place finish in 16:03. Freshman Taylor Grove placed second in the women's 3000 meter run in 11:14 while senior Tallie Elbert took third in the 600 meter run in 1:40. Chris Shelton won the one mile in a time of 4:30.09.
Junior Marti Vlasin took second in the women's 800 meter run in 2:23 while freshman Thomas Taylor placed second in the men's 800 meter run in 2:00.
With numerous Bulldogs in the hunt for an individual national title, Einspahr made note of the unprecedented run of success.
"I don't know that we've had a year where we've had that many leading events in the NAIA. I can't remember a time. I know there have been times where we've had a number of athletes in the top three. To have that many leading events right now is pretty remarkable. Those are good marks. It's not like it's a down year. Those would be leading in any year. It's pretty exciting to see that."