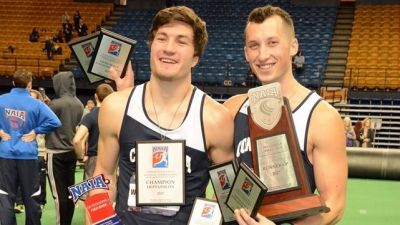 A series of circumstances and variables, some foreseen and some completely out of anyone's control, can make and break national championship bids. In the case of Concordia University track and field, the ultimate prize can come down to the very last heart thumping race.
For Concordia, ending a school wide team national championship drought that carried on until May 2015 took the collaboration of a special group of people. It's this year's senior class that really took the lead.
Make no mistake, we're not glossing over last year's senior group, which included two-time national champion Liz King, another national titlist in Josh Slechta and other especially noteworthy All-Americans such as Kattie Cleveland, Stephanie Coley, Kim Wood and Jose Rojas. Talk to any of the current upperclassmen female throwers and one thing is clear, they all looked up to King, someone who oozed personality and competitive fire.
Even without those standouts, the good times continue for programs now headed by Matt Beisel, who took over the helm from 24-year head coach Kregg Einspahr. Both Bulldog teams are ranked third nationally in the most recent USTFCCCA national rankings. It's not unfamiliar territory whatsoever.
The national finishes during the careers of the current seniors are staggering. The men's indoor finishes: 17th in 2014, fifth in 2013, third in 2016 and second in 2017. The men's outdoor finishes: 11th in 2014, national champs in 2015 and runner up in 2016. Now for the women. Indoor since 2014: 11th, 11th, fifth and seventh. And outdoor since 2014: ninth, fifth and national champs.
It's the golden age of the program, but how did they do it? Says senior Tricia Svoboda of her early collegiate days, "It was definitely right on the brink of something bigger. We had so much potential that was building. You could tell at practice because we had a group of people that was really driven."
No one knows better than the seniors, so we asked them for insight. The impressive collection of student athletes that helped us detail the national surge are Cody Boellstorff, Zach Lurz, CJ Muller, Kali Robb, Svoboda and Lucas Wiechman. The Senior Six has combined individually for eight national titles and 47 All-America awards. Three of The Senior Six have been national champions and the other three have all claimed national runner-up finishes at least once.
This is the story of a national uprising, as told by The Senior Six.
Cody Boellstorff
You would never know it now, but Boellstorff arrived at Concordia having never before competed in the hammer or weight throw. His first experiences with the hammer were troubling to the point of embarrassment.
Says Boellstorff, "There was a lot of frustration, especially from (throws coach) Ed (McLaughlin). He still brings it up to this day, the Wesleyan meet my freshman year when I couldn't get my turns right. He actually had to stand just outside the ring and count them out loud to me while I was turning. It wasn't my proudest moment."
But McLaughlin wasn't about to give up on Boellstorff, a 6-foot-5 physically gifted athlete with the raw ability that made dreams possible. As Boellstorff says, "I was obsessed with working out." The native of Waverly, Neb., caught on as quickly as McLaughlin could have hoped. Boellstorff had been a high school state runner up in the shot put, but mastering the hammer was like learning to walk again.
Pretty soon the breakthroughs came. He qualified for nationals in the hammer as a freshman in 2013. Then at the national championships, he snuck into All-America territory with an eighth-place finish. "As a freshman, I thought that was a pretty big deal just to qualify for nationals," Boellstorff said. As a team, Concordia placed in a tie for 42nd, which would seem like a colossal disappointment by today's standards.
Bigger and better was just around the corner for both Boellstorff and the program. But how much bigger and how much better? Team national title talk? Crazy talk. Says Boellstorff, "Honestly I didn't know it was even going to be possible when I got here. Sure, a top-five finish. When you looked at our team you were like, 'Yeah, we could do that.' But to actually win it? I didn't think anybody had any idea until it came down to that one race."
It came down to more than just that one race in 2015 when Boellstorff and his teammates celebrated the NAIA Men's Outdoor Track and Field National Championship, marking the first team title for any sport in school history. It was in part the byproduct of years of developing the nation's top throwing program. As Lurz puts it, "We take kids who aren't exactly DI athletes, but we turn them into DI athletes. We have kids like Cody who have never touched the hammer before and, inside of five years, he's a 220-foot hammer thrower. That's unheard of."
In 2017, Boellstorff is a known commodity with three career national titles to his credit – two in the weight throw and one in the hammer. He enters the stretch run of the outdoor season leading the nation in the hammer, an event in which he owns the school record.
Boellstorff is essentially a poster boy for the program's rise. As he took off, so too did the Bulldogs.
Zach Lurz
When Zach Lurz packs up his things and moves on from college, he'll need to rent a U-Haul – and that's just to carry all of the awards he's won. He's a four-time national champion and a 14-time All-American. He's earned NAIA national championships performer of the meet and NAIA national field athlete of the year awards during a career that ranks up there with some of the best ever at Concordia.
A native of Chadron, Neb., who bounced around a bit as a child, Lurz came to Concordia to throw and play football, but mostly to throw. He gave up football after one year because, "I wanted to be good at something." Lurz had already been fairly well schooled in the mechanics of throwing. He says the biggest key to his collegiate success was adding strength.
By the time he was a redshirt sophomore, Lurz was a GPAC champion, a national champion and a member of a team national champion. He's never been at a national championship meet in which his team failed to place inside at least the top 20. It's simply been one success after another.
He was there at the beginning of the golden age and he believes it started with Jamie Crouse, an All-American, conference champion and shareholder of the women's school record in the hammer throw.
"When I really saw it progressing was with Jamie and she started to take off," Lurz said. "Everybody started to follow suit. You could see it early on in my career when one person would have a PR a lot of people would at the same time. Everybody fed off each other and we continued to push and push. I've watched all of the throwing records fall except women's discus and men's javelin and all of them have been really close. Being able to watch that has been really awesome."
A high school state champion in the shot put and runner up in the discus, Lurz first was contacted by McLaughlin about the possibility of attending Concordia on a track scholarship. A graduate of Torrington High School in Wyoming, Lurz was a well-rounded athlete who not only threw, but played baseball and football and wrestled in high school.
Though he visited Concordia during spring break when the campus was mostly empty, Lurz found it to his liking. It's worked both ways. Lurz has brought prestige to the program while cultivating his own skills and talents through the tutelage of McLaughlin, who took in nearly every major NAIA national assistant coaching award in 2016.
The Herculean Lurz has been at the forefront of the golden age as the most decorated of The Senior Six. He's taken full advantage of the opportunity at Concordia. Explains Lurz, "You see the big throwers that have the body types to succeed. We have to put in hours and hours of training on top of everything in order to be at the level we have been performing at. Kids here are given the tools here to be successful and they use them extensively."
CJ Muller
The program has complimented its stable of throwers with stellar athletes like CJ Muller, a 600 meter extraordinaire, who galloped to the finish line as the last leg of the 4x400 meter relay that clinched the 2015 team national title. For just that fact alone, Muller reserves a spot in the history of the program's lore. There's more to it. He's a seven-time All-American and was a national runner up in the 600 at the 2017 indoor championships.
Like Boellstorff and Lurz, Muller is part of the elite category that arrived ahead of all of the glitzy trophies that now line the glass cases and the front desk inside the friendly confines of the Walz Human Performance Complex. That state-of-the-art complex, completed in 2009, is one of the things that drew Muller in after a high school career at Millard West in Omaha.
The facility upgrades should not be discounted when examining the fate of an athletic program. Says Muller, "Our facilities are unbelievable. Besides Devaney which is Division I, I'd say we've got the top indoor track in Nebraska and possibly top three in the Midwest, especially for 200-meter sized tracks. It's not just the indoor track. You have the stadium, the weight room and the training room. You get that big college feel, yet we're still at a school of 1,300 kids. When you're given the tools that are top notch, you get to train top notch and become a top notch athlete as well."
Muller visited Concordia during the recruiting process and felt a connection with the likes of Einspahr, McLaughlin and Mark Samuels. As a freshman, Muller admired the seniors, who at that time helped him discover what it took to compete at a higher level.
Clearly Muller kept good notes. His training has made him a valuable point scorer in everything from the sprints to the middle distances to the relays. He teamed up on the school record setting 4x4 at the 2015 outdoor national championships and is a two-time conference champion in the 600 meters. He shined as a key piece in three GPAC team track titles that have come in addition to the national success.
For Muller, the right attitude has fueled him to become the most visible men's track athlete of Concordia's golden age.
"Coming from high school to college is a mindset thing," Muller said. "We wanted to be here and we enjoy track and what we do. If you don't enjoy coming to practice and putting in the work, it's tough. We all stuck it out four years. It's helped us build that foundation. We've put in the work and we see the results, which makes us want to try even harder. When everything accumulates and works out, it's just a great feeling."
The accumulations were obvious as Muller and Wiechman, struggling to handle all of their award plaques, posed at the 2017 indoor national championships.
Kali Robb
With the graduation of Liz King, Kali Robb became the new ringleader on the women's side. She made her way to Bulldog country after a high school career at Sidney that she described, saying "it wasn't really great success." In her mind, she did just enough to warrant a spot on a collegiate track and field team. At one time, she had also hoped to play volleyball at Concordia, but it wasn't in the cards.
Coming from all the way out in western Nebraska, Robb had found her new home. The culture just seemed like a fit. Said Robb, "I think it was more the school. I came down here for a visit and I loved the environment. I loved the interaction that Ed had with all of his athletes and the connection we had. Same thing with Coach Einspahr. We had a great connection when we first met. The atmosphere down here was something I really liked and wanted to be part of."
Robb is another example how Bulldog throwers improve rapidly over their college careers. She was a national qualifier as a freshman in 2014, but not an All-American. Since then, she's claimed nine All-America awards and three GPAC titles. She's still looking for her first national title after another second-place finish (weight throw) this past indoor season.
Even amongst a long line of big-time throwers, Robb stands out. She's the current national leader in the hammer and the shot put. She's coming off three All-America claims at the 2016 outdoor national championships, where she was a key figure in the team national title run.
It's hard to even put into perspective just how much she and the rest of her throwing teammates have attained in recent years. Says Robb, "I guess I don't have the words because it's hard to describe how amazing it is to be part of a national championship team and the first national championship team. We have a great group of kids who know what they're doing and can push themselves and each other to the next level. I really don't know how to describe it. It's amazing."
Robb is able to pinpoint one essential factor in the team's success: coaching. So what are the things that make McLaughlin such an effective throws coach?
"He's persistent," Robb said. "He makes sure that we do understand what he's talking about and do the things he wants to get us to be better and take the next step. He makes sure that we understand this level before we get to that next level, even if it's just a little tweak here or there. He makes sure that we have it down with repetition and practice. He encourages us to push ourselves further and further."
It's not hard to figure out what the next level could be for Robb in late May. No matter what happens, she'll be remembered as one of the great Bulldog throwers and a key ingredient in the first Concordia women's team national title in school history.
Tricia Svoboda
Everyone has a recruiting story. Says Tricia Svoboda, "I didn't even really know Concordia was on the map and I lived less than two hours away. Ed came to one of my district track meets. He was a great guy. I checked out the campus. I loved the location, the size and the atmosphere. I thought it would be a good fit for me."
Svoboda has specialized in outdoor events like the discus and javelin during her career as a Bulldog. Her two career All-America awards pale in comparison to what Robb has compiled, but Svoboda provides Concordia with another national challenger and yet another story of a Bulldog reaching full potential as a senior. She placed as the national runner up in the discus while supplying eight crucial points towards the 2016 team national title. Now she's primed for another big performance while currently ranked second, just behind the leader, in the discus.
A native of Norfolk, Neb., Svoboda didn't find everything to be so easy from the beginning. Says Svoboda, "Starting out it was grueling. I was practicing really hard all the time. There was way more tech work. After you get to a certain level you still do the tech work, but it's different. You put in a lot more time when you're younger to get everything figured out. As you progress, the technical aspect drops back a little. You still have to balance your time."
Under the tutelage of McLaughlin, Svoboda has made gains every year. She even qualified for the indoor national championships this past March. That's another big feat for someone who admits that indoor is not quite her cup of tea.
Not only did Svoboda have McLaughlin for advice, but she also had King. "I always looked up to Liz King," Svoboda said. "She was always there. She had a great attitude in practice and made everyone chuckle. She was always so helpful in javelin because she had thrown it for so long and no one else really had. It was almost like we had two coaches there with her and Ed. It was always King for me because she had that attitude that made you want to do better."
In the building of champions, the abundance of superior attitudes, teammates and work ethics has made all the difference. So too has the everyday competition between elite athletes going head-to-head in practice. Those are things Svoboda will miss. "I will cherish all four years here," Svoboda said.
Lucas Wiechman
Ask Lucas Wiechman what his high school career was like and he'll tell you it was pretty average. Again, there's the constant theme that centers upon the transformation and development of elite athletes who did not necessarily think of themselves that way when they first stepped foot in Seward.
Wiechman is another unique case study, who, as a freshman, stood in awe of anyone who could eclipse 16 feet in the pole vault. Little did he know that such a height would be well within his reach by the middle of his collegiate career. Wiechman is the headliner for a well-regarded pole vault program nurtured by assistant Jason Berry. Wiechman is all that and a lot more.
Considering his exploits in multiple events, Wiechman has to be in the discussion as one of the NAIA's greatest athletes. At the 2017 GPAC indoor championships, Wiechman captured conference titles in three individual events and earned performer of the meet honors. He then garnered the same distinction at the indoor national championships.
Early on, the native of Wisner, Neb., got a lesson on what it might take to eventually ascend to the heights he's now reached. Says Wiechman, "Coming on campus we do the fall track thing. The first two weeks is on our own led by the seniors. It was kind of nice during that time. I just felt welcomed and everything as a freshman. It's a chance to come together as a team. Probably sophomore year during indoor I think we got fifth as a team. That was kind of the turning point in my mind that we were only going to go up from there."
Who did Wiechman take after? He mentions impactful alums Jonathon Becker, John Cartier, Carson Farr and Ben Hinckfoot as teammates that left an impression upon him. Each of them were All-Americans before Wiechman even realized his own potential.
Nine All-America awards, a heptathlon national title and a team national championship later, Wiechman has accomplished things many simply dream about. Admits Wiechman, "It's pretty cool walking through the Fieldhouse and seeing the two banners that say national championship team."
Still, the levelheaded Wiechman makes a point of representing Concordia in a Christ-like manner. He feels respect from people like meet officials – and he gives it right back. Says Wiechman, "I notice the respect Concordia has more with the meet officials. They'll see our jersey and say hi. We're good people, I guess. They see so many of us and see that we're towards the top so there's a little bit more respect. It goes both ways. We respect the meet officials and they respect us."
It's a respect that has been hard earned through years of positive action. Wiechman stands as one of the pillars of the program. If one wants to see what persistent effort gets you, look no further than Wiechman.
-------------
Wiechman sums up Concordia's national success quite simply. "We have people that place first, second and third at nationals," Wiechman said. "That's what it takes to win."
That winning formula is derived from elite athletes like The Senior Six. They learned from the foundation that was built by tremendous coaches and the athletes that came before them. They then set about blowing the top off all reasonable expectations.
There's been some good fortune, coaching and hard work. But even that doesn't wholly explain the astounding success. Svoboda's explanation seems as good as any: "We had some really good people together at the right time."