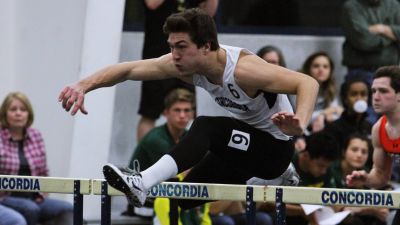 SEWARD, Neb. – The Concordia University track and field teams appear to be hitting their stride at the right time. At Friday's Concordia Indoor Invitational inside the Fieldhouse, the Bulldogs totaled 59 personal bests, seven event titles and five runners up.
First-year head coach Matt Beisel's squads won three of four throwing events and got another big day from senior Lucas Wiechman, a national qualifier in three individual events.
"This was probably one of our most solid meets as a whole team," Beisel said. "That's what you want at your last home meet, the week before your conference championships. Overall just a good day. We had a lot of improvements in the throws. The guys in the horizontal jumps had a really good day. Just a really solid performance. I'm real proud of them."
Based on the leaderboard entering the weekend, senior Kali Robb is now the national leader in the weight throw with her mark of 59' 4" at the Concordia Invite. After popping off that season best, Robb got a bear hug from both assistant coach Ed McLaughlin and former teammate and past national champion Liz King. Robb is the school record holder in the event with her toss of 62' 1 ¾" at the 2016 GPAC championships.
A national runner up in last year's heptathlon, senior Lucas Wiechman continues to showcase himself as one of the top all around athletes in the nation. Not only does Wiechman pace the NAIA in the heptathlon, he moved himself up on the 60-meter hurdle list by clocking a personal best of 8.21 in a winning effort on Friday. In addition, the Pilger, Neb., native ran a 50.4 split for the first-place Bulldog 4x400 meter relay.
Wiechman has become a master at juggling events. At one point late in the meet, he set a personal best of 16' 4 ¾" in the pole vault (another title) and then hurried over to the track to lead off the relay. Said Beisel, "Lucas had a really phenomenal day."
"It's a combination of having four years and practicing a lot," Wiechman said of his work as a jack of all trades. "I've been working at (getting to that height in the pole vault) like that for two years. Finally got in the five meter club. That's kind of a mile marker in a long journey. It's awesome."
Freshman Addie Shaw has been a huge performer in her debut season as a Bulldog. The former Nebraska Class D state champion now ranks second in the NAIA in the shot put thanks to her winning toss of 47' ¾" (more than six inches better than her previous PR) on Friday. Her mother starred as a javelin thrower at Nebraska Wesleyan.
"I wasn't expecting it to be near 47," Shaw said. "I thought it was going to be close to my PR. It's a really good feeling. I knew that the two throws before that weren't the best so I was really trying to get one out there so I could make my mark and make finals."
Named NAIA National Field Athlete of the Week two days ago, sophomore Allie Brooks made another run at breaking her own school record in the pole vault. She attempted to clear 13' 1," but settled for second place with a mark of 12' 4 ¾." She continues to lead the nation in the event. Concordia would have two of the top three women's vaulters in the nation, but sophomore McKenzie Gravo is redshirting this indoor season.
Other event champions included Cody Boellstorff yet again in the weight throw and Nathan Matters in the 600 meter run. Concordia also had runner-up efforts from Brooks, Ben Hulett (60 meter hurdles), Robb (shot put), Emily Sievert (3,000 meters) and Marti Vlasin (600 meters). Additionally, Samantha Liermann produced a season best in the shot put and Zach Lurz, battling injury, put up season bests in the shot put and the weight throw. Also in the women's pole vault, Andrea Anderson had a PR of 10' 11." Thomas Taylor placed third in the mile with a new personal best.
Not only did the Bulldogs win three of four throwing events, they held down the top three spots in the women's shot put. Said Beisel of Shaw, "She is just rocking it. Her toss was just huge."
Up next are the GPAC championships hosted by Dordt on Friday and Saturday (Feb. 17-18). The meet will be held at the Recreation Center in Sioux Center, Iowa. For more details on the meet, click HERE. At the 2016 GPAC indoor championships, the Bulldogs placed second on the women's side and third on the men's side.
Concordia Indoor Invitational event champions
Men's 4x400 meter relay (3:20.37)
Cody Boellstorff – weight throw (66' 5 ¼")
Nathan Matters – 600 meters (1:22.18)
Kali Robb – weight throw (59' 4")
Adrianna Shaw – shot put (47' ¼")
Lucas Wiechman – 60 meter hurdles (8.21); pole vault (16' 4 ¾")