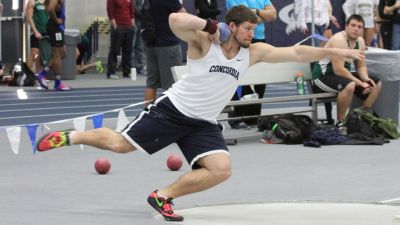 SEWARD, Neb. – The Concordia track and field team competed in the second day of the Concordia Classic Indoor Meet on Saturday. The Bulldogs turned in 29 top-5 finishes over the two day meet.
Simply put in the words of head coach Kregg Einspahr, "Great things happened today."
Fourteen different Bulldogs made marks good enough to qualify for the NAIA meet in March and three new school records were set.
The Bulldog throwers dominated the competition taking the top three spots in the shot put in each the men's and women's categories. All six marks were NAIA qualifying and one was a school record.
Stephanie Coley hit 47-07.75 to break her own school best. Kali Robb hurled a throw of 47-07.25 while Samantha Liermann registered a toss of 46-10 for second and third place, respectively.
On the men's side, Zach Lurz took first place with a throw of 55-11. Trey Barnes turned in a 54-03.75 mark for second place and Jose Rojas grabbed third place with a 53-11.75 toss.
Coach Einspahr said, "Our throwers, what do you even say? Boellstorff had great throws and we have two guys over 60 feet in the weight throw now. Real solid performance by Stephanie Coley in the shot put getting a new school record."
In the weight throw, Cody Boellstorff registered a new school record of 65-11.5 for first place. Lurz finished in second place, throwing 60-01.25.
Boellstorff said, "The throws that did go out there went pretty smooth. It comes down to training harder in practice. Something finally clicked for me."
Robb hit 60-01 in the weight throw, good for first place. Kattie Cleveland (56-00) and Coley (55-10.50) were slotted third and fourth, respectively.
AJ Schafer hit a personal best in the pole vault, beating his previous mark by more than a foot. The sophomore came in third place with a vault of 15-05. Also marking a big personal best in the triple jump was Katelyn Shoup. Shoup registered a leap of 35-11.50, good for second place.
On the track, Kim Wood continued to impress. The senior is looking to leave her mark in the Concordia record books.
"It's a crazy feeling in senior year, it's a different feeling as compared to previous years. It was always like, 'There's next year or the next meet.' Now it's a weird realization that it's all coming to an end, that's really hard. It's cool once I get out there and get it because there are only so many meets left. It feels good to go out and get it and set those records before I head out," Wood said.
Wood's 2:11.03 time in the 800 beat her personal best, which was also the school record, set a new fieldhouse and meet record, qualified for the NAIA meet and got her first place. Wood also ran in the second placing 4x400 women's relay team. The team turned in a time of 4:03.91.
"Kim Wood ran an 800 in 2:11.03, that's a very quality time. When she gets into some good competition, she's really going to blossom," Einspahr said.
Emily Sievert came in first in the 5,000 meters with an NAIA qualifying time of 18:07.90, ranking her toward the top of the NAIA leaderboards.
In the men's 400 meters, CJ Muller set a new meet record with a time of 49.04 and came in first place. Muller also ran the first leg of the winning 4x400 relay team. Teammate Nathan Matters ran the anchor for the relay team and also came in second in the 600 meter run with a time of 1:23.56.
"Nathan Matters, a freshman, is running really well in the 4x400 and had a 50 flat split on the anchor and has done a nice job," Einspahr said.
The Concordia track and field teams will be back in action next weekend, Feb. 5-6 at the Sevigne Husker Invite in Lincoln, Neb. and at the Fred Beile Classic on Feb. 6 in Crete, Neb.
Below is a list of the NAIA qualifying marks and times achieved Friday and Saturday at the Concordia Classic:
Trey Barnes – shot put (54-03.75)
Cody Boellstorff – weight throw (65-11.50)
Kattie Cleveland – weight throw (56-00)
Stephanie Coley – shot put (47-07.75); weight throw (55-10.50)
Alayna Daberkow – pentathlon (3,000 points)
Liz King – weight throw (53-08.25)
Philip Kreutzer – weight throw (55-05)
Samantha Liermann – (46-10)
Zach Lurz – shot put (55-11); weight throw (60-01.25)
Cynthia Mick – pole vault (11-05)
CJ Muller – 400 meters (49.04)
Kali Robb – shot put (47-07.25); weight throw (60-01)
Jose Rojas – shot put (53-11.75); weight throw (55-08.25)
AJ Schafer – pole vault (15-05)
Emily Sievert – 5,000 meters (18:07.90)
Lucas Wiechman – heptathlon (4,918 points)
Kim Wood – 800 meters (2:11.03)