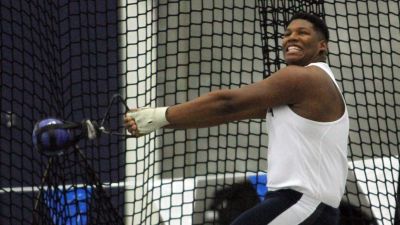 PITTSBURG, Kan. – Three Bulldogs who earned All-America honors on Friday (March 2) at the 2018 NAIA Indoor Track & Field National Championships each placed above their seeds as part of day two of the meet. Eleven athletes represented the Concordia University track and field programs on Friday while competing at the Robert W. Plaster Center in Pittsburg, Kan.
Head coach Matt Beisel's program traveled 17 athletes to the meet that began on Thursday. Freshmen Blake Becher and Cody Williams in the heptathlon were the team's only competitors on the opening day. The Bulldog men's and women's teams have totaled four points apiece.
"Overall it was something we can all be proud of," Beisel said. "Our two multi-eventers had never been to nationals before. They handled the pressure really well. I think Blake Becher saw what he's capable of. He could be an All-American by next year. Then Cody scored the highest he's ever scored. He went from 14' 1" to 15' 1" in the pole vault and he's our best freshman vaulter now. That was exciting."
Junior Samantha Liermann especially outdid herself with a personal best of nearly three feet in the weight throw. Listed 14th on the national list, Liermann earned four team points by way of her fifth-place finish and toss of 57' 5 ½." Teammates Adrianna Shaw (54' 6 ¾") and Johanna Ragland (49' 11 ¾") placed 12th and 26th, respectively, in the event. All three Bulldogs will also be in action on Saturday in the shot put.
A national qualifier for the first time at the 2017 NAIA outdoor championships, sophomore Jacob Cornelio has claimed his first career All-America honor. He also put forth a personal record of nearly three feet with a hurl of 62' 7 ¼" in the weight throw, good for seventh place and two team points. Cornelio came into the weekend ranked eighth nationally in the event.
Williams racked up 4,915 points (personal best) in the heptathlon for a seventh-place finish in his first career appearance on the national stage. Becher wound up with 4,445 points (14th place). Broken down by events, Williams' best finish was second in the pole vault.
In the women's pole vault, McKenzie Gravo missed out on a chance to add to her three career All-America plaques. She no-heighted. Meanwhile, freshman teammate Anna Baack tied for 13th place (11' 1 ¾").
Said Beisel, "Anna had a good day. She cleared the opening height and it was the second highest collegiate vault she's ever had. She just missed the next height so she did really well. McKenzie no-heighted. It's one of those frustrating things that happens. She's proven herself many times before and I know she will again."
On the track, senior Ben Hulett (60 meter hurdles) and sophomore Josiah McAllister (1,000 meters) fell short of making the finals in their respective events. Hulett placed 25th (8.57) while McAllister clocked in 14th (2:32.10).
Concordia will close the national championships on Saturday with 10 athletes set to compete in field events. The highest potential for scoring will come in the women's shot put (10 a.m.), which features five Bulldogs. That group includes Liermann, the 2017 outdoor shot put national champion, and Shaw, the 2017 indoor shot put national runner up. Concordia athletes will also take part in the men's pole vault (Simon Brummond and Tyrell Reichert), the men's triple jump (Scott Johnson), the women's triple jump (Leah Larson) and the women's high jump (Kara Stark). The meet will conclude with the awards ceremony at 5:30 p.m.
All of the national championship action will be video-streamed live on NAIANetwork.com, the NAIA's official video-streaming platform provided by Stretch Internet. Fans can catch all the action for a subscription fee. For more information, visit naianetwork.com.
"I think everybody that we've got in tomorrow could potentially put points on the board for us," Beisel said. "You just never know what it's going to be. I'm curious to see how we pan out. Our kids are in great spirits and it's been a lot of fun."
2018 Indoor All-Americans
Jacob Cornelio: 7th place weight throw
Samantha Liermann: 5th place weight throw
Cody Williams: 7th place heptathlon