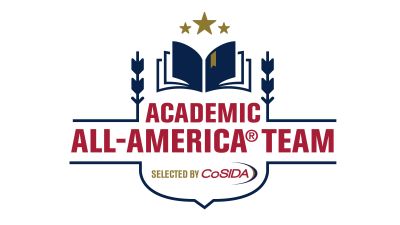 T&F/XC Academic All-America® teams
SEWARD, Neb. – A few weeks after being named Academic All-District™ selections by the College Sports Information Directors of America (CoSIDA), the trio of Stephanie Coley, CJ Muller and Kim Wood were elevated to the status of CoSIDA Academic All-America® College Division Track & Field/Cross Country First Team, as announced on Tuesday (June 21). All three are first time CoSIDA Academic All-Americans.
The CoSIDA Academic All-America® Men's and Women's Track & Field/Cross Country Teams have been released to recognize the nation's top student-athletes for their combined performances athletically and in the classroom. For more information about the Academic All-District™ and Academic All-America® Teams program, please visit http://cosida.com.
Coley, a senior from Gering, Neb., is a two-time academic all-district choice. She earned her degree in English this May. Coley collected All-America awards in three different throwing events at the NAIA outdoor championships for the national championship winning Concordia women. Muller and Wood both received the academic all-district award for the first time. Muller, an Omaha native, just completed his junior year and is majoring in exercise science. Wood, also a 2016 outdoor All-American, earned her degrees in behavioral science and psychology.
Coley, Muller and Wood are members of a long list of Concordia athletes to receive both All-America and all-district accolades over the past two seasons. The 2014-15 academic year saw a school record 11 Bulldogs collect such recognition. This year's all-district honorees also include Amy Ahlers (golf), Chandler Folkerts (men's basketball), Hallick Lehmann (football), Adam Meirose (football) and Becky Mueller (women's basketball). Ahlers, Folkerts and Lehman also earned Academic All-America laurels.
Just 10 first team and 10 second team Academic All-America selections were chosen to represent men's and women's track & field/cross country from the College Division, which is made up of NAIA institutions across the nation.
2015-16 academic all-district honorees
(*Academic All-American)
*Amy Ahlers, Golf
*Stephanie Coley, Track & Field
*Chandler Folkerts, Basketball
*Hallick Lehmann, Football
Adam Meirose, Football
Becky Mueller, Basketball
*CJ Muller, Track & Field
*Kim Wood, Cross Country/Track & Field
2014-15 academic all-district honorees
(*Academic All-American)
Amy Ahlers, Golf
*Brendan Buchanan, Soccer
Stephanie Coley, Track & Field
*Chandler Folkerts, Basketball
Jaydee Jurgensen, Baseball
Adam Meirose, Football
Bailey Morris, Basketball
*Rachel Mussell, Soccer
Shawn Rodehorst, Golf
Ben Sievert, Cross Country/Track & Field
Melissa Stine, Soccer