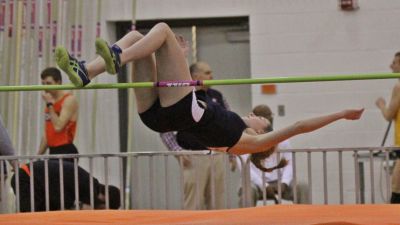 SEWARD, Neb. – A total of 36 Concordia University track and field athletes who contributed to team scoring at last week's GPAC indoor championships have officially been named all-conference honorees. The list includes 19 women and 17 men who helped the Bulldogs place fourth on the men's side and fifth on the women's side at the GPAC championship meet hosted by Doane.
Among the all-conference performers for head coach Matt Beisel's squads, eight posted multiple top eight finishes in individual events: Mika Brees (60 meters, 200 meters), Jessica Deterding (pentathlon, triple jump), Scott Johnson (triple jump, long jump), Samantha Liermann (shot put, weight throw), Josiah McAllister (one mile, 1,000 meters), Kennedy Mogul (60 hurdles, pentathlon), Tyrell Reichert (pole vault, triple jump) and Adrianna Shaw (shot put, weight throw).
The highest point scorers on either side were Johnson (15 points) for the men and Liermann (15 points) for the women. Johnson became a GPAC titlist for the first time in his career. Meanwhile, Liermann took home a shot put GPAC title for the second time as a Bulldog. The program's lone runner-up placement was turned in by the men's 4x800 meter relay quartet of Thomas Taylor, Patrick Wortmann, JP Reynolds and McAllister.
Freshmen Cody Williams (Imperial, Neb.) and Blake Becher placed third and fourth, respectively, in the heptathlon and were officially named NAIA national qualifiers in the event on Monday (Feb. 19). Other official qualifiers will be announced later this week by the NAIA. The 2018 NAIA Indoor Track & Field National Championships will be held in Pittsburg, Kan., March 1-3.
2018 Concordia GPAC Indoor All-Conference performers
MEN
Blake Becher (4th in heptathlon)
Simon Brummond (5th in pole vault)
Jacob Cornelio (6th in weight throw)
Scott Johnson (*1st in triple jump; 4th in long jump)
Michael Leapley (7th in 600 meters)
Jordan Lorenz (8th in 5,000 meters)
Nathan Matters (8th in 4x400 meter relay)
Josiah McAllister (2nd in 4x800 meter relay; 3rd in one mile; 7th in 1,000 meters; 8th in 4x400 meter relay)
Tucker Platt (7th in pole vault)
Benjamin Pratt (6th in high jump)
Tyrell Reichert (5th in pole vault; 7th in triple jump)
Henry Reimer (8th in 4x400 meter relay)
JP Reynolds (2nd in 4x800 meter relay)
Thomas Taylor (2nd in 4x800 meter relay; 4th in 800 meters)
Christian Van Cleave (6th in 800 meters)
Cody Williams (3rd in heptathlon; 8th in 4x400 meter relay)
Patrick Wortmann (2nd in 4x800 meter relay)
WOMEN
Andrea Anderson (8th in pole vault)
Anna Baack (7th in pole vault)
Tori Beran (4th in 4x400 meter relay; 4th in 4x800 meter relay; 8th in 600 meters)
Mika Brees (5th in 60 meters; 5th in 200 meters)
Lydia Cook (4th in 4x800 meter relay)
Jessica Deterding (4th in pentathlon; 4th in 4x400 meter relay; 6th in triple jump)
Jodi Fry (7th in shot put)
McKenzie Gravo (8th in long jump)
Taylor Grove (7th in 5,000 meters)
Rebekah Hinrichs (4th in 4x800 meter relay)
Leah Larson (4th in triple jump)
Samantha Liermann (*1st in shot put; 4th in weight throw)
Kennedy Mogul (4th in 4x400 meter relay; 5th in 60 hurdles; 8th in pentathlon)
Jamie Nikodym (7th in 60 hurdles)
Johanna Ragland (5th in shot put)
Miranda Rathjen (4th in 4x400 meter relay; 4th in 4x800 meter relay; 5th in 600 meters)
Jill Schroeder (7th in long jump)
Adrianna Shaw (3rd in shot put; 7th in weight throw)
Kara Stark (6th in high jump)