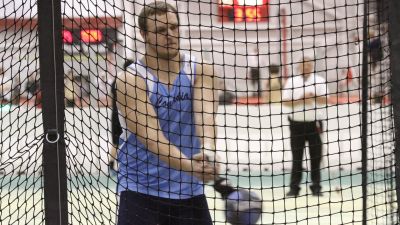 SEWARD, Neb. – In conjunction with the NAIA release of official national qualifiers, the Concordia University track and field program has unveiled its list of 31 athletes who will travel to Johnson City, Tenn., for next week's 2016 NAIA Indoor Track and Field National Championships. The grand event will take place March 3-5 at David E. Walker Track at Gentry Field.
The Bulldogs, ranked fourth nationally for both men and women, will take a large group of throwers to the national championships, including a pair of defending national titlists in Zach Lurz (shot put) and Josh Slechta (weight throw). Slechta will have to overcome his own teammate in national leader Cody Boellstorff (68' 10 ½") if he hopes to win another championship. Boellstorff, Lurz and Stephanie Coley each enter the national championships with NAIA-leading marks.
The headliner on the track is senior Kim Wood, named the Midwest regional Women's Track Athlete of the Year on Thursday. Wood qualified for nationals in four individual events but will focus on the 1,000 meter and one-mile runs next week. Wood will seek a national title after finishing as a runner up in the 1,000 meters in 2015. She owns four times that rank inside the top four on the NAIA national list.
Concordia's 31 national-bound athletes have a combined 40 All-America honors. Lurz owns the most with seven to his credit. Ten of the 30 Bulldogs have multiple All-America claims.
At last year's indoor national championships in Geneva, Ohio, the Concordia men placed fifth and the women 11th. Since 2000, the Bulldog men have recorded 13 top-25 national indoor finishes while the women have placed inside the top 25 on 11 occasions during that time frame.
For the first time since 2010, Johnson City, Tenn., will serve as the host city. The David E. Walker Track at Gentry Field was the host facility from 2001-2010. The championships begin on March 3 with the women's pentathlon at 1 p.m. EST and the men's heptathlon at 1:30 p.m. Last year, the Indiana Tech men repeated as national champions and the Oklahoma Baptist women won its third-consecutive national championship.
Stretch Internet, the NAIA's official video streaming company, will be broadcasting all sessions of the national championships. Packages can be purchased for $14.95. For more information, click here.
For the schedule of events, click here
Men's Qualifiers - by School | click here
Men's Qualifiers - by Event | click here
Women's Qualifiers - by School | click here
Women's Qualifiers - by Event | click here
2016 Concordia indoor national qualifiers
*Current national ranking in parentheses
MEN
Trey Barnes, sophomore
-Shot put (7th, 54' 3 ¾")
Cody Boellstorff, junior
-Shot put (17th, 51' 7")
-Weight throw (1st, 68' 10 ½")
Trevor Bresson, senior
-4x400 meter relay (10th, 3:21.54)
Samuel Ferguson, freshman
-4x800 meter relay (16th, 7:59.94)
Philip Kreutzer, junior
-Shot put (23rd, 50' 7 ½")
-Weight throw (8th, 59' 2")
Zach Lurz, junior
-Shot put (1st, 59' 6 ¼")
-Weight throw (2nd, 63' 4 ¾")
Nathan Matters, freshman
-4x400 meter relay (10th, 3:21.54)
Josiah McCallister, freshman
-4x800 meter relay (16th, 7:59.94)
CJ Muller, junior
-600 meter run (11th, 1:20.71)
-4x400 meter relay (10th, 3:21.54)
Jose Rojas, senior
-Shot put (5th, 55' 1 ½")
-Weight throw (5th, 59' 9 ½")
Austin Schafer, sophomore
-Pole vault (11th, 15' 5")
Ben Schulteis, senior
-Weight throw (18th, 56' 8 ¾")
Josh Slechta, senior
-Weight throw (10th, 58' 10 ¼")
Thomas Taylor, freshman
-4x800 meter relay (16th, 7:59.94)
Jaap Van Gaalen, senior
-4x400 meter relay (10th, 3:21.54)
Lucas Wiechman, junior
-Pole vault (6th, 16' ¾")
-Heptathlon (3rd, 4922)
Patrick Wortmann, sophomore
-4x800 meter relay (16th, 7:59.94)
WOMEN
Tori Beran, freshman
-4x400 meter relay (11th, 3:59.99)
Christine Beune, junior
-4x400 meter relay (11th, 3:59.99)
Allison Brooks, freshman
-Pole vault (22nd, 11' 5")
Kattie Cleveland, senior
-Weight throw (7th, 57' 6 ½")
Stephanie Coley, senior
-Shot put (1st, 48' 1 ¾")
-Weight throw (6th, 57' 11 ¾")
Alayna Daberkow, sophomore
-4x400 meter relay (11th, 3:59.99)
-Pentathlon (14th, 3116)
McKenzie Gravo, freshman
-Pole vault (7th, 12' 2 ¾")
Liz King, junior
-Weight throw (13th, 53' 8 ¼")
Samantha Liermann, freshman
-Shot put (6th, 64' 10")
Cynthia Mick, junior
-Pole vault (22nd, 11' 5")
Kali Robb, junior
-Shot put (2nd, 47' 2 ¼")
-Weight throw (3rd, 62' 1 ¾")
Emily Sievert, sophomore
-5,000 meter run (8th, 18:07.90)
Marti Vlasin, junior
-4x400 meter relay (11th, 3:59.99)
Kim Wood, senior
-1,000 meter run (4th, 2:55.95)
-1 mile run (2nd, 4:52.01)
-4x400 meter relay (11th, 3:59.99)