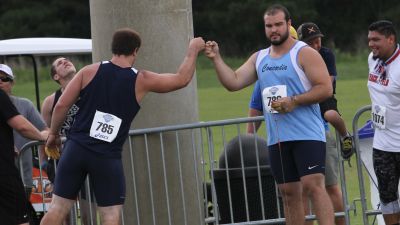 SEWARD, Neb. – The National Association of Intercollegiate Athletics has announced the ASICS-NAIA Outdoor Track & Field All-Americans for the 2016 season. Concordia placed 13 on the list, including two national titles. Seven of the Bulldogs were named All-Americans in more than one event.
The Concordia women's team, which had eight All-Americans, finished atop the podium at the national championships May 26-28 with 71 team points. The men finished the runner up of the national meet with 52 points. In order to receive the All-American accolades, the student-athletes must place in the top-eight at the NAIA Championships.
Among those honored were Zach Lurz who received his 12th All-American awards and third national title in the shot put. Only four other Concordia athletes have three or more career individual national titles. On the women's side, Liz King raked in her second career national title after taking first place in the hammer throw. King has amassed seven All-American awards in her career at Concordia. Leading the women in All-American awards is Stephanie Coley who scored her ninth, 10th and 11th awards after placing in the top-four in the discus, shot put and hammer throw.
Below is a list of the 2016 outdoor and indoor All-Americans along with the number of All-American awards each student-athlete has received through the indoor and outdoor seasons.
2016 Concordia Outdoor All-Americans
Kattie Cleveland (hammer – 6th; discus – 7th) (All-American awards: 3)
Stephanie Coley (discus – 3rd; shot put – 4th; hammer – 4th) (All-American awards: 11)
McKenzie Gravo (pole vault – 7th) (All-American awards: 2)
Liz King (hammer – 1st; javelin – 2nd) (All-American awards: 7; two national titles)
Philip Kreutzer (hammer – 6th) (All-American awards: 2)
Samantha Liermann (shot put – 6th) (All-American awards: 2)
Zach Lurz (shot put – 1st; hammer – 4th; discus – 6th) (All-American awards: 12; three national titles)
Kali Robb (shot put – 2nd; hammer – 5th; discus – 6th) (All-American awards: 7)
Jose Rojas (hammer – 3rd; shot put – 4th) (All-American awards: 4)
Josh Slechta (hammer – 2nd; discus – 5th) (All-American awards: 5)
Tricia Svoboda (discus – 2nd) (All-American awards: 2)
Lucas Wiechman (decathlon – 2nd) (All-American awards: 6)
Kim Wood (800 meters – 6th) (All-American awards: 7)
2016 Concordia Indoor All-Americans
Trey Barnes (shot put – 8th)
Cody Boellstorff (weight throw – 1st)
Trevor Bresson (4x400m relay – 8th)
Kattie Cleveland (weight throw – 6th)
Stephanie Coley (shot put – 3rd; weight throw – 7th)
McKenzie Gravo (pole vault – 5th)
Liz King (weight throw – 8th)
Philip Kreutzer (weight throw – 7th)
Samantha Liermann (shot put – 2nd)
Zach Lurz (shot put – 1st; weight throw – 3rd)
Nathan Matters (4x400m relay – 8th)
CJ Muller (600 meters – 6th; 4x400m relay – 8th)
Kali Robb (shot put – 6th; weight throw – 4th)
Jose Rojas (shot put – 2nd)
Josh Slechta (weight throw – 5th)
Jaap van Gaalen (4x400m relay – 8th)
Lucas Wiechman (pole vault – 4th; heptathlon – 2nd)
Kim Wood (1,000 meters – 4th; one mile – 3rd)