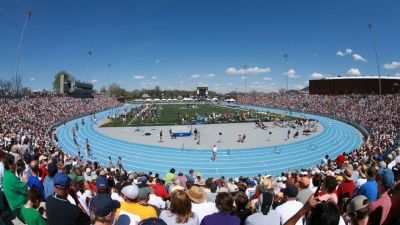 SEWARD, Neb. – A select group of high-performing athletes will represent Concordia University track and field at the Drake Relays beginning on Thursday. The list of 10 Bulldogs bracing for a trip to Des Moines, Iowa, includes five throwers and five runners, including four-time 2016 GPAC indoor champion Kim Wood (view full schedule at bottom).
Three of Concordia's throwers set to compete at Drake have won national championships. Junior Zach Lurz owns 2015 and 2016 indoor shot put national titles while seniors Liz King (2014 javelin) and Josh Slechta (2015 weight throw) own one national championship apiece. The 2015 NAIA outdoor national championships performer of the meet, Lurz owns the NAIA's top mark in the shot put and also ranks No. 3 in the discus and No. 4 in the hammer. Slechta is the nation's current leader in the hammer and King is No. 2 in the hammer and No. 3 in the javelin. Kattie Cleveland (hammer) and Katricia Svoboda (discus) will also throw at Drake.
Wood, a 10-time GPAC champion in her career, still seeks an automatic national qualifying time in the 800 meters, the event she will compete in on the famed blue oval track at Drake on Thursday. Then on Friday, the men's 4x400 meter relay, including GPAC track athlete of the week Trevor Bresson, will hit the track at 2:31 p.m. The 4x4 played a crucial role in last year's team national title.
This is the final week prior to the GPAC championships for head coach Kregg Einspahr's squads, which are ranked nationally by the USTFCCCA at No. 2 on the men's side and No. 3 on the women's side. The GPAC championships are scheduled for May 6-7 at Hastings. As a tune-up, the bulk of the Bulldogs will be in Lincoln on Thursday for the Nebraska Wesleyan Spring Invite.
Bulldogs at Drake Relays (April 28-30)
Thursday
4 p.m. – Kim Wood, 800 meters
Friday
11 a.m. – Zach Lurz, shot put
1 p.m. – Liz King, javelin
1 p.m. – Katricia Svobda, discus
2:31 p.m. – Men's 4x400 meter relay (Jaap van Gaalen, Nathan Matters, Trevor Bresson, CJ Muller)
Saturday
9 a.m. – Kattie Cleveland/Liz King, hammer throw
12 p.m. – Zach Lurz/Josh Slechta, hammer throw
4:07 p.m. – Men's 4x400 meter relay final