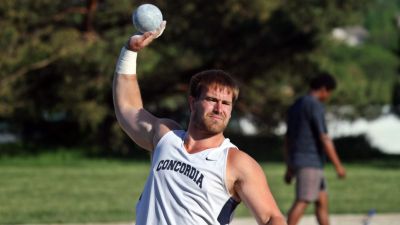 When it comes to throwing, senior Zach Lurz is the complete package. He commands the ring with a swagger that makes him one of the more compelling figures in the history of the Concordia University track and field program. No matter the circumstances – even if they require battling through injury – Lurz almost always comes up huge when it matters the most.
Lurz is physically gifted, but throws coach Ed McLaughlin actually wondered whether the native of Chadron, Neb., was a bit too small when he first arrived at Concordia for the 2012-13 academic year.
"I remember him being a hair short, a little too small and having really fuzzy hair," McLaughlin joked. "Those were the three things that stood out. You could tell there was something different with his talent level though. He always had an ability to handle technique. We've spent most of his career just adjusting little things. By the end of his freshman year, I'm thinking we have a guy who can qualify for nationals in three events (shot put, discus and hammer). Very few people are at the level he's at in all three."
The facts certainly back up McLaughlin's statement. Going into next week's outdoor national championships, Lurz is the only thrower in the nation who can boast top three national marks in three different throwing events. Not only that, Lurz's name is all over the Concordia record books. He is the school standard bearer in both the indoor and outdoor shot put.
A workaholic, Lurz has gotten to this point thanks to a burning desire to be great and that aforementioned swagger. It's easy to be confident when you can show off four individual national titles and 14 All-America awards. The Torrington High School alum is no longer that scrawny freshman. Actually, Lurz used a redshirt his first year on campus, then also a member of the football team, and put it to good use.
As the kids would say, Lurz went and got swole.
"The biggest thing was strength," Lurz said. "I've always been a technician with it. My dad did what he could to help, but you can only learn so much off of YouTube. That's where we learned rotational shot. I had to get stronger. When I came in, I couldn't hang clean 185 pounds. My bench was like 245. In my redshirt year I nearly doubled my bench, got my squat over 500 pounds and my cleans just shy of 315. The big thing was getting my strength up to a level where I could compete with other guys. My body was ready for it. I just hadn't been on a strength training program before. When Ed took that over, it changed everything."
Lurz possessed only a mere fraction of his current strength, but the high school version of himself was still a well-rounded athlete. At one point, Lurz thought baseball was going to be his game, saying he "loved it more than any of the other sports." Lurz pitched and also played football and wrestled. He garnered Wyoming all-state honors as a center and placed second at state wrestling.
Members of the football staff believe Lurz would have been a fine contributor on the gridiron inside Bulldog Stadium. However, Lurz came to a realization that he needed to focus on one thing if he was going to truly reach greatness. At times as a freshman, Lurz simply felt overwhelmed with all of the responsibility of college classes and being a member of two athletic teams. There really was no offseason.
"I wasn't ready to be done with it," said Lurz of his decision to play football at Concordia. "I wanted to get more time out of it. I love football. I really enjoyed hitting people so they stuck me on the defensive line. I got my one season out of the way. I wanted to be good at something. Picking what I did, looking back, I think I made the right choice."
That statement appeared quite evident early on in Lurz's career. At his first national championship meet in 2014, Lurz placed eighth in the shot put, netting him All-America accolades. We know now that Lurz was just getting warmed up. At the 2014 GPAC outdoor championships, Lurz claimed his first two conference titles with wins in the shot put and discus. By 2015, Lurz had reached a plateau that many athletes simply dream about. He placed as the national runner up in two events, raked in the most valuable performer award at the national meet and powered the Bulldogs to the first team national title in school history.
McLaughlin can go on and on about what makes Lurz a champion. Other throwers would be wise to take notes.
"One thing about Zach is he never takes a day off," McLaughlin said. "The day after conference he went back out and did a session of throws in the hammer. He's always done that. I have to kick him out of the weight room. I have to kick him out of the ring. He also has an amazing ability to really focus in on what he's doing at that time and do it really well. A lot of it goes back to his ability to understand what he needs to focus on."
That mental game will serve Lurz well after he closes the book next week on his Concordia career. His next venture will be as an assistant coach at Dakota Wesleyan. Lurz will attempt to apply many things he's learned from Concordia and McLaughlin as he builds up the Tiger throws program. Says McLaughlin, "I'm excited about it. Like I've told people, I'm a little nervous about it. He's going to be a good coach."
"I learned how to build a program from just about everyone on the staff here, especially Ed and (strength and conditioning coordinator Todd) Berner," Lurz said. "The relationship part I've picked up. Seeing kids develop in the way that they develop is the big thing. We take kids who aren't exactly DI athletes, but we turn them into DI athletes. We have kids like Cody (Boellstorff) who have never touched the hammer before and inside of five years he's a 215-foot hammer thrower. That's unheard of."
It would be difficult to find an assistant coach with a more sparkling athletic résumé than Lurz. It's not hyperbolic to call Lurz's series of performances legen … wait for it … dary.
Says Lurz, "I'm sure I'll look back in five years and think that this was amazing. What we've done as a team will rarely be repeated."