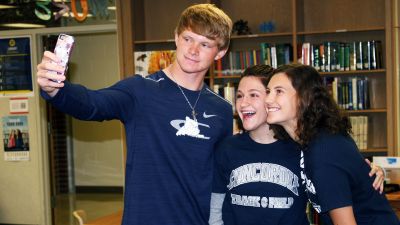 A trio of current seniors at Seward High School will be trading in Bluejay blue for Bulldog blue. Early on Tuesday (Oct. 25) morning, Anna Baack, Mika Brees and Logan Craig made it official at a signing ceremony held inside the library at Seward High. All three student-athletes will become members of head coach Matt Beisel's track and field programs in 2017-18.
Said Beisel, "God has blessed the Concordia Bulldogs with three more awesome student-athletes. I'm just so thrilled. It's so awesome that we have three Seward High athletes who are going to continue to be teammates together."
Baack knows Concordia athletics about as well as any high school senior could. She's the daughter of Bulldog head athletic trainer Randy Baack.
"I have basically grown up there," Anna said. "My dad didn't try to get me to go to Concordia. It was all on my own, but I think it will be good having my family there. I'm not like some people who just want to get away. I'm excited to stay here. Growing up at Concordia makes me love it that much more."
Both Baack and Brees expressed on Tuesday how Concordia's Christian atmosphere had helped sway them to remain in Seward. Brees proudly posted on her Facebook page immediately after the official announcement.
"It's official, I will be continuing my track career as a Bulldog next year," Brees wrote. "After a lot of prayer and consideration I knew that Concordia was where God was calling me to be. It wasn't an easy decision, but it's one I could not be happier about."
Each of the three Bulldog-bound Bluejays own impressive high school credentials. Brees took home Nebraska state titles in the 100 and 200 meter dashes. She possesses career best times of 8.09 in the 60 meters, 12.32 in the 100 meters and 25.44 in the 200 meters. Both Baack and Craig are pole vaulters who have been coached by Jason Berry, who tutors vaulters at Seward High and Concordia. Craig owns a personal best of 14' 6" and was a fourth-place state finisher. Meanwhile, Baack placed fifth at the state championships. She's nearing the Seward High school record with her personal best of 11' 6."
The three athletes made their decisions individually, but it's clear they're excited about the opportunity to continue on as teammates. With wide smiles, they posed together for a selfie following the picture taking marathon that unfolded on Tuesday morning.
"It's very, very special," Anna said. "I love both of them. I'm really excited to spend the next four years with them as well."
Over the past two seasons, the Concordia men's and women's track and field programs have captured one NAIA outdoor national title apiece. Those accomplishments marked the first team national championships in the history of Bulldog athletics.