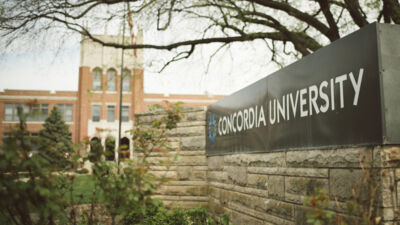 GULF SHORES, Ala. – Sixteen members of the Concordia University track and field programs have reeled in 2018 Daktronics-NAIA Scholar-Athlete accolades, as announced on Friday (May 25) by the NAIA. Of Concordia's 16 honorees, three are seniors and 13 are juniors (full list below). Repeat Scholar-Athletes are Andie Anderson, Scott Johnson, Samantha Liermann and Jan Steinbrueck.
In order to be nominated by an institution's head coach or sports information director, a student-athlete must maintain a minimum grade point average of 3.5 on a 4.0 scale and must have achieved a junior academic status. A total of 310 men's track and field and 438 women's track and field student-athletes across the nation were named 2018 Scholar-Athletes by the NAIA.
Concordia University ranks as the NAIA's all-time leader in number of Daktronics-NAIA Scholar-Athletes with 1,354 and counting. The Bulldogs have been a regular national leader for both scholar-athletes and scholar-teams and are coming off a 2016-17 academic year that resulted in 78 more scholar-athletes and 19 scholar-teams. The 2015-16 season produced a GPAC best 92 Bulldog scholar-athletes and a national best 20 NAIA Scholar-Teams. The 2014-15 season culminated with GPAC-leading totals of 94 Bulldog scholar-athletes and 17 NAIA Scholar-Teams. During the 2013-14 academic year, Concordia garnered 101 Scholar-Athlete honorees (most in the NAIA) and 17 NAIA Scholar-Teams (tied for fourth nationally).
2018 Track & Field Scholar-Athletes
Andie Anderson, Sr. | Omaha, Neb. | Psychology/Behavioral Science
Evan Asche, Jr. | Omaha, Neb. | Art Education
McKayla Besel, Jr. | Broomfield, Colo. | Exercise Science
Casey Eberth, Jr. | Basehor, Kan. | Elementary Education
Taylor Grove, Jr. | Billings, Mont. | Exercise Science
Paul Hammes, Jr. | Colorado Springs, Colo. | Biology/Physics/Mathematics
Scott Johnson, Sr. | Kansas City, Kan. | Biology/Chemistry
Jacy Johnston, Jr. | Westmoreland, Kan. | Secondary Ed/Business Administration
Samantha Liermann, Jr. | Wisner, Neb. | Recreation and Sport Studies/Business Administration
Nathan Matters, Jr. | Overland Park, Kan. | Criminal Justice
Josiah McAllister, Jr. | Atkinson, Neb. | Pre-Medicine
Jamie Nikodym, Jr. | Red Cloud, Neb. | Early Childhood Education
Abby Protzman, Jr. | Norfolk, Neb. | Business Communication/Business Administration
Johanna Ragland, Jr. | Rocky River, Ohio | Mathematics/Biology
Carley Skorepa, Jr. | Scotland, S.D. | Elementary Education
Jan Steinbrueck, Sr. | St. Louis, Mo. | Director of Christian Ed/Theology