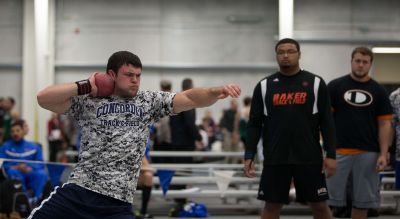 Six Bulldogs win titles at annual Loper Outdoor Invitational
KEARNEY, Neb. – Six different Concordia University track and field athletes captured event titles in the second meet of the outdoor season, held Saturday at Joe Greeno Field in Kearney, Neb., site of the annual Loper Invitational hosted by the University of Nebraska-Kearney. Both of head coach Kregg Einspahr's squads came into action with No. 4 national rankings, according to the U.S. Track & Field and Cross Country Coaches Association.
The highly-rated Bulldogs turned in a solid overall effort in their latest outing.
"We're starting to get into a rhythm and getting people on track," Einspahr said. "I think we have two teams looking pretty good. I'm pleased with how things are going. Overall it was a good day for us. Plus we had some kids missing for the Easter weekend. I still consider this the early part of the season. We're looking forward to our home meet."
Bulldog throwers, who entered the weekend with 11 automatic national qualifying marks, put together another solid day. Defending javelin national champion Liz King again held off the competition with her season best mark of 150' 5" in remaining dominant in her featured event. Teammate Katricia Svoboda eclipsed the 'B' standard mark with her second place javelin toss of 128' 9."
On the track, All-American and five-time GPAC titlist Kim Wood bested a field of 16 runners in the 1,500 meter race. Her time of 4:50.86 put her just over 10 seconds off the automatic national qualifying time. The native of Gretna, Neb., also took third in the 800 meter run and sixth in the 200 meter dash.
Already the school record holder in the indoor pole vault, GPAC champion Cassie Starks equaled Steph Beberniss' Bulldog outdoor pole vault standard by clearing 12' 6" as part of a winning effort at UNK. Teammate Cynthia Mick finished runner up with her automatic mark of 12' 2."
While Svoboda put forth a solid performance in the javelin, she produced her best mark in the discus. Her measurement of 157' 6" (fourth place behind three NCAA DII competitors) automatically qualified her for nationals and out-distanced all women's discus marks in the NAIA entering the weekend. It also ranks Svoboda second on the school's all-time list. In the same event, Bulldog junior Kattie Cleveland qualified for the national championships with her personal best throw of 150' 5."
Steady junior Stephanie Coley impressed with her hammer throw PR of 172' 10" ('A' mark), which placed her sixth amongst a loaded field. Coley was also fourth in the shot put with a toss of 46' 4."
In the men's javelin competition, indoor weight throw national champion Josh Slechta turned in a first-place throw of 152' 4." Also in the throws, Concordia's male hammer competitors hogged the top three spots with 'A' marks: Cody Boellstorff (192' 9"), Zach Lurz (182' 3") and Trey Farmer (178' 5"). Lurz recorded three runner-up claims (all national qualifying marks) on the day (hammer, shot, discus).
Concordia's remaining event title was delivered in the 400 meter hurdles by senior Tai Pleasant, who clocked in at 56.58. He beat out a field of 10 runners.
Elsewhere on the track, sophomore CJ Muller finished second in the 400 meter dash (51.41) and fourth in the 200 meters (22.37). Additional third-place performances were charted by Trevor Bressen (400 hurdles), Anna Buene (100 meter dash), Randi Janzen (400 meter dash) and Jaap Van Gaalen (800 meter run).
The Bulldogs will host a meet for the first time this outdoor season when the Concordia Outdoor Invite takes place next Saturday on campus. The meet will be shown live via the Concordia Sports Network.