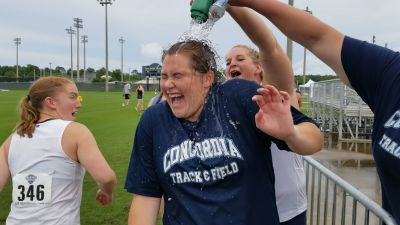 GULF SHORES, Ala. – It would have almost been incomprehensible for the Concordia University track and field programs to depart from a national meet without a title in the throws. After Samantha Liermann placed second in a controversial shot put competition on Friday, Adrianna Shaw came through with something of a surprise win in the discus on Saturday (May 26), which marked the final day of the 2018 NAIA Outdoor Track and Field National Championships. They took place in Gulf Shores, Ala.
The combined 14 points scored by Shaw and Carley Skorepa in the discus allowed head coach Matt Beisel's squad to move up to 12th (23 points) in the final women's team standings. The men scored one point via Jacob Cornelio's eighth-place finish in the hammer throw. Twenty-six Bulldogs made the trip south with 24 seeing action over the three-day meet that was often interrupted by inclement weather.
"It's been interesting dealing with the weather," Beisel said. "We just had storm after storm and lots of lightning delays. Overall I'm not unhappy with it. We ended up having some amazing things happen. Addie Shaw being the national champion in the discus was phenomenal. They came through in the discus. I really would like to be in that top 10 position. Sometimes it just doesn't happen. We dropped some points early on in the hammer."
The Bulldog throws program has a well-earned impeccable reputation across the national landscape. Under the direction of throws coach Ed McLaughlin, the men's and women's teams have combined for 14 individual national titles since the beginning of 2014. Liz King accomplished the feat first – and then the dominoes fell.
No. 14 proved to be just as sweet as the first 13. Shaw had placed as high as the shot put national runner up at the 2017 indoor national championships, but this was her first journey to the top of the mountain. Her winning mark of 154' 4" came on her first throw in the finals. That led to a tearful hug with her mother, a water bottle shower courtesy of her teammates and a wide-grinned smile in a post-performance photo opp.
"I definitely didn't expect it to happen this early, especially in this event," said the sophomore from Bassett, Neb. "It's really special because our throws program is so well-known in the NAIA. To be able to add my name to that list is pretty special."
Shaw and four of her teammates competed in the discus. Shaw and Skorepa became the fourth and fifth Bulldogs to reach the All-America podium this weekend. Making her second trip to a national meet, Skorepa earned her first career All-America award. She placed fifth in the discus with a twirl of 142' 8" in a competition that featured discs skidding along the rain-soaked grass at the Gulf Shores Sportsplex. Liermann (13th), Bethany Shaw (15th) and Jan Steinbrueck (17th) followed next in line. Nearly a quarter of the 21 discus competitors were from Concordia.
The first action got started early on Saturday with junior Taylor Grove pacing the marathon trail. A year after pulling out of the marathon around the 20-mile mark in her first experience at the national meet, Grove went the distance this time. The GPAC 10,000 meter champion completed the 26.2-mile trek in three hours, 31 minutes and 13 seconds. That put Grove in 17th place, about 15 minutes shy of a top-eight finish required for an All-America award.
"We came back this year with a different strategy," Beisel said. "She took off very conservatively. Probably the first five to 10 miles we kept it slower than her normal, easy running pace. Then she found herself in a position to say, 'I can do this.' The most important goal we had for her was to finish. She got to about mile 16 and she was feeling good so I said all right, 'Let's work on passing people.' She moved from 38th place to 17th. I'm really proud of this young lady."
In action for the second day in a row, senior Scott Johnson capped his collegiate career by turning in a mark of 46' in the triple jump (19th place). Concordia qualified a national best three competitors in the men's pole vault. Senior Simon Brummond fared the best, clearing 15' 5" and placing 12th. Meanwhile, freshman Tucker Platt shared 15th place (14' 9") and Cody Williams no heighted a day after finishing 10th in the decathlon.
With another season under his belt leading Concordia track and field, Beisel expects a jump forward in 2019. Said Beisel, "I think (our recruiting) is immediately going to have an impact at the conference level and the national level. This year our kids have been great, but 50 percent of our team is freshmen. They're talented but I also think that first year wears on them and they're learning a lot of stuff … I think some things are going to be different next year. Now we take a break and refocus for the future."
2018 outdoor All-Americans
Jacob Cornelio (hammer throw – 8th)
Samantha Liermann (shot put – 2nd)
Johanna Ragland (hammer throw – 8th)
Adrianna Shaw (discus – 1st)
Carley Skorepa (discus – 5th)