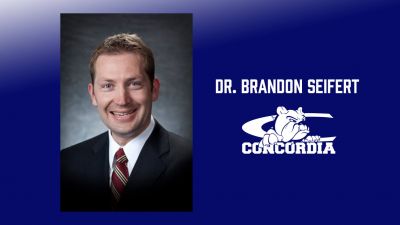 Look no further than the 1998 Nebraska-Iowa Athletic Conference cross country meet for proof of Dr. Brandon Seifert's championship mettle. Truthfully, it was his determination that entire fall that left no doubt about Seifert's status as a winner. Coming off of surgery that summer, Seifert struggled to return to form. He lost races to opponents that had never beaten him before.
Then the NIAC championships arrived and so too did Seifert's physical strength and confidence. He won the race while in the midst of an impressive streak of three individual conference cross country titles in a row. There are competitors – and then there's Brandon Seifert.
Says Seifert, "That was probably the toughest race I've ever had while I was in college. Winning that was a super special memory. I couldn't do anything when I had surgery in July and then was able to win the conference meet in November. Thinking about it now as a surgeon, having that happen for me really helps me have a good understanding of the mindset of athletes I'm taking care of when they have an injury and are trying to get back and compete."
Seifert is a Hall of Famer in so many ways, thus making it so appropriate that Concordia announced him to its 2018 Hall of Fame class on June 15. A day prior to reliving his best of times as a Bulldog, Seifert had a particularly hectic day performing surgeries at Lincoln Orthopaedic Center, P.C. A standout in the world of healthcare, Seifert has kept close ties with athletics and continues to serve many local teams such as the Bulldogs (alongside Dr. Douglas Tewes). His experience even includes service to several professional sports teams.
It's difficult to decide which version is more impressive: Seifert the collegiate athlete or Seifert the medical professional. His former head coach, Dr. Kregg Einspahr, raves about what he witnessed from Seifert, who also took biology courses taught by Einspahr. Seifert is a prime example of how a top flight athlete can reach full potential when employing a relentless drive.
"He's one of the hardest working and most competitive athletes I've ever had," Einspahr said. "He was just a beast. He made the most of his abilities both in the classroom and athletically. He was hard to run against because he could go out at a very, very fast pace. It was hard for people to know how to run against him. If they went out with him it was a lot faster than they were accustomed to and if they didn't, he would gap them early on in a race. He was strong as an ox and had good foot speed, just a really great competitor."
Seifert realized a dream in February of 2000 when he captured an NAIA indoor track national title in the one mile. He clocked in at four minutes and 10 seconds, a few ticks off his all-time personal best that ranks second in school history behind only Einspahr. In addition to three NAIC cross country titles, Seifert seized multiple conference track championships and collected All-America honors four times in track and three times in cross country.
For any runner to seize the moment on the big stage, he or she must be dialed in on race day. Seifert was a master at physical and mental preparation. He says there's no feeling that can duplicate that pre-race healthy anxiety. He thrived on it.
"Preparation was really the key," Seifert said. "I was focused every day thinking about that upcoming race. I did a lot of visualization and just thinking about what I was going to feel like before the race and during the race. I really made sure to take care of myself in terms of managing my sleep schedule. I think the biggest thing was just a deep seeded desire to compete and the fear of not living up to the expectations that I set for myself. That was a very motivating force."
Originally from Grand Island, Seifert could have held his own on any level of collegiate running. A 2000 Grand Island Independent article quoted Einspahr as saying, "You can probably throw Brandon in any mile race in the country and he's going to be competitive."
It was perilous to underestimate Seifert – or any of his Bulldog teammates. Seifert helped lead 2000 men's indoor track team to a national runner up finish. He was also part of a distance medley relay group that upset their counterparts from the University of Nebraska at the Husker Invite, which happened to air on TV. Says Einspahr, "The announcers kept saying, well this is Concordia. Nebraska is going to catch them. Well they never caught us."
Einspahr even remembers hearing other coaches wondering aloud about why they hadn't given Seifert more attention in the recruiting process. Seifert recalls many details about his recruiting visit to Concordia and the interactions he had with Einspahr. He liked the Christian atmosphere and knew immediately after his visit that he was going to be a Bulldog.
"I really bonded with Coach Einspahr right away," Seifert said. "I felt like we had a lot in common and had a lot of common goals as far as work ethic. The teammate aspect was wonderful. We clicked almost right away. The experience at Concordia definitely lived up to my expectations and then some."
For someone who never placed higher than third at a state meet during his high school career, Seifert did not necessarily foresee the career that would unfold, bringing individual and team championship glory. For so many star athletes, there are those signature moments that define them as winners. Before he could reach the mountain top at the indoor track national championships in 2000, there was the surgery in 1998.
File the injury under "things happen for a reason." It was if Seifert was supposed to go through something like that, not just to test his resolve as an athlete, but also to better equip him for a life of service in the medical field. As a sophomore at Concordia, Seifert began to observe Dr. Tewes in training and operating rooms. It was at that point that Seifert realized that this was the career for him. The rewards have been plentiful for Seifert and his patients ever since.
"Some of my greatest memories are with those kids who I've performed surgeries on and they go score a touchdown," says Seifert. "Then I have a moment after the game to talk to them and shake their hand or get a hug from them. Those are really amazing moments. It's hard to describe how special that is."
Amazing moments seem to be a theme for Seifert, who will get another one come Sept. 21 when he stands before the audience gathered at the Concordia Athletic Hall of Fame ceremony.
Says Seifert, "When you think about the Hall of Fame now versus when you're starting out as an athlete at Concordia, that's just such a far-out-there kind of dream. That wasn't even on my radar."