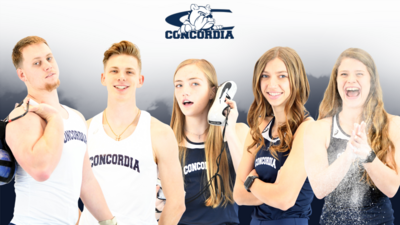 MEN
Head Coach: Matt Beisel (7th year); 8x GPAC Coach of the Year
2022 Indoor Finishes: 4th (GPAC); 36th (NAIA)
2022 Outdoor Finishes: 3rd (GPAC); T-47th (NAIA)
2022 All-Americans returning (indoor/outdoor): Wyatt Loga; Colton Meyer; Chris Wren.
2022 All-Americans lost (indoor/outdoor): Jacob Jennings; Cade Kleckner; Maccoy Menke; Xavier Ross
2022 Indoor National Qualifiers returning: Zach Bennetts; Chase Berry; Mark Cooke; Wyatt Loga; Colton Meyer; Calvin Rohde; Camden Sesna; Chris Wren.
*Past National Champion
--NOTE: list of national qualifiers includes athletes who traveled to the 2022 NAIA indoor meet.
WOMEN
Head Coach: Matt Beisel (7th year); 8x GPAC Coach of the Year
2022 Indoor Finishes: 1st (GPAC); 3rd (NAIA)
2022 Outdoor Finishes: 1st (GPAC); 4th (NAIA)
2022 All-Americans returning (indoor/outdoor): *Rachel Battershell; Jenna Esch; Kylahn Freiberg; Rylee Haecker; Jordan Koepke; Erin Mapson; Alli Owings; Erin Painter; *Josie Puelz; Amy Richert.
2022 All-Americans lost (indoor/outdoor): Keri Bauer; Morgan De Jong; Sarah Lewis; Jacee Pfeifer; Sarah Ragland; Grace Reiman.
2022 Indoor National Qualifiers returning: Elena Batenhorst; Rachel Battershell; Amira Cummings; Kylahn Freiberg; Abby Gerber; Rylee Haecker; Jordan Koepke; Erin Mapson; Hannah Newton; Josie Puelz; Amy Richert; Trinity Tuls.
*Past National Champion
--NOTE: list of national qualifiers includes athletes who traveled to the 2022 NAIA indoor meet.
Outlook
Twenty Bulldogs return who experienced the 2022 NAIA Indoor Track & Field National Championships for a program that annually expects to compete for conference championships and podium finishes on the national stage. Those are high standards to live up to, but Head Coach Matt Beisel wouldn't have it any other way. There are more achievements still on the table. Every single athlete inside the men's and women's programs is driven to reach for something greater, even four-time pole national champion Josie Puelz.
An eight-time GPAC Coach of the Year (between cross country and track), Beisel enters his seventh season at the helm of the Concordia track programs. The women own an incredible streak of seven straight GPAC titles while the men are still working towards a return to the top of the pack.
But the focus is on the process and the day-to-day pursuit of excellence, rather than just zeroing in on winning trophies. There are more than 150 athletes in the program, and they will all factor into the 2023 season. Said Beisel, "Everybody has a role. Everybody is a piece of the puzzle. I have the privilege of building these relationships and getting to know them. I love them all. That's the most satisfying thing."
Women's Breakdown
This has become a dynasty as the program has succeeded not just at the conference level, but also at the national level. The Bulldogs have placed inside the top five nationally at six consecutive NAIA national meets and were even ranked No. 1 nationally for the bulk of the 2021 outdoor season (according to the USTFCCCA computer ratings). The formula for the program has featured elite athletes who have developed close relationships with each other.
The conversation on the women's side starts with the likes of four-time NAIA pole vault national champion Josie Puelz and two-time 400 meter national champion Rachel Battershell (10-time All-American). As just a freshman in 2022, Jordan Koepke put her name in elite company by grabbing four All-America awards (400 hurdle national runner up) and by setting a new GPAC meet record in the 400 hurdles. It's fair to also throw six-time All-American Rylee Haecker into that mix.
Clearly, the Bulldogs are well-positioned for another big year in 2023. "It's an amazing group of leaders and humans," Beisel said. "There's not a single one of them that has not battled through setbacks of all kinds. I know every team has these things happen. I'm extremely grateful that God keeps bringing people like that to us … I think back to the string of titles that we've had and the fact that the last five indoor or outdoor national championship meets we've placed third or fourth on the women's side. That doesn't just happen. To win a GPAC title is a big deal. We've somehow pulled it off seven times in a row."
Beisel has reason to be encouraged by the momentum that was built during a just recently completed cross country season. The women's program earned an at-large bid to the national meet while led by all-conference runners in Haecker, Kylahn Freiberg and Julie McIntyre. The Bulldogs placed 27th at the national meet during a season of significant accomplishment. Perhaps most significant, Freiberg returned to form and should be a candidate to be an individual conference champion on the track. Plenty of others, like freshman Hannah Beintema, are also ready to make an impact from a distance perspective.
Traditionally, the Bulldogs are strong in the 400 meters. Without question, Battershell leads the way from a standpoint of past attainment. She said goodbye to close friends and 400 meter teammates Sarah Lewis and Jacee Pfeifer, but the cupboard is far from bare. Koepke has three more years to tear up the track after one of the greatest freshman seasons in program history. Watch out for Trinity Tuls to make a big leap and keep the 4x4 from losing any steam. In addition, sophomore Jenna Esch helped the outdoor 4x4 to All-America status.
Battershell sees things coming together nicely during practice. Said Battershell, "Track is an individual sport, but it's really not. It's every day in practice, whether your teammates are having a bad day or you're having a bad day, we all just move forward together. Our success has shown that we're really good at moving forward together. Every day in practice you can see it."
The always positive and upbeat Puelz is a natural leader who teammates look up to. As Battershell said, "To the team as a whole, she's just a beacon of joy. She's so funny and everyone loves her." In competition, Puelz competes fiercely and has done the incredible in sweeping NAIA pole vault national titles in back-to-back years (2021 and 2022). She'll be chasing her own school records in both the indoor and outdoor vault in '23. The pole vault crew also features five-time All-American Erin Mapson and four-time national qualifier Amira Cummings. Don't be surprised if another name (or several names) emerges under the tutelage of pole vault coach Jason Berry.
A native of Gresham, Neb., Amy Richert just might be on the cusp of reaching her full potential. She's a three-time All-American and is the school record holder in the pentathlon. She's also a headlining returner for the jumps crew coached by Ben Hinckfoot. The group graduated the likes of past national qualifiers Cora Olson and Katie Severt, but 2022 indoor high jump national qualifier Hannah Newton ranks among the up-and-comers.
Coach Ed McLaughlin's throws crew loses some impact performers such as Morgan De Jong and Sarah Ragland, but Alli Owings and Erin Painter are fresh off All-America awards during the 2022 outdoor season. There's also an impact transfer in Emma Lloyd, formerly a member of the track & field team at the University of Nebraska. In addition, Abby Gerber has made four trips to nationals and discus All-American Sara Huss will join the team during outdoor season.
Like Koepke did a year ago, there are freshmen who can make an impact. There are too many to name, but there is excitement about Lincoln Lutheran alum Adrianna Rodencal who won four state titles as a senior. Among other newcomers, Alexandra Eisenhower stands out as a Nebraska Class D state champion in the 100 and 200 meters.
How much further can the Bulldogs take it in 2023? A team national championship remains a standing goal to hopefully be reached at some point. Back for a fifth season, Battershell is as healthy as she's ever been and motivated to get back to a national championship form.
Said Battershell, "With sports like this, you've never arrived. There are certain goals like being a national champion – you either get it or you don't. With PR's and everything, you've never arrived. There's always another step to get better. With teammates that I have, how can you not want to be better? That helps me keep perspective as I push to be the best that I can be in the last year that I get to do this."
Men's Breakdown
The men's program has been consistently solid and has placed fourth or better at the indoor conference championships in every single season of the GPAC's existence (which started with the 2001 season). The NAIA national finishes in 2022 of 36th (indoor) and 47th (outdoor) leave the Bulldogs wanting more as they look toward 2023. The returning All-Americans from 2022 include Wyatt Loga, Colton Meyer and Chris Wren. The biggest holes to fill from graduation come in the 400 meters, but that's an area where assistant coach Mark Samuels has always come through in.
The most recent conference championship for the men came in 2015 (outdoor) when the program also celebrated an NAIA national title. The blueprint is in place for big things both within the GPAC and on the national landscape.
"It is time for our guys to shine," Beisel said. "It's time for our guys to do what we know they're capable of and fight for that top spot in the GPAC and place high at nationals just like we did a few years ago before we graduated a lot of solid people. I think we've got the people to do it this year."
A native of Fair Oaks, Calif., Wren has become the latest star thrower in a long line of them for McLaughlin. Wren has accumulated three career All-America awards and is coming off a fourth-place national finish in the weight throw in 2022. Perhaps he could become the next national champion to emerge from the throws group. He'll be backed in the crew by the likes of Dagne' Buck and Darien Semedo, two throwers ready to make a leap.
In the 400 meters, Meyer (another Lincoln Lutheran grad) takes the lead. He's a three-time All-American as part of the 4x400 meter group. That close-knit crew has been fractured as it moves on without fellow All-Americans in Jacob Jennings, Cade Kleckner and Xavier Ross. A healthier run this winter and spring for Mark Cooke could help make up for those departures. Said Beisel, "It's really come on strong. Kudos to sprints coach Mark Samuels who develops these athletes. There's not a single kid who doesn't blow away their high school times once they get here. I think part of it is what he does as a coach, but also it's the atmosphere and the depth of the training group. These kids push each other and have high expectations."
The distance runners should provide a lift after Concordia placed second in the GPAC in cross country. The ringleaders are Camden Sesna and Calvin Rohde, both hungry to shoot for their first career All-America awards. Sesna won the GPAC outdoor 5k title and will be a strong contender for additional conference championships. Others who are primed to make an impact include freshmen like Aaron Jendro and Jimmy Nguyen.
Says Beisel, "I think the impact we're going to see in indoor is both our men and women in middle- and long-distance squads putting big points on the board at conference. We really need that on the guys' side so we have a shot at challenging returning GPAC champion Doane. This will probably be our highest potential scoring (long distance) group at GPAC (since I've been at Concordia)."
The pole vault should be a strength once again. Zach Bennetts pulled off a sweep of GPAC indoor and outdoor titles in 2022 and has one career All-America award to his credit. Meanwhile, Chase Berry is a two-time All-American and Zach Zohner has twice qualified for nationals. The freshman class also looks strong as Evan Hill, Mayson Ostermeyer and Spencer Kearn strive to compete with the aforementioned returners.
In the jumps, Bee, Neb., native Wyatt Loga stands out thanks to his four career nationals appearances and two career All-America awards. Loga ranks in a tie for first on the program's all-time high jump list (with a PR of 6' 9"). In the horizontal jumps, Joel Rathe has the ability to make some noise. He's also one of the program's top sprinters.
There are several other newcomers hoping to make a splash. That list includes state champion hurdler Gage Fries and thrower Carson Fehlhafer, who became a starter on the football team's offensive line as a freshman. Be on the lookout for additional newcomers such as Grant Jansen, Kirby Linhart, Myles Sadd, Aaron Spivey and Joel Smith.
Up First
The season gets started early as the program will host the Bulldog Early Bird Meet on Dec. 9-10. The hope is to get some national marks on the board prior to the close of the first semester.
"The speed and power kids have been practicing for three-and-a-half months and are ready to compete," Beisel said. "A lot of them are in a really good place physically and mentally. They'll go in and make a big impact right off the bat. Each year typically, we end up with 8-to-14 national qualifying marks between the men and women. That's always a goal to try to get those early marks and punch our ticket, so that we can relax a little and focus on refining things. It gives you a boost of confidence."